The ghost and ghouls are just around the corner as Cleveland gears up for Halloween. Below are 15 things to do for the holiday this year, from spooky bar crawls to artsy craft shows.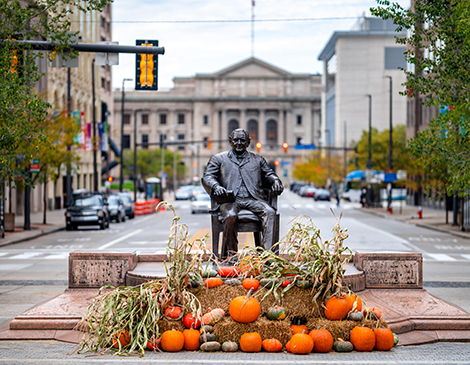 An Eerie Affair at Forest City Brewery
Step into a world of enchanting spookiness as we celebrate the most anticipated season of the year. An Eerie Affair brings you a spine-tingling experience that's not to be missed. From ghoulish decorations to hauntingly delightful surprises, this event will host an array of locally crafted treasures and treats. Get your ghoul friends together and treat yourself to a visual feast of plants, apparel, makeup and more. Free, Oct. 1, 12-7 p.m., 2135 Columbus Road, Cleveland, facebook.com/events
The '80s Ladies at Mercury Music Lounge
Join the 80's Ladies at Mercury Music Lounge for a night that promises to be an electrifying blast from the past. Dress to impress in your most fabulous '80s-inspired Halloween costume, and get ready to rock the dance floor. Bonus points await the most creative ensembles that celebrate the spooky season. Free, Oct. 31, 8-11 p.m., 18206 Detroit Ave., Lakewood, facebook.com/events
Trivia Night at Sibling Revelry
Craft brews and creepy questions await for an evening of brain-teasing fun and delicious drinks at Sibling Revelry Brewery's thrilling trivia night! The rounds will challenge your candy knowledge, test your Halloween and scary movie expertise, and surprise you with a secret final round. From classic treats to spine-chilling cinematic moments, there's something for everyone to enjoy. Free, Oct. 31, 6:30-8:30 p.m., 29305 Clemens Road, Westlake, facebook.com/events
9th Annual Halloween Flea Market at No Class
Get your fix for all things Halloween and bring the kids to trick-or-treat at the vendor tables while you find some boo-tiful new items. Numerous vendors will be posted throughout the area both indoors and outdoors selling decorations, snacks and all kinds of Halloween related trinkets and treasures. Check out the official after party at No Class featuring Terror, Embalmer, Axioma, Burial Oath and Noxis. Free-$15 for after party, Oct. 21, 12-7 p.m., 11213 Detroit Ave., Cleveland, facebook.com/events
Trash Unreal lV: Trashoween at No Class
Get Ready for a night of ghoul and glamor at TRASH Unreal's Halloween Alt Punk Drag & Dance Party! Hosted by WILLOW TREE, this event is set to redefine your Halloween experience with a lineup of live music and entertainment with drag and burlesque performances from the most daring entertainers across Northeast Ohio. $10 pre-sale to $15 at the door, Oct. 28, 6 p.m., 11213 Detroit Ave., Cleveland, facebook.com/events
Haunted Pub Party at the Twisted Olive
Get your costumes ready for The Twisted Olive's exclusive Haunted Pub Party! Hosted on the vineyard's lower level patio, the party will feature a live DJ, dance floor and costume contest with prizes to win. Food and drink consists of a complimentary entry cocktail, hor d'oeuvres, desserts and a cash bar. $50, Oct. 28, 9 p.m., Lower Level of The Twisted Olive, 5430 Massillon Road, North Canton, gervasivineyard.com
Dracula: The Bloody Truth at Playhouse Square
In Le Navet Bete and John Nicholson's Dracula: The Bloody Truth, Professor Van Helsing is determined to tell the "truth" about the infamous vampire. With only four actors playing forty different characters, this adaptation takes you on a spooky ride from Transylvania to the English coast to tell you the story of Dracula. $20-$89, Oct. 20-Nov. 5, Hanna Theatre, Playhouse Square, 2067 E. 14th St., Cleveland, greatlakestheater.org
Buffy the Vampire Slayer Drag Brunch
Host Candy Dysh joins Anhedonia Delight, Pineapple V Peruu, Carly Uninemclite and Onya Nurve to put on a show inspired by the iconic series "Buffy the Vampire Slayer." Brunch entrees from Eugene CLE and drinks from Bottlehouse Brewery will be available for purchase as the performers lip-sync, dance and put on a must-see show for fans of drag. $14, Oct. 29, 10 a.m., The Bottlehouse Brewery and Mead Hall, 22015 Detroit Ave., Lakewood, unclelulu.ticketspice.com
October Craft & Vendor Show at Crocker Park
Local small business owners including crafters, artists, authors, bakers, photographers and wood crafters are uniting for Hometown Vendors' October Craft & Vender Show at Crocker Park. Items available for purchase include paintings, handmade crafts and cards, sweets, apparel, accessories, pet products, candles and more! Craft show fanatics do not want to miss out. Free, Oct. 14, 10 a.m.-3 p.m., Market Square at Crocker Park, 239 Market St., Westlake, facebook.com
2023 Official Halloween Bar Crawl
Join hundreds of participants in the Cleveland Halloween Bar Crawl! Ticket purchase includes perks such as waived door cover charges, up to 50% off drinks, up to 20% off select foods and more. Bars participating include Rumor Nightclub, Dive Bar, IVY Nightclub, Barley House and Velvet Dog Rooftop. $15, Oct. 21, 27 and 28, 1-11 p.m., Cleveland's Warehouse District, West Sixth Street and Downtown Cleveland, barcrawllive.com
Ghost Files Live at the Agora
Get the inside scoop on specters and apparitions from the cast of the popular ghost hunting show, Ghost Files. Currently on a U.S. tour, the crew is stopping in Cleveland just in time for Halloween. Will hosts Ryan Bergara and Shane Madej be able to convince you that the paranormal is really out there? $35-65, Oct. 8, 8 p.m., 5000 Euclid Ave. #101, Cleveland, agoracleveland.com

Hocus Pocus Paint Night at Winking Lizard
This isn't Salem, but you can bring the Sanderson sisters right here to Cleveland with a fun Hocus Pocus-themed paint night. Get a group of friends together and decorate a 3D wooden sign to bring a DIY spooky touch to your home. $35, Sept. 20, 6:30 p.m., 14018 Detroit Ave., Lakewood, eventbrite.com
A Night to Dismember at Crocker Park
Looking for a scary good time while also doing some good? A Night to Dismember IV brings fun, food and frights while supporting the Journey Center for Healing in Cleveland. Do the monster mash and enjoy some good company in Crocker Park. Did we mention there's an open bar? $25-$2,500, Oct. 13, 6:30 p.m. 239 Market St., Westlake, eventbrite.com
Halloween Party Cleveland Bar Crawl in the Flats
Grab your best Halloween costume and hydrate up before the Halloween bar crawl of your dreams. With 10-plus bars included in a digital map for you and your friends to follow, mingle with fellow Clevelanders while drinking some special spooky cocktails. With exclusive deals and a cash prize at the end of the night for the best costume, be on your best behavior, or don't. $12.99, Oct. 28, 3-10 p.m., The Flats in Cleveland, eventbrite.com
Midnight Hometown on Halloween at Beachland Ballroom
Get rowdy and rock out in true Halloween spirit at Beachland Ballroom this Halloween as Cleveland-based band Midnight celebrates 20 years of making music for all the misfits. Special guests include other bands such as Black Death, Nunslaughter and more gruesome band names. $20-25, Oct. 27, 7 p.m., 15711 Waterloo Road, Cleveland, seetickets.us
For more updates about Cleveland, sign up for our Cleveland Magazine Daily newsletter, delivered to your inbox six times a week.