Beachland Flea Market
On the third Saturday of every month find vinyl records, retro clothing, music memorabilia and more at the Beachland Ballroom & Tavern. 10 a.m.- 3 p.m., June 17, July 15 and August 19, 15711 Waterloo Rd., Cleveland, beachlandballroom.com/beachland-flea-market-2023/.
Berea Flea Market
Every Saturday and Sunday, all year long, shop from around 100 vendors for just $1 at the classic Berea Flea Market. 6 a.m.-1 p.m., Saturdays & Sundays, Cuyahoga County Fairgrounds, 19201 East Bagley Road, Middleburg Hts., https://cuyfair.com/fairgrounds/flea-market
Brookpark Summer Craft and Vendor Show
Local crafts and small business owners gather to bring the Craft and Vendor Show to Brook Park. 10 a.m.- 3 p.m., Aug. 12, 17400 Holland Road, Brookpark, hometownvendors.org/events
Cle Market
Family, friends and pets are welcome to shop a variety of local small businesses alongside food trucks and live music at the Cle Market. 4 -8 p.m., June 29, Veterans' Memorial Park, 32756 Lake Road, Avon Lake, www.eventbrite.com/e/cle-market
Fruit Cake Flea Market
You've heard of a bar crawl, how about a flea crawl? Shop 42 LGBTQ+ artists and makers at the third Fruit Cake Pride Flea Market located on Detroit Road in Lakewood across three venues: No Class, The Foundry and Five O'Clock Lounge. 3 p.m., June 4, 11904 Detroit Rd., Lakewood, allevents.in/cleveland/fruit-cake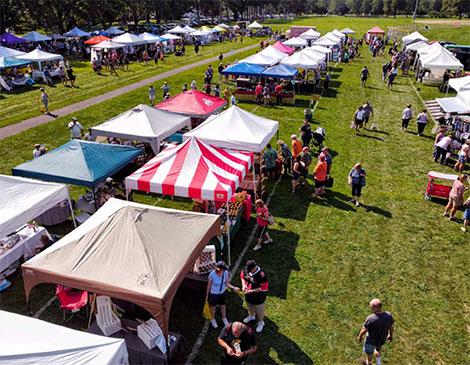 (Photo courtesy West Side Flea)
Jamie's Flea Market
The largest flea market in Northeast Ohio is open every Wednesday and Saturday, year-round, Jamie's Flea Market offers handmade gifts, antiques, stamps, memorabilia and more from more than 100 vendors. 8 a.m.-4 p.m., Wednesdays and Saturdays, 46388 Telegraph Road, South Amherst, jamiesfleamarket.com/
Lil' Friday FleaShop a curation of thrift and vintage clothing, handmade candles, clay earrings, and more at Plum Hill Creative Studio. 4-9 p.m., June 9, 15528 Madison Ave., Lakewood, allevents.in/lakewood/
Punk Rock Flea Market Summer Block Party
More than 150 alternative artists, vendors, crafters, makers and small local businesses from across Ohio gather to sell graphic apparel, oddities, taxidermy, vegan treats, and more alongside food trucks, drinks and live music at the Punk Rock Flea Market. 11 a.m.-6:30 p.m., Aug. 12, Cascade Plaza, 1 West Mill Street, Akron, allevents.in/akron/
Strongsville Craft and Vendor Shows
Celebrate Christmas in July and shop sweet treats, embroidered items and more at the Craft and Vendors Shows. 9 a.m.-2 p.m., June 10 and July 22, Ehrnfelt Recreation Center, 18100 Royalton Road, Strongsville, hometownvendors.org/events.
The Summer Sun Market
This outdoor event features food trucks, a raffle and shopping with more than 50 local art and craft vendors along with three food trucks. Shopping raffle and food. 10 a.m. - 4 p.m., June 17, 19444 Progress Drive, Strongsville, eventbrite.com/e/
Vintage, Handmade & Homegrown Summer Market
For 18 years, more than 100 vendors gather along the Black River to provide second-hand and vintage furniture, art, clothing, jewelry and more alongside live music, food and fresh produce. The pet-friendly flea benefits Lorain County families and organizations in need. 3-9 p.m. July 21 and 9 a.m.-5 p.m. July 22, 421 Black River Lane, Lorain, eventbrite.com/e/
Waterloo Vegan Market
Find your next favorite vegan product or snack from local vendors at the Waterloo Vegan Market on the second Saturday of every month. noon-3 p.m., June 10, July 8 and Aug. 12, 15619 Waterloo Road, Cleveland, eventbrite.com/
Westlake Roadshow
Enjoy five days of collectibles, antiques, coins and more at the Westlake Roadshow's buying event. Attendees can bring antiques for a free appraisal with a specialist. 10 a.m.- 6 p.m. June 6-9, 10 a.m.- 3 p.m., June 10, Holiday Inn Express, 30500 Clemens Road, Westlake, eventbrite.com/e/westlake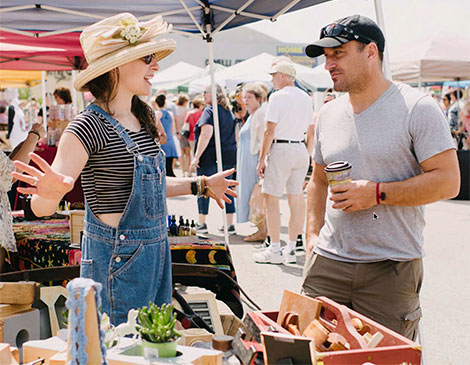 (Photo courtesy Youngstown Flea)

Westlake Summer Craft and Vendor Shows
Shop from a selection of home decor, bath and body products, candles, totes, baked goods and more from more than 50 local small business owners throughout the summer at Market Square in Crocker Park. 10 a.m.-3 p.m., June 3, July 15 and Aug. 25, 239 Market St., Westlake, hometownvendors.org/events
Youngstown Flea
Rain or shine, experience local treasures and hidden gems while shopping a wide array of small businesses, food trucks and area farmers in a music-filled, pet-friendly and diverse environment. Enjoy complimentary yoga and lawn games that are fun for the whole family at the monthly outdoor flea in downtown Youngstown. 9 a.m. to 3 p.m., June 10, July 8 and Aug. 12, 365 East Boardman St., Youngstown, youngstownflea.com.
Get ahead of the weekend by signing up for our free weekly "In the CLE" newsletter — your guide to fun throughout The Land. Arriving in your inbox every Wednesday, this weekend to-do list fills you in on everything from concerts to museum exhibits — and more. Click here to subscribe.