Light up the night this summer with the Asian Lantern Festival, a celebration of Asian culture at the Cleveland Metroparks Zoo. From July 14 through Sept. 5, visit the zoo after hours to enjoy illuminated lanterns, performances, food and more. Over the past four years, almost a half million guests have attended the festival. Whether you're a season regular or this is your first time, there are plenty of new displays to enjoy this year. "It's really a unique celebration of culture," says Kelly Manderfield, chief marketing officer for Cleveland Metroparks. "It's become a summer staple here in Cleveland." Here are four things you should know before you go: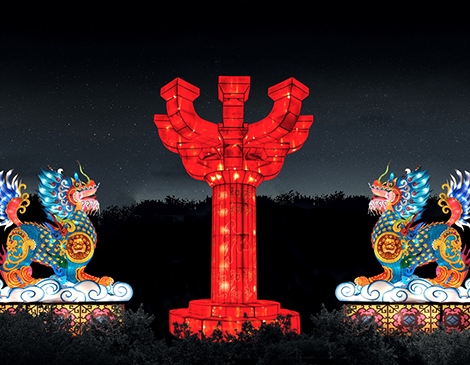 There are two ways to enjoy the festival.
Visitors can opt for a drive-thru or walk-thru experience this year. Thursdays through Sundays are designated for the walking experience, with visitors able to wander around the transformed zoo at night. Non-vaccinated guests will be expected to social distance as they are able. A drive-thru version of the festival (minus the performances) will take place on Wednesday nights in July. "We actually introduced it last year during the pandemic and got a lot of wonderful feedback from guests that had not been able to experience lanterns in the past for a variety of reasons," Manderfield says, "so based on demand, we're bringing it back this year as well." Both experiences will be held from 6:30 to 10:30 p.m. on their respective nights.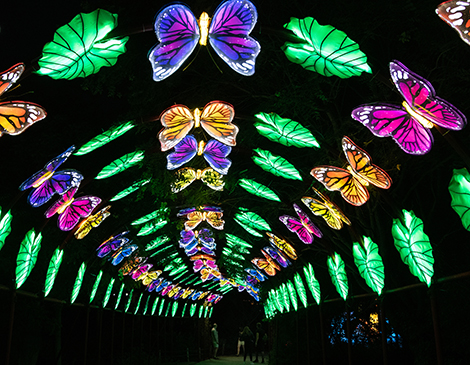 Buy your tickets in advance.
If you're planning to attend the walk-thru festival, you can save money by buying your tickets in advance online, with additional discounts for zoo members. (Tickets must be bought online for the drive-thru.) Advance tickets are available for purchase up to 3 p.m. the day of the event. Buying online also ensures that you'll be able to attend the popular festival, especially if you're looking at a Friday or Saturday night. "It's important to buy in advance because some nights do sell out," Manderfield says.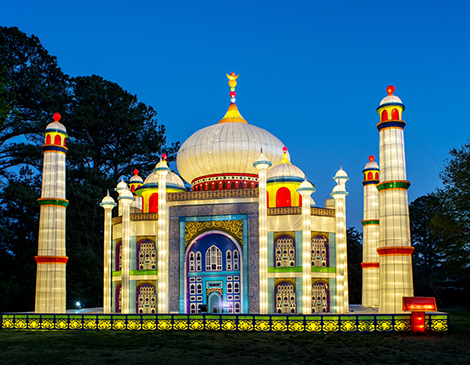 Even if you've been before, you'll want to see the all-new lanterns.
All of the lanterns featured in the festival are new each year. Highlights include a four-story Taj Mahal and walk-thru displays including Python Tunnel and Chinese Dragon. Visitors can also control the lights at interactive displays like Butterfly Garden and Star Pad. "We have over 1,000 brand-new lanterns that have not been seen at one of our prior shows, and that translates to 70 large-scale illuminations," Manderfield says. "Even if you've been previously, we invite you to come back and experience the brand-new show."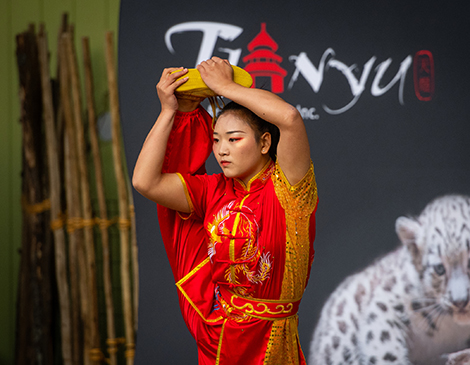 The lanterns aren't the only attraction.
During the festival, there will be performances every hour on the amphitheater stage. You can see martial arts, contortion, acrobatics, foot juggling and more. "We have, actually, a juggler that can juggle a table with her feet," Manderfield says. "It's definitely a guest favorite." There's also a new attraction — a zip line that lights up after dark — that visitors can experience for $8 per ride. There will be plenty of culturally inspired cuisine as well. Local restaurants with food stations include Li Wah and King Wah. At the festival, visitors can enjoy food such as sushi, Asian noodle bowls, bubble tea from 808 Shave Ice and homestyle Japanese-American fusion from Kiko's Kitchen.
Buy tickets: futureforwildlife.org/lanterns