Come Together by Lisa Quine
House of Swing, South Euclid
The South Euclid slogan "Come Together and Thrive" was the starting point for this brightly colored mural but Quine, who now lives in Dallas, shortened it as a nod to the Beatles and the location's musical purpose.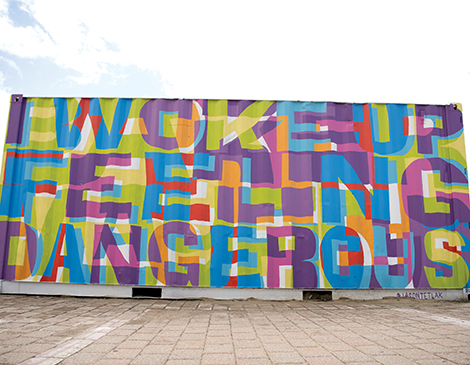 Dangerous by Jason Tetlak
Voinovich Park, Cleveland
Brunswick native Tetlak tapped into his hometown pride and joined the hype surrounding the Browns roster by scrawling Baker Mayfield's "I woke up feeling dangerous" boast in overlapping type for this optical illusion.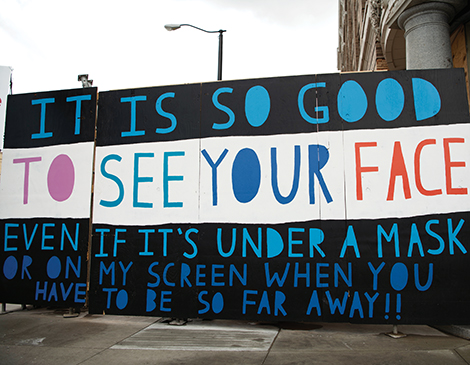 It is so good to see your face by Erin Guido
Detroit Avenue and West 25th Street, Cleveland
As COVID-19 raged in early April 2020, a car crashed into the Forest City Bank Building in Ohio City. Hoping to lift the public's spirits, the building's owner asked Guido to create a positive message on the temporary scaffolding.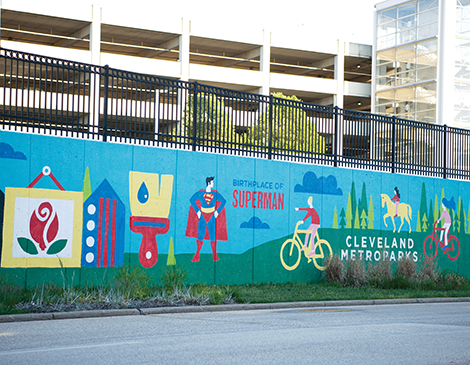 Untitled by Terran Washington
Cleveland Hopkins International Airport
This tableau facing the arrivals area was designed to welcome newcomers to the city. The mural features an array of Cleveland legends and hot spots from both life and myth, from the Lake Erie Monster to Severance Hall.