Cleveland's Little Italy comes alive in the summer, especially during the Feast of the Assumption coming Aug. 12-15. However, the neighborhood provides a cornucopia of family-owned shops, mouth-watering food and timeless traditions year-round. Here's your guide to one of The Land's most delicious hot spots.
The Food: The Little Italy restaurant scene is a mix of traditional Italian fare, modern cuisine and plenty of pizza. Please check with each establishment for its hours of operation and if they are offering dining-in, carryout or takeout.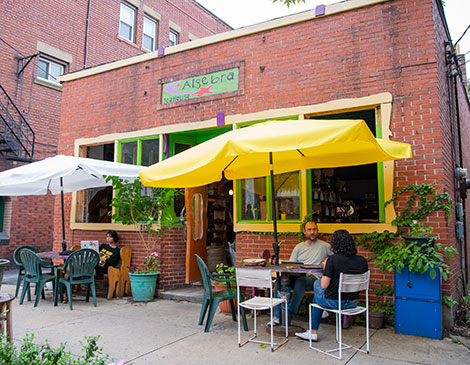 Algebra Tea House
A caffeine pit stop with a hippie vibe. Tables and mugs are handmade, and no two are alike. Board games are provided along with tea blends and coffee creations such as chai tea from scratch. Take the edge off with sandwiches, salads and Middle Eastern specialties like the tasty Egyptian fool madamas (mashed fava beans). 2136 Murray Hill Road, 216-421-9007, algebrateahouse.com
Angelo's Nido Italia
Traditional not trendy, in atmosphere and food, you can expect Sinatra or Dino on the soundtrack and chicken piccata, veal marsala and cavatelli with marinara or meat sauce on the menu. It's popular for private parties and special events and has live music on weekends. 12020 Mayfield Road, 216-421-0221, nidoitalia.com
Blue Sky Brews
With its modern and sleek design, this corner shop serves up fresh espresso drinks, coffee and tea. Sit in the cafe with your favorite book or catch up on work with an iced latte. 2187 Murray Hill Road, 216-417-8080, blueskybrews.com
Corbo's Bakery
If there's something better than an Italian lemon ice on a hot summer day, we don't know what is. Pull up a chair and spoon up a scoop along with biscotti at this bakery and cafe, or pick up one of its famed cassata cakes to take home. 12210 Mayfield Road, 216-421-8181, corbosbakery.net
Etna Restaurant
This little corner spot retains the cozy feel of the tavern it once was, but now guests order bottles of fine Italian red instead of shots and beers. Maiale al Rosmarino – sauteed slices of pork tenderloin with mushrooms, white wine, rosemary and cream — demonstrate how the Sicilian-born chef and owner Peppe Pilumeli puts his own spin on Italian cuisine. 11919 Mayfield Road, 216-791-7670, etnalittleitaly.com
Guarino's
Victorian-style decor and lace-curtain charm set the tone at Cleveland's oldest restaurant in its original location. The red sauce still tops classics such as spaghetti and meatballs and manicotti. The patio's a sweet, secluded spot, and in the summer, beds are planted with basil for caprese salads. 12309 Mayfield Road, 216-231-3100, guarinoscleveland.com
La Dolce Vita
Life is good when it included Terry Tarantino's fettuccine Fellini: flat, fat pasta strands tossed with tomato chunks, pancetta and Gorgonzola. It gets even better if followed by cannoli and cappuccino. Streetside tables offer the quintessential urban dining experience. 12112 Mayfield Road, 216-721-8155, clevelandladolcevita.com
La Pizzeria
Get your pie here, whether you want a single hot slice or a 40-cut sheet. Choose from 21 toppings, 12 gourmet house creations and surprising apple or cherry dessert pizzas. There are a few tables, but this is really a takeout and delivery joint. 2188 Murray Hill Road, 216-229-9050, lapizzerialittleitaly.com
Lounge Leo
This bar is a hidden gem tucked in the edge of Little Italy. Specializing in pub food, unique cocktails and draft beers, stop in to have a drink or spend time with friends. 2161 Murray Hill Road, 216-600-9733, facebook.com/loungeleo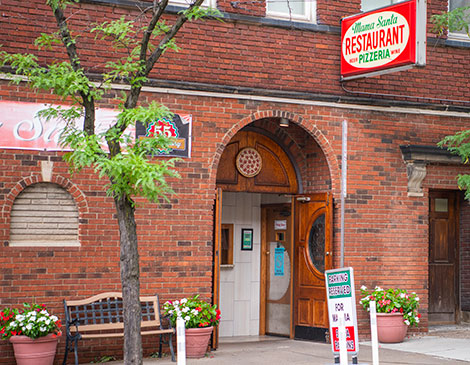 Mama Santa's
Red and white tablecloths? Check. No-nonsense waitresses who won't tell you their names? Check. Italian-American fare at easy-on-the-wallet prices? Check. Happily, little has changed since we started enjoying this pizza and a bottle of chianti back in the '60s. 12301 Mayfield Road, 216-231-9567, mamasantas.com
Maxi's
Grab a table opposite the bar that runs the length of the long, narrow dining room, or ask for a seat out back under an umbrella. Old-schoolers can dig into stewed tripe or linguine and meatballs. If you want something more modern, try the goat cheese ravioli or smoked salmon pizza. 12113 Mayfield Road, 216-421-1500, maxisbistro.com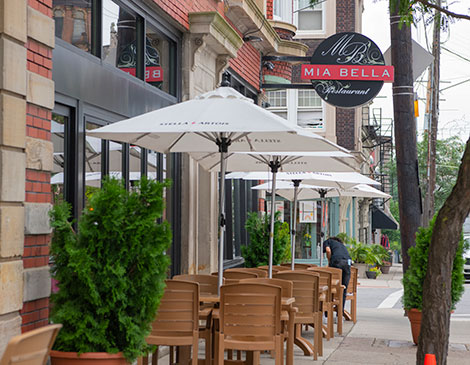 Mia Bella
This 2010 addition is an instant favorite both for its friendly, welcoming atmosphere and the pan-Mediterranean dishes coming out of the kitchen. Grilled lamb chops and veal braciole are delicious alternatives to standard Italian fare. It's your own fault if you leave hungry: Portions are generous. 12200 Mayfield Road, 216-795-2355, mblittleitaly.com
Michaelangelo's
The best description is chef and owner Michael Annandono's own: "We do fine dining without the stuffiness." Enjoy an upscale setting in a renovated building with a comfy wine bar (great list) and upper-level deck. The handmade gnocchi in hazelnut pesto is unforgettable. 2198 Murray Hill Road, 216-721-0300, mangelos.com
Murray Hill Market
This old-fashioned-looking corner store is filled with the smell of rotisserie-roasted beef, pork and poultry. Basic groceries and gourmet foods are on one side; a deli counter is on the other. The Italian BLT, pancetta with warm brie and balsamic-drizzled arugula on a toasted baguette, is inspired. 2072 Murray Hill Road, 216-791-1900, murrayhillmarket.net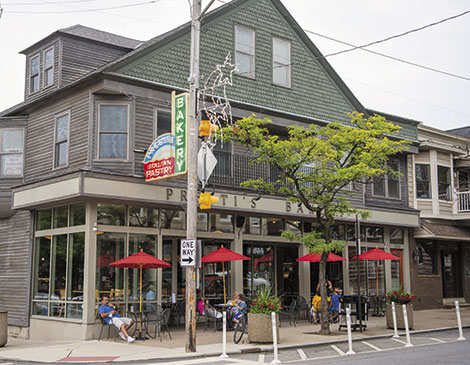 Presti's Bakery and Cafe
The bakery, which originally opened up the street in 1903, continues to serve vegetable stromboli, cappuccino and fig-filled buccellati cookies. The fare is best enjoyed while people-watching at a table inside or out, but a leisurely sit with eyes glued to a book is equally as pleasurable. 12101 Mayfield Road, 216-421-3060, pretisbakery.com
TOLI
TOLI is a spin on a sports and wine bar and has a wide variety of food and drinks to offer guests. The history of Little Italy is engrained in TOLI, including the vintage photos hung up in its bathroom. The spaghetti aglio e olio is a classic dish that will leave you wanting more, paired well with wide selection of draft beers or wines. 12117 Mayfield Road, 216-331-1069, tolicleveland.com
Trattoria Roman Garden
Generous portions have been standard at this casual, family friendly place since 1984. The antipasto platter, loaded with marinated eggplant, roasted peppers, tuna bean salad, calamari salad, carrot salad, olives and cheese is a great way to start a meal inside or out on the patio. 12207 Mayfield Road, 216-421-2700, trattoriaromangarden.com
Valerios
V is for chef and owner Valerio Iorio and his winning ways with veal. There's the 32-ounce long bone ribeye, tortellini stuffed with ricotta and lemon chicken breast. 12405 Mayfield Road, 216-421-8049, valeriosristorante.com
The Shops: Little Italy's shops and galleries are filled with works by local artisans and hard-to-find imports. Please check with each establishment for its hours of operation.
Arko Picture Framing
Located in a century-old church in the heart of Little Italy, Akro Picture Framing has more than 30 years of framing experience. From customizable painted frames to plexiglass boxes, you can get one-of-a-kind products. 2062 Murray Hill Road, 216-229-2669, arkopictureframing.net
Art Etc. Picture Framing
Since 1987, Art Etc. Picture Framing has been framing fine art for Clevelanders with craft and care. From classic gold leaf framing to modern designs, Art Etc. has a wide selection of framing options for your artwork or photo. 2144 Murray Hill Road, 216-229-4943, artetcpictureframing.com
Bolt & Spool
From stitch parties to luxurious fabrics, Bolt & Spool is a fabric boutique that has everything for your next sewing project. The shop sells sewing patterns for outerwear, tops, pants and more and has a large selection of fabrics and supplies, like silks, linen and wool fabrics. 2026 Murray Hill Road, Suite 104, 216-229-2220, boltandspool.com
Christina Catherine
Is your dress too big, your suit doesn't fit right or you're looking for your next statement piece? Look no further than Christina Catherine, who specializes in tailoring, alterations and custom clothing designs. With years of fashion experience, she can bring your next clothing idea to life. 2218 Murray Hill Road, 440-263-0341, christinashelton.co

Janet Century Photography
Capturing life's most interesting moments, Janet Century Photography specializes in fine art, portrait and commercial photography. Janet Century Photography photographs events all around Cleveland, including the Women's March and the Cleveland Foundation's Centennial Anniversary Exhibition. 2026 Murray Hill Road, Room 205, 216-225-2269, janetcentury.com
Keller Art Glass
Jerry Keller's glass studio has been a Little Italy staple for decades. The glass artist works out of his storefront and also commissions pieces from artisans throughout the country. You'll find glass art in all forms, from stained to etched to blown. 2151 Murray Hill Road, 216-721-0314, kellerartglass.com
The Kiss of the Hands
Started in 2003 to honor the owner's family of immigrants, The Kiss Of The Hands has handmade goods like intricately designed serving plates, sterling silver jewelry and preciosa figurines, most of which are imported from Italy. 12014 Mayfield Road, 216-231-2272, thekissofthehands.com
La Bella Vita
Stocked with goods imported from around the world, La Bella Vita offers specialty tableware and elegant gifts. Ranging from wine decor to dinnerware to serving pieces, there is something for anyone wanting to elevate their next dinner party. 2013 Murray Hill Road, 216-421-1717, labellavitacleveland.com
Lee Heinen
Bright colors and intricate designs are prominent in Lee Heinen's paintings and portraits. Inspired by the world around her and expression, Lee Heinen utilizes realism and neo realism in her prints and paintings that are available for purchase. 12402 Mayfield Road, 216-469-3288, leeheinen.com
Little Italy Wines
This cozy shop is packed with more than 900 wines including imports from Spain, Germany, France and, of course, Italy; 80 handcrafted beers; and Italian treats such as creamy MonteAmore cheese, fondly known by many customers as "the cheese." Check upstairs for wine-themed gifts, paintings and signs with Italian phrases. 12414 Mayfield Road, 216-231-9463, littleitalywines.com
Mayfield Smoke Shop
You'll feel like you're at your grandfather's house as the smell of thick, fragrant smoke wafts through the air and neighborhood men play cards in the back room. Find around 400 imported cigars, including the flavorful Padron cigar and the customer favorite, Fuente. 12307 Mayfield Road, 216-229-1588
Moonstruck Vintage
Take your wardrobe a step back in time at Moonstruck Vintage. With selections of vintage purses, dresses, jewelry and more, you're sure to find a statement piece to spruce up your outfits. 11917 Mayfield Road, 216-533-1925, moonstruckcle.com
Small Screen Studios
Small Screen Studios specializes in original graphic prints, gifts, apparel and more at their shop in Little Italy. Owner Sara Hoover's original designs channel inspiration from Cleveland landmarks to Italian themes. 2017 Murray Hill Road, 216-282-4727, shopsmallscreendesigns.com
Snakes & Acey's
Snakes & Acey's prints anything — and we mean anything. All designs are original and handmade with water-based ink, which is more environmentally friendly. Designer Hannah Manocchio's one-woman business creates custom designs and prints for any occasion. 2051 Murray Hill Road, snakesandacys.com
Still Point Gallery
Still Point Gallery prides itself on its showings of local and national artists that create unique and varied mediums of art. Owner and curator Kate Baker started Still Point Gallery to create a quiet space for patrons to reflect and observe works in the gallery. 12427 Cedar Road, 216-721-4992, stillpoint-gallery.com
Tara Seibel Gallery
Eclectic and colorful patterns are the cornerstone of Tara Seibel's artwork. Inspired by the world around her, Seibel has created works inspired by the coronavirus pandemic and Black Lives Matter movement. 12101 Mayfield Road Suite 205, 216-375-0760, facebook.com/TaraSeibelArt/
Terry Carlin Violins
Located near Severance Hall, Terry Carlin Violins specializes in all things string instruments, from violin, viola and cello rentals to cases and strings. Terry Carlin Violins also sells vintage, factional size cellos that have a better sound than newer models. 2026 Murray Hill Road, Suite 201, 216-791-2440, carlinviolins.com
Topsi Turvi
The name says it all: Topsi Turvi sells quirky handmade gifts and Italian accessories in their Little Italy shop. Crocheted afghans, The Godfather-inspired T-shirts and ornaments are just a few of the many intricately made products. 12412 Mayfield Road, 216-421-9815, facebook.com/TopsiTurvi/
Tricia Kaman Studio
Tricia Kaman is a portrait and figurative artist who is inspired by her models. Kaman uses oils and pastels to paint still lifes, scenic landscapes and portraits of the world around her. 2026 Murray Hill Road, Suite 202, 216-559-6478, triciakaman.com
Verne Gallery
Owner Michael Verne shows off an impressive collection of antique and contemporary Japanese prints and paintings in this quiet, simple space. You'll find Hiroshi Yoshida's Sailing Boats – Mist original woodblock print for $13,975, alongside art that is more affordable from Americans working in Japan. 2207 Murray Hill Road, 216-231-8866, vernegallery.com
Urban Orchid
Need a beautiful flower arrangement for your wedding or next event? Urban Orchid specializes in upscale, brightly colored flower arrangements, corsages and boutonnieres and gift baskets for any occasion. 2062 Murray Hill Road, 216-721-3853, theurbanorchid.com
The Services: Little Italy's community is strong with groups and organizations that help keep traditions alive and promote the neighborhood. Please check with each establishment for its hours of operation.
Alta House
What began as a safe haven for Italian immigrants in 1895 is now is a blossoming Italian cultural center for Northeast Ohio. Alta House strives to enrich the lives of the community through sharing Italian culture, while also offering support and programs to strengthen the community. 12510 Mayfield Road, 216-421-1536, altahouse.org
Holy Rosary Catholic Church
A prominent Little Italy parish since 1892, Holy Rosary Catholic Church is a place for anyone looking for prayer or celebrate life's special moments. With its traditional, grandeur depictions of religious figures in the chapel, the church makes parishioners feel at peace. 12021 Mayfield Road, 216-421-2995, holy-rosary.org
Italian American Brotherhood Club
A 91-year-old organization, the Italian American Brotherhood Club aims to support and contribute to their community through charity work. The club has many events to get to know one another, including a monthly dinner at Cleveland restaurants. 5900 SOM Center Road, STE12-307, 216-403-8570, italianamericanbrotherhoodclub.com
Little Jacket
Want help growing your business? Little Jacket's team of writers, designers and strategists work with businesses and organizations on various projects, like MetroHealth's poster campaign to present the hospital's core values. 2026 Murray Hill Road, Suite 103a, 216-373-6979, little-jacket.com
Mayfield Marketing Group
Mayfield Marketing Group offers a wide array of promotional items for companies looking to promote their business. For your next event, pick out some branded tumblers or a heathered blanket to promote your company. 12201 Mayfield Road, 440-251-0695, mayfieldmarketing.net

This story has been updated and adapted from 2011's "Eat, Pray, Love: A Guide to Little Italy."