Experts say it's going to be a cold and snowy winter in Northeast Ohio.
That's OK with us; we're Cleveland tough. And we've got plenty to do, from winter festivals to theater to outdoor activities, to raise your pulse — and indoor comfort eats for afterwards. Not to mention Christmas Ale! So don't hide from winter, embrace it.
Read on for 45 ways to enjoy a full Cleveland winter.
Top 10 Most Cleveland Winter Activities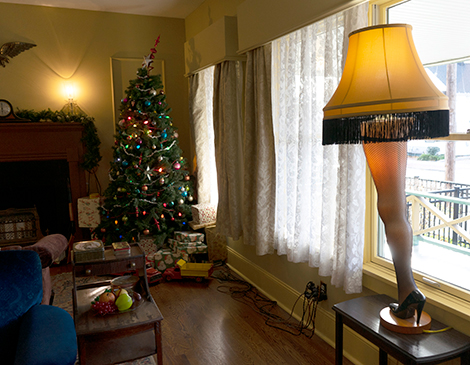 1. A Christmas Story House and Museum
What's Cleveland's most popular holiday destination? Not a museum, festival or major cultural institution. It's an unassuming yellow, two-story house looking over Cleveland's steel mills at the end of West 11th Street in Tremont. But this house holds more history than many of its neighbors. You'll recognize it from 1983's A Christmas Story, a holiday classic set in 1940 that follows the Parker family's Christmas traditions and Ralphie Parker's hopes for a special gift under the tree: a Red Ryder carbine action, 200-shot, range model air rifle.
The iconic restored house found new ownership in 2006, purchased by super-fan Brian Jones, who made sure the space shares all the best sights and experiences from its cinematic past with fellow fans of the Bob Clark film. "It's just a really special movie with an underlying sense of humor, it's not a fake or cheery movie in which everything always works out," says Jones. "It really has that nostalgic childhood feel." The house has that feel, too: downstairs visitors will find the "major award" leg lamp, along with other details like the Parkers' Christmas tree and kitchen. Head upstairs and spot a tasty bar of Lifebuoy soap and Ralphie's decoder ring.
Beyond the house itself, you'll find more memorabilia in the museum across the street. Maybe make a night of your visit: Overnight reservations are available both at the house and at the Bumpus House located next door, on the organization's website. This will be a special year to visit the Christmas Story House, since the film will finally receive a sequel on Nov. 17 on HBO Max. A Christmas Story Christmas features an adult Peter Billingsley returning in his role as Ralphie — but, you won't see the yellow house here, since the movie was filmed in Hungary. The house is open year round with extended holiday hours. achristmasstoryhouse.com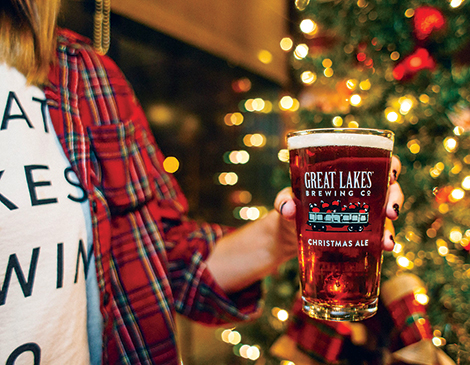 2. Great Lakes Brewing Co. Christmas Ale
Ring in the holiday season by raising a pint of GLBC Christmas Ale. The seasonal beer, which celebrates its 30th anniversary this year, features festive notes of cinnamon, honey and ginger. Find it at local restaurants and stores. greatlakesbrewing.com
3. Jack Frost Donuts
There's always a themed option available from this local doughnut shop during the holidays. Taste sweet Thanksgiving and A Christmas Story-themed donuts at the Pearl Road shop or at its stands at the Cleveland MetroParks Zoo and the West Side Market. jackfrostdonutsusa.com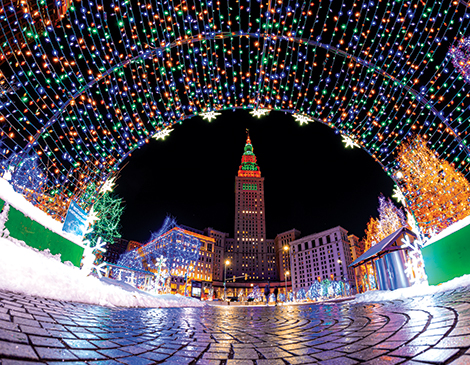 4. WinterLand
The weekend after Thanksgiving, WinterLand gets underway. Formerly known as WinterFest, WinterLand kicks off for its 37th year on Nov. 26 with Santa, carolers, hot chocolate and the opening of the Cleveland Foundation ice skating rink. It culminates with a massive tree lighting and fireworks display in Public Square. winterlandcle.com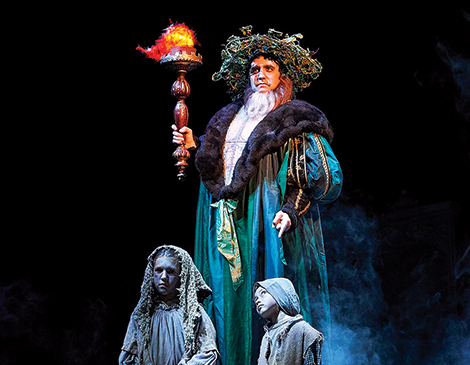 5. Great Lakes Shakespeare Festival's A Christmas Carol
Charles Dickens' holiday staple takes the Mimi Ohio Theatre stage, running Nov. 25-Dec. 23. The Gerald Freeman adaptation has been a Cleveland holiday hallmark since 1988. greatlakestheater.org
6. Toboggan at the Cleveland Metroparks
Take a thrilling race in one of the two 700-foot toboggan chutes at the Chalet in Mill Stream Run Reservation. It's open weather depending, Nov. 25-Feb. 26. Riders must be at least 42 inches tall. clevelandmetroparks.com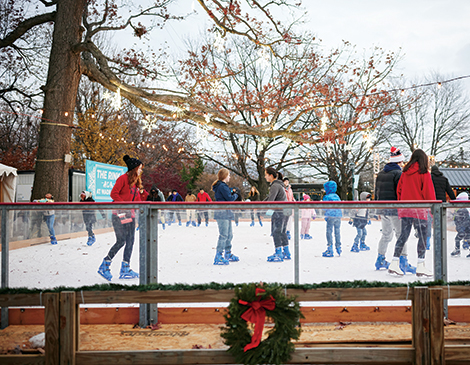 7. The Rink at Wade Oval
One of the best deals on ice skating in town is in University Circle. The Rink at Wade Oval offers $2 admission and $3 rentals, with even cheaper deals available for students. Skate under starry lights and sip hot cocoa from Dec. 2 to Feb. 26. universitycircle.org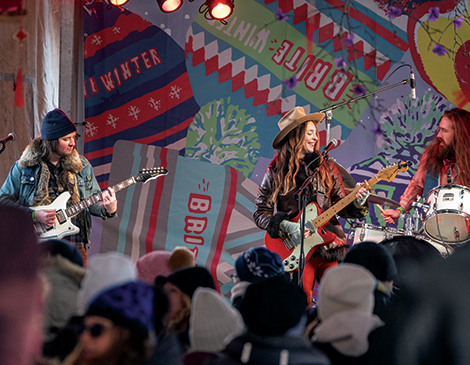 8. Brite Winter
Brite Winter proves that an outdoor music festival can work, in Cleveland, in February. The daylong event returns to the West Bank of the Flats, under the Main Avenue Bridge, on Saturday, Feb. 25 with dozens of local bands and artists. britewinter.com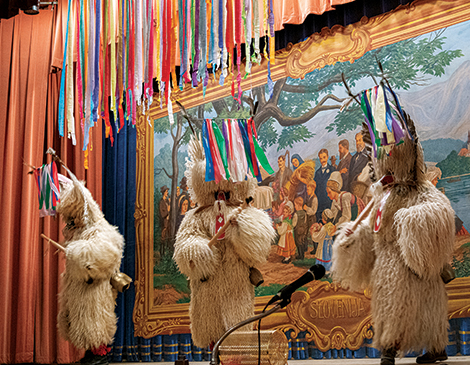 9. Cleveland Kurentovanje
Fluffy monsters bop with bells around the street in an effort to scare off winter in this Slovenian cultural event. For the past decade, Cleveland's Kurentovanje festival has grown to draw more than 10,000 attendees to view the "Kurent" creature costumes, taste pierogies and drink plenty of beer, all at the Slovenian National Home in Cleveland's St. Clair-Superior neighborhood. Its location makes sense; St. Clair-Superior is home to one of the largest Slovenian populations in the world. (Kurentovanje traditionally takes place in Slovenian communities, leading up to Ash Wednesday.) Beyond the big festival day (which lands on Feb. 18), other events lead up to the finale; in past years, that programming has included concerts, cooking classes and a 5K race.
"We will continue to do both online and in-person events. And we never do the same thing the same twice," says event organizer Nicole Kusold-Matheou. "Programming is fueled by incorporating St. Clair-Superior and Slovenian culture and things that are just fun. It's a way to bring Slovenian culture to our audience, a way of exploring what is Kurentovanje, what does it mean to be Slovenian, and to provide a holistic view of the culture. It's grown so much since we began, on both a local level and internationally. People are booking flights to come to town already." clevelandkurentovanje.com

10. Wild Winter Lights presented by NOPEC at Cleveland Metroparks Zoo
At night, the Cleveland Metroparks Zoo comes alive in a new way during Wild Winter Lights. More than a million bulbs light up to music, offering a festive, animal-filled excursion for the holidays. Drive-through experiences allow families to roll past the sights, along with walking nights, on select evenings Nov. 15-Dec. 30. futureforwildlife.org
On The Stage
11. Hamilton at Playhouse Square
Lin-Manuel Miranda's award-winning Hamilton will be THE show of the winter, taking over Playhouse Square's KeyBank State Theatre from Dec. 6 to Jan. 15. The hip-hop-fueled retelling of Alexander Hamilton's life shares the "story of America then told by America now." playhousesquare.org
12. Black Nativity
Langston Hughes, one of Karamu House's most famous alums, penned this gospel adaptation of the nativity of Jesus in 1961. The play will take the stage at Karamu, the country's oldest currently producing Black theater, in Cleveland's Fairfax neighborhood Dec. 1-23. karamuhouse.org.
13. Cleveland Orchestra Holiday Concerts
Nothing beats hearing festive songs performed by the world-class Cleveland Orchestra. The show runs Dec. 8-18 at University Circle's Severance Music Center. clevelandorchestra.com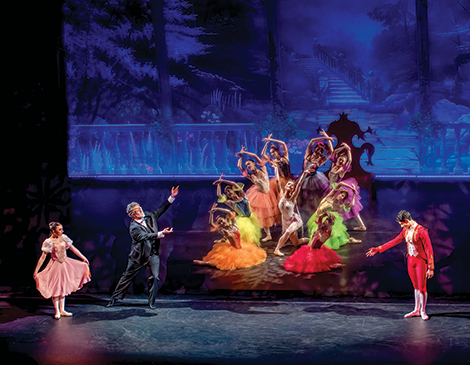 14. The Nutcracker
The sugarplum fairy and mouse king come alive in Tchaikovsky's The Nutcracker. You'll find several versions of the show around town, including Cleveland Ballet's which runs Dec. 15-18 at Playhouse Square's Connor Palace. clevelandballet.org
15. Elf the Musical
Buddy the Elf finds Christmas cheer at several local playhouses this season, including Lakewood's Beck Center, Akron's Weathervane Playhouse, Chagrin Falls' Chagrin Valley Little Theatre and Parma Heights' Cassidy Theatre.
16. Land of Oz
Based on the sequel to Frank L. Baum's The Wonderful Wizard of Oz, this fantastical play makes its world premiere at Cleveland Heights' Dobama Theatre, Dec. 2-31. dobama.org
17. Beetlejuice
Tim Burton's 1988 horror-comedy film takes the Connor Palace's stage in Playhouse Square's first Broadway Series show of the new year, Jan. 10-29. playhousesquare.org
18. Hadestown
This political Tony-winning musical takes the Connor Palace Stage Jan. 31-Feb. 19. playhousesquare.org
Full Circle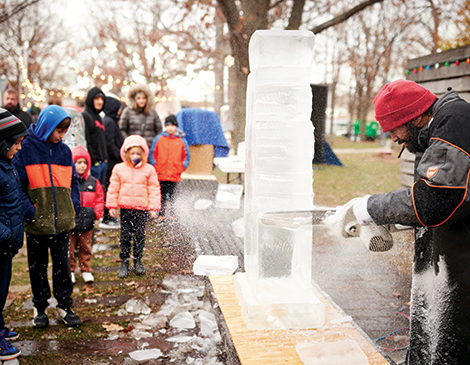 19. Circlefest
The final Holiday CircleFest is set for Dec. 4, with horse-drawn carriages, ice carving and, of course, photos with Santa, all on Wade Oval in University Circle. The festival will change in 2023, adding more weekend activities to the mix. This year, enjoy one day of fun, which also includes artsy activities inside the Cleveland Museum of Art and elements from CMA's Winter Lights Lantern Festival. universitycircle.org
20. The Cleveland Botanical Garden Winter Show
The inside and outside portions of University Circle's Cleveland Botanical Garden will feature lights, plant displays and other festive fun, like the annual Gingerbread House contest. See it all Nov. 19-Dec. 31. holdenfg.org
21. Cleveland Museum of Art
A group of new art acquisitions makes its way to the Cleveland Museum of Art through Jan. 8. Joseph P. and Nancy F. Keithley made a massive gift to the museum in 2020, donating a collection of modern European and American paintings, along with Impressionist and Post-Impressionist works. clevelandart.org
22. Cleveland Museum of Natural History
Clevelanders can enjoy free entry to the Cleveland Museum of Natural History on Sundays. With proof of residency, Clevelanders and East Clevelanders get access to the planetarium, Balto and plenty more. cmnh.org
23. Holiday Tours at the Cleveland History Center
Learn about Cleveland's holiday traditions and festive pastimes at this spot, while enjoying its usual annual holiday decorations. Head to Crawford's Street of Shops for a reserved tour to delve into Cleveland's ethnic and cultural groups. Tours available on select Thursdays: Dec. 1, 8, 15, 22 and 29. wrhs.org
Holiday Happenings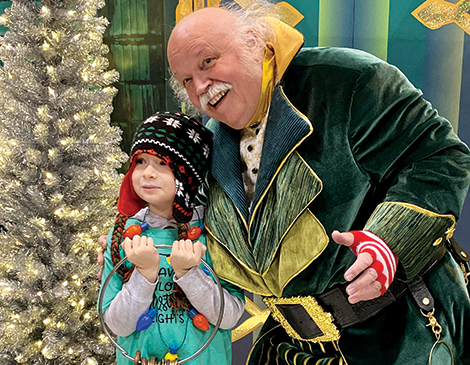 24. Spend some time with Mr. Jingeling
"Mister Jingeling/How you ting-a-ling/Keeper of the keys/On Halle's seventh floor/We'll be looking for/You to turn the keys." Sure to get stuck in your head, this little jingle belongs to Mr. Jingeling, the Christmastime icon who first appeared in 1956 in Halle's department store. You'd have to head up to the building's seventh floor to meet the Keeper of the Keys, stationed in the space from Thanksgiving to Christmas. In the early 1980s, when Halle's closed its Euclid Avenue store, Mr. Jingeling went away with it — until recent years when the figure resurfaced to appear at festive events once again.
"Cleveland was really ready to see Mr. Jingeling again," says Mr. J. "When I see faces of people who grew up with Mr. Jingeling, they just light up. Seeing Mr. J. bring back their childhood memories, with the lights and festivities — that childhood feeling." You can catch Mr. Jingeling at the Christmas Connection at the I-X Center Nov. 18-20, along with a variety of other Northeast Ohio stops this holiday season. "If you grew up in the 1950s or '60s, it was almost more important to see Mr. Jingeling than Santa," Mr. Jingeling says. "Now these children are grandparents, sharing their feeling of childhood joy with their children and grandchildren." mrkringle.com/mrjingeling
25. Castle Noel
It's Christmas year-round, at Castle Noel. But it's extra-special to visit the merry Medina market around the holidays. Customers can explore Santa Mountain, a set piece used in A Christmas Story, or check out other holiday movie memorabilia. Visit by reservation only. castlenoel.com
26. Candy Land Gone to the Birds
Play a round of Candy Land with some birds thrown in, all while learning about birdwatching and local ecosystems, at Willoughby's Penitentiary Glen Reservation. Plus, try out snowshoeing at the park, depending on the weather. lakemetroparks.com
27. Scuba Claus at CLEAquarium
Santa Claus might be known for flying around the world in his sleigh, far overhead, but he also goes under the sea in this annual Greater Cleveland Aquarium tradition. Wave at Scuba Claus himself as he dips into tanks filled with creatures like eels, sharks and angelfish – and be sure, while you're there, to say hi to all of the aquarium's other creatures, like the octopus, weedy seadragons and stingrays in the touch pool. greaterclevelandaquarium.com
28. Cuyahoga Valley National Park's "Read with a Ranger" at Tower City Center
Live your Polar Express dream on Dec. 10 when the CVNP Rangers read the classic children's book during this free event at Tower City. towercitycenter.com
29. Deck the Halls at Stan Hywet Hall & Gardens
There is really no bad time to visit this bucolic Akron estate, with historic mansions and garden features that earned it National Historic Landmark status. But the holiday season is truly the best time to visit the former home of Goodyear Tire & Rubber Co. founder F.A. Seiberling. From Nov. 25-Dec. 30, the museum's annual holiday event invites guests to gawk at more than 1.2 million lights across the 70-acre grounds. Massive, bright Christmas trees adorn the Carriage House Courtyard and the Corbin Conservatory, a tropical greenhouse comprised of 4,322 panes of laminated glass that features a 20-foot tree during the holidays. In the Manor House — 64,000 square feet of English-inspired architecture that took three years to complete in the early 1900s — the contributions of Gertrude Seiberling, F.A.'s wife, are on display for the first time. The Music Room, decorated in red, green and gold, highlights Gertrude's musical talents and exquisite fashion, by displaying her holiday dresses. Children find photo ops and fun with Santa, Rudolph the Red Nosed Reindeer and at Gingerbread Land. Don't miss sweets from the Gingerbread Bakery. stanhywet.org
30. Hale Farm & Village Holiday Lantern Tours
Like the ghost of Christmas past, go back in time to see how holiday traditions have evolved from the early 19th century to now. But don't worry, there's nothing spooky about this candle-lit tour, running Dec. 3-23, of the historic Summit County property operated by the Western Reserve Historical Society. With 32 structures plus farm animals and crafting opportunities, Hale Farm is truly a blast in the past. wrhs.org
31. Cleveland Bazaar Artisan Market Pop-up
Cleveland's best small businesses will pop up a few times this season at Cleveland Bazaar's events, including Dec. 17-18 in Tower City. The event will also have live music, balloon artists and giveaways. clevelandbazaar.org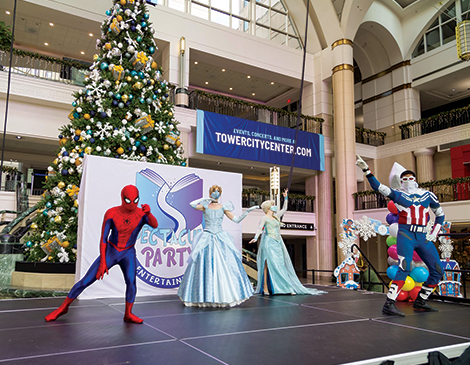 32. Tower City Center's Noon Year's Eve
It's tough to find a family-friendly way to celebrate the new year. Luckily, Tower City offers a free daytime event on Dec. 31 complete with a balloon drop at noon, dance parties, face painters and more. towercitycenter.com
The Great Outdoors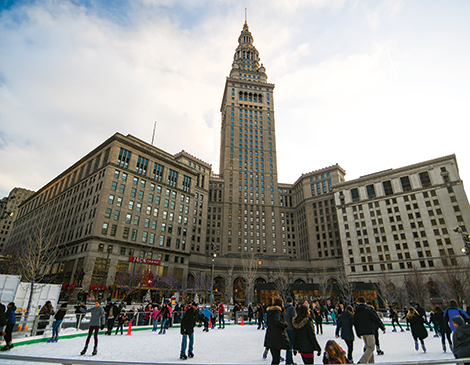 33. Cleveland Foundation Ice Skating Rink at Public Square
Under the shadow of the Terminal Tower, Cleveland's take on the The Rink at Rockefeller Center in New York City might be the most picturesque ice patch in the Midwest. The more than 5,000-square-foot rink is the perfect place to take in Public Square's festive holiday lights. Admission to the ice rink, which is open from Nov. 25 to Feb. 21, is $12 and includes rentals. Private parties and lessons (free on Saturdays with admission) are also available. clevelandpublicsquare.com
34. Scott Hamilton at Public Square Rink
Olympic gold medalist Scott Hamilton glides into the ice rink at Cleveland's Public Square on Dec. 8 for Sk8 to Elimin8 Cancer, a free event to raise money for innovative cancer research. scottcares.org
35. Snow Trails
Just an hour down Interstate-71, Mansfield's charming Snow Trails features more than a dozen trails and lifts, plus a quaint lodge restaurant perfect for apres ski. snowtrails.com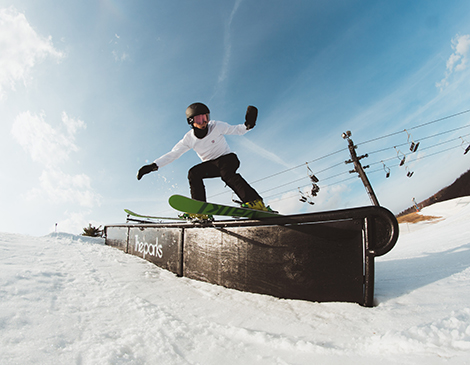 36. Boston Mills/Brandywine
Though the park opens Dec. 17, it's not too early to start planning your season at Northeast Ohio's premiere ski and snowboard resorts. The two ski areas are just five minutes apart and feature three black diamonds, a terrain park and snow tubing. bmbw.com
37. Metroparks Snowshoeing
This winter workout is available at Metroparks golf courses, such as Big Met, Sleepy Hollow and more. Rentals are available at Big Met, Hinckley Lake Boathouse and North Chagrin Nature Center. Expect to break a sweat, though no experience is required. clevelandmetroparks.com
38. Snowshoe at Holden Arboretum
Hike through winter gardens, around frozen lakes and through woodland forests, all winter long. holdenfg.org
39. Sledding
Where? A hill near you! C'mon, do we have to plan everything?
Comfort Foods and Winter Warmers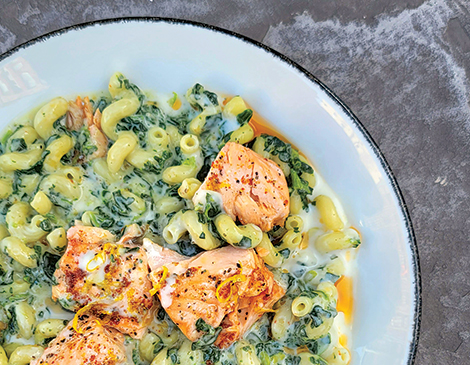 40. The South Side
Ukrainian-born The South Side chef Natasha Pogrebinsky has a way with comfort foods. The wide-ranging menu at her cozy Tremont spot, which features a sweet indoor-
outdoor fireplace, includes many hearty favorites with modern twists that warm on a winter day. The chef recommends the Spinach Alfredo Salmon Pasta ($15.25) with salmon belly baked in pepper and lemon sauce. To try it at home, saute spinach in a compound butter with roasted garlic and rosemary and then add a bechamel cheese sauce and serve atop pasta. Salmon filet works fine. "It's a slightly more grown-up version of the classic comfort food mac and cheese. It's healthy-ish, but comfort food is all about that warm-hug feeling," she says. "This will put a smile on your face after a cold day." southsidecleveland.com
41. Irie Jamaican Kitchen
Heat up your winter with jerk chicken, beef patties and more from this fast-casual Jamaican joint with locations on East 185th Street, Old Brooklyn and Akron. Build your own bowl from favorites across a menu that fuses traditional and modern Jamaican cuisine or bring home dinner with the family pack. iriejakitchen.com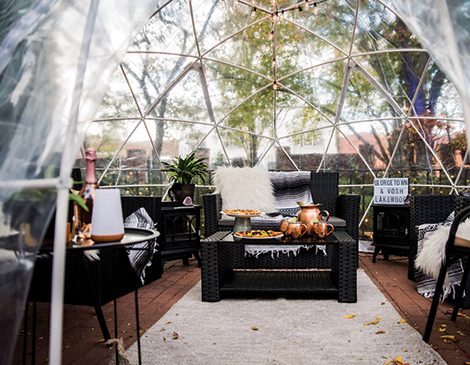 42. Georgetown Arctic Igloos
Baby, it's cold outside, but not in these cozy igloos on the tree-covered, string-lit patio at Georgetown in Lakewood. Featuring personal heaters, these dining bubbles are a delightful and safe way to enjoy winter — just be sure to make a reservation. georgetownvosh.com
43. Prosperity Social Club
Nostalgia is cozy, too, and Old World flavor is served up to new generations at this homey Tremont hangout. Vintage beer signs, board games, a bowling machine and comforting Eastern European foods from pierogi to paprikash make for a Cleveland classic. prosperitysocialclub.com
44. Algebra Tea House
This colorful cafe nestled between Case Western Reserve University and Little Italy is the perfect place to sip the day away with a wood-burning stove, artful decor, tables made out of polished tree trunks... oh, and dozens of black, white and herbal teas. algebrateahouse.com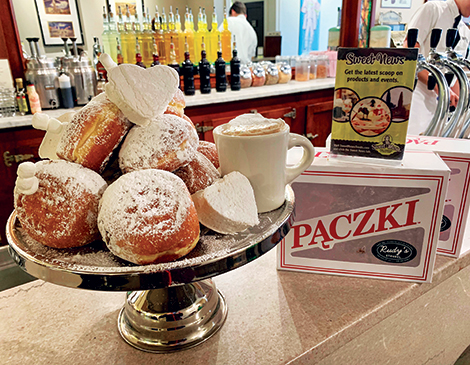 45. Fat Tuesday at Rudy's Strudel & Bakery
While some cities usher in winter's end with colorful Mardi Gras parties, Clevelanders line up before dawn on frigid Fat Tuesday (Feb. 21) to snag a delicious paczki at this Parma bakery. Luckily, the bakery's sweet and savory flavors are worth the wait. rudysstrudel.com