Do you have a little explorer or a sports fanatic? Is your child arts-and-crafts-inclined or a gaming guru who wants to create lobbies on Roblox? Are you introducing a young one to summer camp or hoping to broaden the horizons of a teen who's investigating future careers?
This summer, what's the plan?
Now's the time to do your summer homework. But we know, it's not that easy. There are camps focused on athletics, nature, space, drones, sewing, theater, art, sailing, outdoor survival skills, animals, hiking, engineering, LEGOs, rockets, medicine, teambuilding, Roblox — and developing empathy.
"There is literally a camp for everyone out there, just dozens and dozens of opportunities," says Brian Martin, director of the St. Ignatius Summer Enrichment Program, in its 54th year.
What to choose? With so many options, you need a filter. And that's your kid.
"It doesn't matter how young they are, talk with your children," says Rhonda Rickelman, director of auxiliary programming, Gilmour Academy. "Find out what they might like to try. 'We know you like soccer, but would you like to do something with animals or cooking?'"
Pull up camp websites and look at the pictures, advises Kimberly Green, co-director and lead instructor of Summer at Laurel. "They choose the pictures to showcase the best parts of their camps. Sit down with your child and see what activities excite them the most."
Certainly, camp can be an investment. Cost, convenience (carpooling) and credibility are factors to consider, Martin says. "Find out if camps offer multi-child discounts, if financial aid is available," he says.
And as you hand-select experiences for your child this summer, know that you're opening his or her world to something different.
"Camp gives them a chance to see new places, experience new things and meet new people," says Mary Rouse, director of outdoor experiences, Cleveland Metroparks. "Kids can get out of the pressure cooker they're in and have some time of discovery and learning in a more free-form way."
Finding a camp for your kid can be an adventure in itself. Here are some ideas to get started.
Explore the Outdoors
More than 100 camps offered through Cleveland Metroparks. Kids ages 10 to 14 who have built some basic skills already can try the Primitive Skills camp that teaches how to make a coal-burned bowl, start a fire with a bow drill, create cordage, make a hiking stick and more.
The younger set can meet new creatures with programs like Creepy Crawly Camp, Things with Wings, Home Sweet Habitat and Bugs, Slugs and Spiders, Oh My! "These themes get children to explore and look for things in nature that excite them," Rouse says.
For some kids, creek-walking and finding frogs is a wild adventure. Other children crave outdoor camps with more elevated challenges. High- and low-ropes elements at Laurel's 150-acre Butler campus in Russell Township are combined with outdoor nature experiences and overnights. "This year, we are bringing back a girls-only adventure camp program that builds resilience," says Miriah Seckel, director of Summer at Laurel.
Sky High Adventures at Gilmour Academy includes ziplining and caving along with ninja training. "The kids participate in some team building, and then we do two hours of repelling," Rickelman says, adding that the archery they introduced last year sparked a lot of interest and introduced a new outdoor activity.
Foster Empathy
Great Lakes Science Center is introducing an empathy curriculum into its summer camps. "In the world we live in now, we really need to instill the skillset of empathy into our kids and into the next generation — not necessarily agreeing with everyone's opinion but learning to work with people who are different than you," says Heather Bambam, manager of STEM curriculum.
For example, an engineering challenge could involve building a rollercoaster that is accessible. "We might take a look at how to make sure someone who is not able-bodied can get to the top," Bambam relates. "How can we make sure that everyone has fun?"
A full day will be dedicated to accessible playgrounds. "We'll have campers work through a process with their group, make a blueprint, refine their ideas and present them," Bambam says.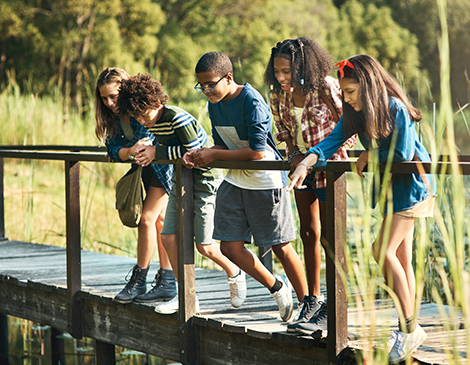 Build Camaraderie
Rising eighth-grade boys can get to know others who might attend St. Ignatius High School through its Summer Enrichment Program (SEP), which includes four academic courses, team-based activities, sports and activities like trivia. They learn the campus and make new friends who could be future classmates. For this and other summer opportunities, Martin emphasizes the importance of reputation when deciding on camps for your kid. "Having some history, credibility and a proven track record is important, and any time you can talk to people who have gone to the camp is a meaningful factor," he says.
Go Back in Time
Want to show your kid what it was like to grow up on a family farm in the late 1800s? Fun on the Family Farm immerses campers in the "old days," including making homemade butter, ice cream and toys. The camp mixes in songs and games — aimed at children ages six to eight — and is held at the Brecksville Reservation Squire Rich Museum.
Calling Young Animal Lovers
Have an inspiring veterinarian at home? Magnificat's Little Vet School for grades 1 to 3 includes a week of learning more about pet pals through crafts, activities and hands-on lessons. "They'll create their own veterinarian kit and get to meet an animal or two," says Julie Gibbons, vice president of enrollment and marketing.
Mind Your Manners
Call it cotillion 2.0. Etiquette camp at Gilmour is a hit with the parents, and the kids dig it, too. From learning how to write a thank-you note to which fork to use for salad, "it's the simple things you don't think about but need to learn — and they eat it up," Rickelman says — no pun intended.
All About Art
If your child has a creative knack or wants to dig into a new medium, there are a whole slew of programs that teach skills from pottery to sketching. A Gilmour Academy camp called Sew It teaches kids how to make a bag and pajama pants and do embroidery. "You don't realize the impact it has," Rickelman says. "I had a student the other day ask, 'Are you going to do sewing again? I love sewing!' Maybe a parent doesn't like to do it, but their kid might really enjoy it."
At Magnificat, Little Picassos camp provides a plethora of projects using various media —painting, ceramics and more. "They make pinch pots, do salt painting, tissue paper butterflies — it varies," Gibbons says.
Sports + Science
Hockey, basketball, football, tennis — name the sport, and there's a summer camp to build your child's skills. But there are other ways to "do" sports at Great Lakes Science Center. "More than just playing the sport, you'll learn about nutrition, hydration, how to keep your body safe and how our bodies work to let us play that sport," Bambam says.
Get Busy in the Kitchen
Baking and cooking camps at Magnificat book up fast, Gibbons says. For your child with a sweet tooth, Just Desserts offers a sugar rush of recipes. Cooking camps dedicate days to different cuisines: Italian, Mexican and more. "Our chef runs the camp with another adult and some of our student counselors," Gibbons says, attributing their popularity to the interest in cooking shows.
Get Your Game On
Do you have a junior Minecraft maestro at home? Coding camps that offer tools, techniques, coaching and creative exercises help teach tech-minded children to design their own games.
Summer at Laurel offers development camps for beginner and intermediate students, Seckel says. The campus is also home to a Drobots Company program where campers collaborate and take on STEM challenges by using drone technology with a theme of "where technology meets fresh air."
Gilmour Academy's Fun with Drones camp uses the school's in-house drones. "The kids don't even have to bring one," Rickelman says, adding that other technology options in the STEM category include video game design, basic coding and programming and LEGO robotics.
To mix up tech with time outdoors, consider pairing a computer-based experience with traditional day camp or an adventure program. "Kids ages 5 to 12 can do a half-day of our Day Camp and spend the rest of their time in a specialty camp," Rickelman says.