The great outdoors can still be great 10 to 20 feet from your home. As long as you have fresh air, a good tent and a motivated camping crew, you can still have a meaningful escape in your backyard that helps you become one with nature. No matter the size of your lawn, a family campout can be as easy as getting creative with a tent, making a special meal you wouldn't usually serve, planning some activities and much more. We chatted with Kelly Emilianowicz, owner of Pop-Up BNB, and Linda Goik, BayArts education director, about fresh elements to add to your next backyard overnight.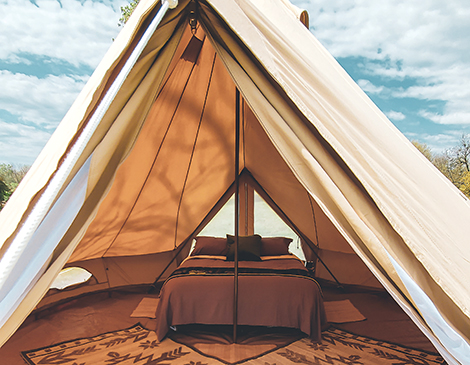 Trick Out Your Tent
When camping from home, it's less about having the sturdiest shelter and more about creating an environment that really lets you escape. Kelly Emilianowicz, whose company offers luxury pop-up tent rentals in Ohio, Indiana, Kentucky and the New England area, suggests that whether you're using a store-bought tent or making a more authentic-looking option out of a canvas tarp, it's easy to spruce it up with amenities such as a comfy air mattress, throw pillows from the living room and, of course, some twinkling lights. "There's something magical at night with being able to have those lights up," says Emilianowicz. "And they're really affordable, but if you're in your own home, then just get a bag of old Christmas lights and decorate the tent with some of those."

Get Creative With Your Campfire
Beyond just your classic marshmallows and graham crackers, being in your own backyard allows you to get a bit more inventive with the menu for your fireside grub. For something a bit different, Emilianowicz suggests an easy and delicious garlic bread recipe passed down from her friend. Simply cut some French or ciabatta bread into squares and add butter, garlic and basil. "Then, you just wrap it in foil and leave it on top of the campfire for maybe 10-15 minutes," she says. "It toasts the bread, melts all the butter and garlic and it's like the most delicious thing in the entire world." Pro tip: She also says getting a cast-iron pan goes a long way for cooking your food perfectly over a fire.
It's OK To Unplug
One thing to consider with camping near your home: the temptation to scroll online is much greater. Since you're closer to your Wi-Fi connection, Emilianowicz suggests being a bit stricter with your camping crew to avoid getting lost in your devices — in other words, commit to the camping experience. "Have a rule that says nobody can look at their phone while you're camping," she says. "If you're in your own backyard and you really want it to feel like your own middle-of-nowhere camping experience, just have everybody put their phones in a drawer inside or turn your phones off."

Plan A Treasure Hunt
A big part of the camping experience is creating activities that keep you entertained and engaged with the natural world around you. For an ace camping-from-home activity, BayArts education director Linda Goik suggests amping up a fun treasure or scavenger hunt by including challenges to identify features in your natural surroundings and check them off on a card to see who gets the most. Do this with your family crew in your backyard, or even challenge the neighbors down the street to identify items as well. "The thing is just making the most out of simplicity," she says. "Find different crafts you can do in your backyard that don't require a lot of materials. Just keep it simple and keep everybody engaged."

Set Up A Movie Night
Finish off your busy day of camping with a relaxing movie night under the stars. Emilianowicz recommends going all out and making your backyard into a cozy miniature theater, whether you're projecting the film onto the roof of the tent or setting up a backdrop against your house. She also suggests using a portable projector, such as the Nebula Capsule, which runs on battery for up to 30 hours. "You can watch a movie inside any day," says Emilianowicz. "But outside, you get to roast marshmallows, cook hot dogs and sit around the campfire. It's just something different, unique and a change of scenery."