Surrounded by magnificent hardwoods like oak and Canadian hemlock, Findley Lake is the ideal summer retreat for those days when you need to shut off the outside world (and your phone) to just get away. Pine scents the air and the dense forest blocks out everything but the occasional sounds of a passing train. Explore the easily navigable 93-acre waters via kayak, watch as bright yellow goldfinches dive through the woods, listen to the water lapping at the shore and take a deep breath. At Findley Lake, it's as if you've stepped inside the covers of a storybook.
County: Lorain
Acres: 93
Average depth: 10 feet
Deepest point: 21 feet
The Water: From fishing boats overflowing with families and fishing poles to packs of kayaks roaming the inlets, Findley Lake is a small boater's haven. Rent a kayak from the park's marina ($10 for the first hour and $5 for each additional hour) and set a leisurely pace. There is nearly no wake to speak of thanks to Findley's electric-only motor restriction, which means the only thing you're paddling against is the sporadic lake breeze. Once you've dodged the Canada geese milling around the beach, it only takes about two hours to explore the lake's canals and bays where you can sneak up on great blue heron or slip your legs out of the boat to sun yourself next to painted turtles.
The Land: Nearly 16 miles of hiking and biking trails wind throughout the park. Adventure seekers can try their luck on the Thorn, a recently renovated and aptly named 11-mile mountain bike trail that twists its way through the state park. "We've rerouted the trail in a couple of spots to some new parts of the park that didn't have any trail," says parks manager Rocky Carpenter. Suitable for both novice and expert bikers, this trail climbs steep hills in meadows where the grass grows taller than the wheels of your bike and leads you back into the woods, where you might find yourself spinning in circles or stopped at a dead end.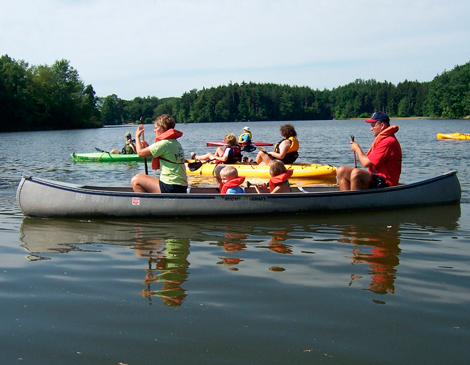 Where to Stay: With 257 electric and nonelectric spaces and a handful of cabins, the southeast portion of the park is almost completely dedicated to the campground. It gets crowded, especially on holiday weekends and for prime spots, so reservations are important. But if you don't mind roughing it a bit, reserve one of 90 primitive spaces. Under the shade of all those hardwood trees, you'll have a bit more space and privacy.
Where to Eat: Take a 10-minute drive to downtown Wellington for a pit stop at Dog Tracks Diner. It's got all of that classic diner feel with none of the grease. Grab a seat at the counter and bob your head along with the line cooks blasting Black Sabbath while they whip up the smothered chicken sandwich ($7.29), a tower of grilled chicken, mushrooms, onions and mozzarella cheese packed between two perfectly toasted pieces of bread. And if you order the curly fries, you'll forget that you were expecting gravy on this sandwich.
Expert Take: Try your hand at either the newly renovated Findley State Park or Lost Island disc golf courses. Lost Island's heavily wooded area and the water hole past the floating bridge may prove to be a bit difficult for beginners, but the challenge is all part of the fun.