The best part of Mosquito Creek Lake is what isn't there. From a pontoon drifting just past the state park's campgrounds, the shoreline remains relatively untouched, a melange of beech maples, marshlands and intimate sandy stretches with rarely a vacation home, restaurant or commercial outpost in sight. Just 6 miles from Warren, the state's second-largest inland lake remains a place removed, a sportsman's paradise since the U.S. Army Corps of Engineers built the dam that created it in 1944. Featured several times on Major League Fishing, the long, slender lake's shallow depths are known for bass, bluegill, crappie and flathead catfish, while the Wildlife Area and Refuge hosts white-tailed deer, water fowl and wild turkeys. Visitors from throughout the country return to Mosquito's wilds for a chance to reset the clock.
County: Trumbull
Acres: 7,858
Average depth: 9 feet
Deepest point: 24 feet
The Water: Anglers should steer their fishing vessels away from shore for walleye. Patience will be rewarded: Mosquito's silty bottom makes it difficult for the fish to breed naturally, so the Division of Wildlife's Fish Hatchery catches, breeds and returns them to the lake by the thousands each spring to promote succession rates. Still, a line from a lawn chair can be just as lucky for smaller catches, especially sitting on the cement causeway separating the reservoir from the lake's northern 15 mph zone. Park your car on the shoulder and pick a spot — if you don't nab a bluegill or crappie, you'll still catch a spectacular view of the sunset.
The Land: Those on the hunt can continue their quest on land. Capping the north end of the lake, the Mosquito Creek Wildlife Area is crisscrossed by segments of game refuge, originally established to restore the region's Canada geese population. Today, the Wildlife Area supplies the best of both worlds — keeping the refuge closed during nesting season and open for controlled hunts of geese, ducks (divers and dabblers), wild turkeys and white-tailed deer. "To get someone into the sport of hunting, this is the ideal spot," says Lou Orosz, area manager of the Mosquito Creek Wildlife Area. "They might not harvest an animal every time, but they're going to have a chance of at least seeing one and interacting." Bird watchers and hikers can roam the 9,021-acre area's unrestricted land year-round to spot the region's more unusual residents — trumpeter swans, ospreys and bald eagles.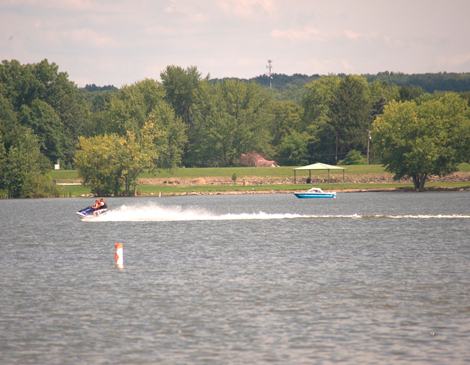 Where To Stay: Don't stray from the shore by renting one of the state park's two yurts, available from April 1 to Oct. 31. The permanent circular canvas structures are built right at the water's southwest edge, surrounded by wooden decks with their own grills and picnic tables. You won't be roughing it too much — each yurt comes with a full-sized refrigerator, microwave, table and four chairs, and two futon bunk beds. Roll out of bed and onto your private boat dock or drop a line right behind your yurt. "You've got nice breezes coming off the lake, sunrises right on the water," says Josie McKenna, park manager of Mosquito Creek Lake State Park. "It's the perfect location."
Where to Eat: Venture (slightly) inland to Cortland's Lake Tavern, a large chestnut-beamed former homestead serving up 25 types of kooky angus and bison burger combos. The Wild Wild Wes Cheeseburger ($8.49), a tangy-sweet tower of provolone, crispy onion ring, sweet chili sauce and horseradish, sneaks in subtle heat and is best paired with the toothsome hand-cut fries ($2). Miss the waves? Tuck in on the strung-lit back porch — overlooking a grounded pontoon whose deck serves as the stage for local bands and karaoke nights.
Expert Take: The causeway may be the most popular place to drop a line, but steal away to Mosquito's other break wall at the south end of the park for a more secluded fishing experience. "You have the water on either side of you, and a really nice breeze," says McKenna.