Tucked just 25 miles east of Cleveland near Amish Country, Punderson Lake sings a softer symphony. Relegating boaters to nothing stronger than a humming 12-volt electric motor quiets the lake and amplifies the serenity. Early in the day, your fellow sailors are so few they'd hardly sink a canoe, and the forested shores make the outside world seem much farther away. The looming turret roofs of Punderson Manor Resort, a massive Tudor-style manor house, give off an almost fantastical mystique. Slowing your tempo on this 150-acre glacial lake — whether in a rented canoe or in the manor's Adirondack chairs sipping a glass of wine — is an interlude from city life that feels nothing less than harmonious.
County: Geauga
Acres: 150
Average depth: 44 feet
Deepest point: 57 Feet
The Water: This glass-smooth natural kettle lake is perfect for summertime anglers. The lake's kettles, or three steep drop-offs, range from 30 to 57 feet and offer cooler waters for largemouth bass and rainbow trout, stocked annually due to their low survival rate in Punderson. For your best shot, rent a boat at Punderson Marina ($20 per hour, $62 per day), load up some spinner bait and head to the lake's deepest kettle, overlooked by the manor off the lake's west shore. No boat? No problem. Trophy trout and bass — as well as black crappie, brown bullhead and bluegill — can be caught easily from the boardwalk or shore during spring and fall's cooler days.
The Land: Keep the pace leisurely at one of the state park's two slightly different 18-hole golf courses. For a traditional game, swing away at the championship-rated public course, a wooded par 72 that stretches more than 6,800 yards and was designed by famed golf course architect Jack Kidwell. Or let it fly on one of the nation's top disc golf courses with a signature island hole that's only accessible by bridge. The fun-for-all course is an equalizer for any wannabe Arnold Palmer. "It's not like golf where you might struggle to hit the ball if you've never done it," says Mike Liedtke, general manager of Punderson Manor Resort. "As long as you can throw a disc, you can play."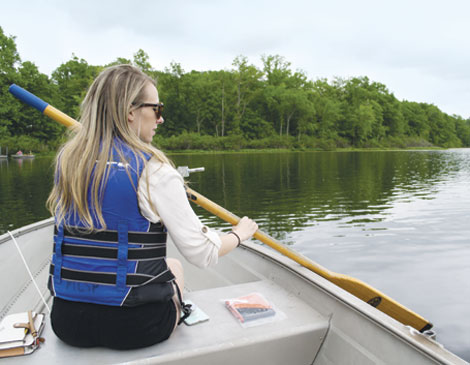 Where to Stay: Rough it like royalty at the Punderson Manor State Park Lodge, the lake's version of an English holiday. Built in 1925, the antique, spiral-staircased foyer lobby spills into the 108-seat, wood-paneled Cherry Dining Room. Take a quick dip in the pool before retreating to the back patio to watch the sunset over the lake, warm up by the fire pits and unwind to the sounds of the six-string strummers who play each Friday evening. Shack up in one of the manor's newly refurbished, fully furnished Hillside Cabins, which offer a full kitchen, screened-in porch and more privacy than a Downton Abbey guest room.
Where to Eat: A beloved neighborhood joint, Mangia Mangia isn't much to look at with spare decor, tiny TVs and a couple neon beer signs. But you'll quickly forget about the pasta sauce haven's lack of aesthetic flash when your heaping mound of garlic-sauteed blue mussels ($14.49) arrives piled atop a white wine sauce and bed of linguine. Although the restaurant is known for pizza, don't pass up the chance for the all-you-can-eat Friday night fish dinner served with a side of clam chowder ($11.49).
Expert Take: Whether it's the drunken spirits of a burned-down tavern or forever-young ghosts from a former amusement park, something is allegedly haunting the manor's estate wing, where employees have encountered swung-open windows, turned-on TVs and filled-up bathtubs. But Room 231 contains the only confirmed evidence of the supernatural. "There's a mysterious handprint on the window of that room," says Liedtke. "What's spooky is it's in a place that no human would ever be able to reach."