Club Sauce
Mentor Harbor Yachting Club
41° 43' 32.401" N, 81° 21' 8.767" W
Why dock here: Founded in 1929, this true sportsman's club offers two regattas a year, public sailing classes and skeet shooting in the fall. No. of slips: 180 Why we love it: The island-resort-meets-country-club vibe makes us want to pop on our favorite collared shirt and seaworthy boat shoes for a taste of the yacht life. "There's a lot of traditions here," says general manager Jamie Cordova. "But most of the time, it's fun and festive." Bearing: 5330 Coronada Drive, Mentor-on-the-Lake, 440-941-3150, mhyc.us
Olde River Yacht Club
41° 29' 35.685" N, 81° 43' 15.705" W
Why dock here: While the yacht club on the Cuyahoga River side of Whiskey Island doesn't feature a fueling station, it has plenty to offer from laundry facilities and showers to winter storage. No. of slips: 192 Why we love it: A stage for live bands such as Vinyl Warning and the Attraxxion near the clubhouse bar, pool and hot tub make this spot a perfect port for the laissez faire crowd. "We like to have fun," says commodore Mike Teffer. Bearing: 4900 Whiskey Island Drive, 216-630-1079, olderiveryachtclub.com
Vermilion Yacht Club
41° 25' 31.0" N, 82° 21' 49.4" W
Why dock here: The exclusive spot has access to a private beach and is within walking distance to downtown Vermilion's restaurants and shops. But it casts a line to all mariners, offering temporary dock space and fuel to boaters even if they aren't members. No. of slips: 50 Why we love it: The club prefers potluck dinners and wholesome family fun to private chefs and boozy bars. "We're a small, family-oriented club," says secretary Jim Beamer. Bearing: 5440 Anchorage Way, Vermilion, 440-967-3255, vyc.us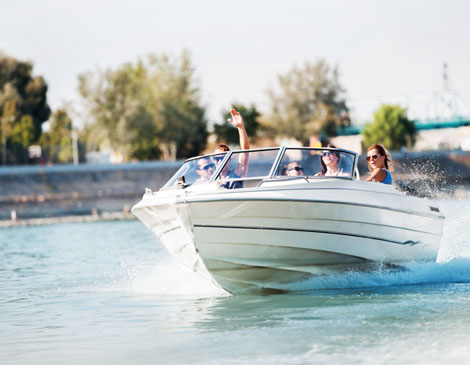 Ship Shapes
If you were a boat, what kind of boat would you be? We sought counseling from Kevin Roadenhauser, general manager of Boater's Point in Port Clinton, to help us answer this existential question.
If you're an adrenaline junky … get a speedboat
Built to hit speeds of 50 to 90 knots (60-100 mph), these sleek 20-plus-footers rip up the waves. But thrills have a price: Some models average less than 1 mile per gallon. "This is for someone who is single," Roadenhauser says, "a party animal who wants to take it up to Put-in-Bay and look for women."
If you're an explorer … get an express cruiser
Let your inner Ferdinand Magellan shine with one of these wander-ready yachtlike rigs. Designed for weekslong journeys, it can come equipped with bathrooms, bedrooms and kitchen. "They are a mobile home that floats," Roadenhauser says.
If you're a weekend warrior … get a center console
Boaters with little troopers will get max value out of these workhorses, which feature a hull that keeps wavy rides soft. They sacrifice amenities and overnight capabilities for versatility. "They're like SUVs," Roadenhauser says. "Extremely flexible. You can fish from it in the morning and take it tubing in the afternoon."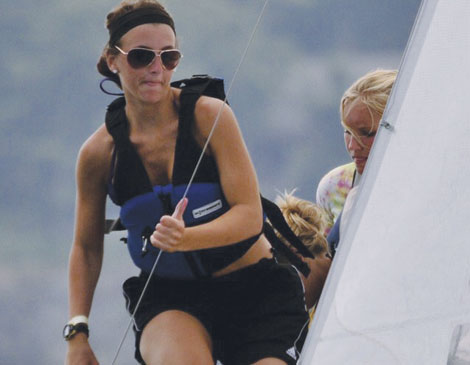 Crew Mate
Competitive sailor Allie Rhoten participates in regattas and serves as a sailing instructor at Mentor Harbor Yachting Club, where she helps kids fall in love with sailing like she did more than a decade ago. The 24-year-old talks to us about why she's fond of the sport.
My stepdad grew up sailing because of his dad. We're really blessed to live close to the lake. I just say to my stepdad, "Hey, weather's nice. Want to go sail out on the lake today?" Sailing is really special because you're in a boat with another person. You're with that person all day, and it brings you really close. Water will always have a special place in my heart. It's just kind of the quietness. It can be a calm day, and then all of a sudden the wind picks up, and it gets more challenging. There's unpredictability to it that I like a lot. If it turns out it's a flat day, everyone just jumps out of the boat and goes swimming. — as told to Dillon Stewart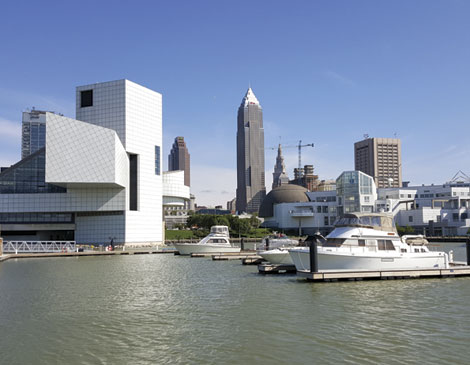 Anchor In
Lake Erie is prime for maritime exploration, even if you're only searching for a great meal. Set your sails toward three can't-miss summer spots to take your boat.
Rock & Dock at North Coast Harbor Marina
Between Nuevo Modern Mexican & Tequila Bar, sand volleyball courts, the Cleveland script sign and public overnight docks, there's a lot to get into at the top of East Ninth Street. 1020 E. Ninth St., Cleveland, 216-804-1152, rockanddock.com
Huron Boat Basin Marina & Amphitheater
This city-run marina has an amphitheater that hosts classic rock cover bands, movie showings such as Norm of the North, a weekly farmers market and plenty of public dockage. 330 N. Main St., Huron, 419-433-4848, cityofhuron.org
Pickle Bill's Lobster House
Chow down on plates of panko-breaded Lake Erie perch at this nautical-themed restaurant overlooking the public docks — and ogle the parade of speedboats that usually dock here — on the Grand River just upstream from the lake. 101 River St., Grand River, 800-352-6343, picklebills.com