If you're itching to hit the road this Labor Day weekend but want to stay somewhat close to home, we've got a road map full of ideas for you. Northeast Ohio is full of fun destinations and charming downtowns that are worth a tank full of gas. Here are three spots to get your wheels turning.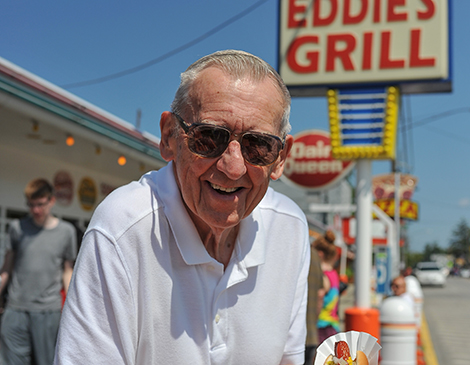 EAST: Geneva-on-the-Lake
Distance from downtown CLE: An hour drive
The ambiance: With its iconic Strip full of arcades, amusement rides, restaurants and more, it's still worth a stroll or drive by even though COVID-19 restrictions and regulations have affected its normal, busy foot traffic. "A lot of people come for the nostalgia, and others like that it's a slice of something different right here in Ohio," says Amanda Briggs de Lavini, executive director of Geneva-on-the Lake Convention and Visitors Bureau.
Where to eat: Stop by Eddie's Grill, a true 1950s diner known for its hot dogs, burgers and shakes. With expanded outdoor seating, there's plenty of room to sip on fresh-squeezed lemonade while listening to tunes from the jukeboxes that line the tables.
What to do: Hit the links at the Geneva-on-the-Lake Municipal Golf Course, located in the center of town. An 18-hole, 72-par course, you'll find rolling hills, wooded areas and plenty of opportunities to work on your game.
The takeaway: Make sure you snag a photo at the giant "GOTL" sign and catch a sunset on Lake Erie.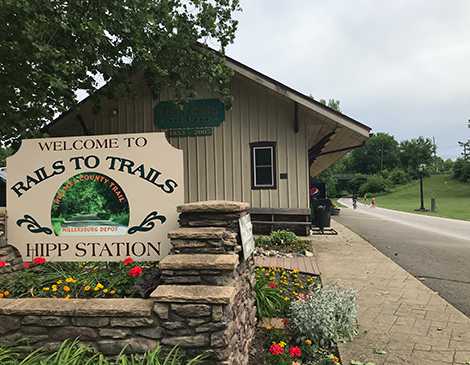 SOUTH: Millersburg
Distance from downtown CLE: An hour-and-a-half drive
The ambiance: Part of Ohio's Amish Country, this Victorian-era town offers a cozy, welcoming feel and is known for the many local artisans, pubs and stores that call it home.
Where to eat: Millersburg Brewing Co. not only offers about 20 brews on tap (we're fans of the summery Tangilicious with its notes of tangerine), the 1920s brewpub also has an impressive menu. Snack on beer cheese nachos or mac 'n' cheese balls or opt for flatbreads and burgers.
What to do: Bring your bikes or strap on your hiking boots to experience the Holmes County Rails-to-Trails, a walking and biking trail that shares its pathways with buggies. It's also a good spot to pack a lunch and stop and enjoy the scenic surroundings.
The takeaway: Make sure you check out the variety of unique antique shops, including Antique Emporium, which is known for its selection of books, rocks and minerals. "When you come back in a month, whatever you're looking at may not be there because they don't have it anymore," says Judy Lamp, executive director of historic downtown Millersburg. "You're not going to find mass produced things."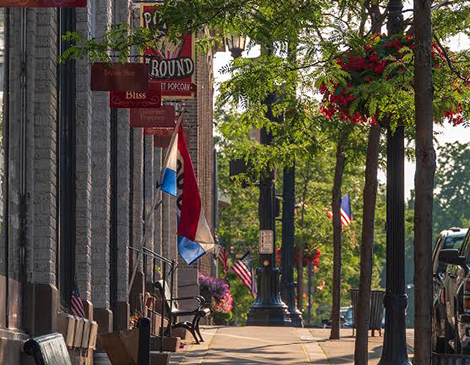 WEST: Vermilion
Distance from downtown CLE: A 45-minute drive
The ambiance: This quaint New England-style community is a hub of activity for those who love all things water related. With the Vermilion River winding through the center of town, there's access to more than 1,000 boat slips and ramps offering easy access to Lake Erie. And the sunsets here are not to be missed. "It's different every night," says Marilou Suszko, executive director at Main Street Vermillion. "You just don't see the same sunset night after night."
Where to eat: There's nothing more breathtaking or iconic than eating a meal outside on the patio of Chez Francois, the classic French restaurant. Watch as boats come in and out of the harbor while dining on chicken liver pate or steak tartare.
What to do: While kayak and electric boat rentals are available on the various rivers and lagoons, don't miss out on Vermilion's first art installation, the Postcard Projects murals. The collection of 15 different vintage postcards are located all over town and make great selfie opportunities.
The takeaway: Satisfy your sweet tooth by biting into a gooey caramel apple from Brummer's Homemade Chocolates.