Our guide at Rabbit Hole Distillery is emphatic: "There's one thing I want y'all to remember — Bourbon is a verb! So when you're in Kentucky I want y'all to be bourboning. Don't underbourbon. I need a job!"
On our two-hour tour at Rabbit Hole in Louisville we walk through the production areas witnessing the processes of fermentation, distillation and aging. Invited to stick our fingers into the bubbling mash and take a taste, we do just that, assured the germs will all burn off.
Most distillery tours end with a tasting, and at Rabbit Hole, we enjoy our samples in a swanky lounge with floor-to-ceiling views of the Louisville skyline. But this tour also began with the tasting of a bourbon cocktail. Our hosts ensure we are properly bourboned every step of the way.
I've been traveling to Kentucky at least once or twice a year for more than two decades. My grandfather grew up there, so maybe part of me sees it as "The Old Country." But more than that, I'm just fascinated with the place. With a culture based on bourbon whiskey, race horses and genteel living, there's simply no other place in the world like it.
When I first started going, the worldwide bourbon craze — with even the Japanese hoarding it by the caseload — hadn't started. And the natives instructed me I should drink my bourbon straight, perhaps with a couple drops of water to cut it. "Why gild the lily?" they argued.
Oh, how things have changed. Nowadays, bourbon cocktails are all the rage, and a good old fashioned has become my own bourbon delivery system of choice. Over the years, I've learned more than a little about places to find them.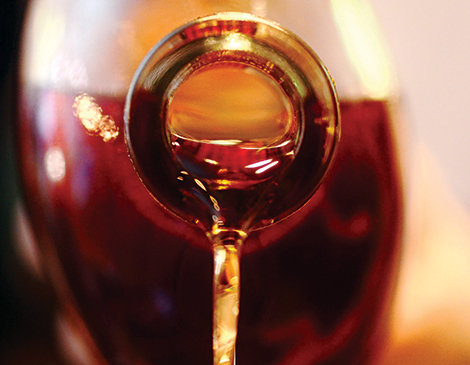 I frequently start my bourboning excursions in the venerable city of Louisville, where the Urban Bourbon Trail is one of the best ways to enjoy the local beverage. To qualify, all the bars and restaurants on the trail must have a minimum of 60 kinds of bourbon on hand.
Many of them go way beyond that. Take Doc Crow's in downtown Louisville, for example. It's a city block long, and the shelves holding bourbon bottles extend the entire length of it. My own favorite places include the Old Seelbach Bar at the iconic Seelbach Hotel, a favorite haunt of F. Scott Fitzgerald (look for references to it in The Great Gatsby).
I also enjoy Proof on Main, where I once had an unforgettable lesson in the proper preparation of a mint julep. Ask your bartender where he or she stands on the local controversy of whether the mint should be muddled (I say yes!).
First-timers also will want to book a distillery tour, but take note that they've become so popular that it's often necessary to book weeks in advance.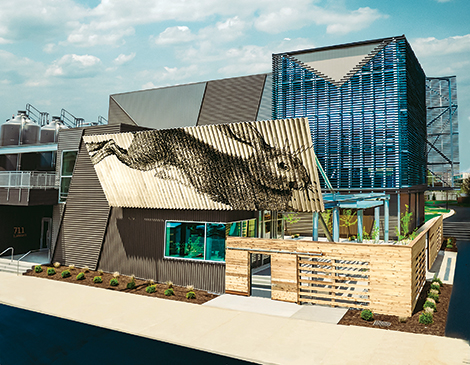 Far easier to book is a place called Copper & Kings, where another spirit, brandy, is produced. But what's going on with that pounding rock music in the basement? The owners are convinced the reverberating bass beat creates a wave inside each barrel that produces "sonic aging." On the day I visit, it was being treated to Cleveland's own Nine Inch Nails. (It was Trent Reznor's birthday.)
On my most recent trip to Louisville, I mostly confine myself to a nine-block stretch of Main Street, just parallel to the Ohio River. In Louisville's early days, it was called Whiskey Row because of all the distilleries there, and in fact, many of the major players are still there today.
I even stayed at a bourbon-themed hotel, the Hotel Distil, where every day precisely at 19:33 military time
(7:33 p.m.), a free old fashioned is dispensed to hotel guests in the lobby. 1933 just happens to be the year when Prohibition ended.
Nowadays, the street is more commonly referred to as Museum Row, because of attractions like the Louisville Slugger Museum, easily found by the 120-foot-high baseball bat — the world's largest — standing just outside.
Of course, Kentucky's bourbon production isn't just confined to Louisville, so when you're ready to hit the countryside, a good place to start is the Frazier History Museum, also on Museum Row. It's the official launch point of the statewide Kentucky Bourbon Trail.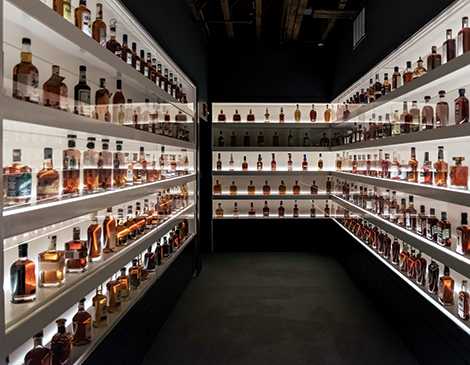 Since those distilleries are scattered far and wide, consider focusing your efforts on the charming town of Bardstown, just 40 miles outside of Louisville. Map publisher Rand McNally once proclaimed it the "Most Beautiful Small Town in America," and for good reason.
There's a stunning 19th century courthouse in the town's center, and the Old Talbott Tavern (still a good place to overnight) has occupied the main square since 1779. Look for the bullet holes in an upstairs wall where Jesse James once demonstrated his marksmanship. On the edge of town stands My Old Kentucky Home, the inspiration for Stephen Foster's song, which will be sung to you during your tour.
The self-styled "Bourbon Capital of the World," Bardstown hosts the Kentucky Bourbon Festival every September. Within 16 miles of town, you can stop at Four Roses Bourbon, Jim Beam, Heaven Hill Distillery and the
ultra-modern Bardstown Bourbon Co.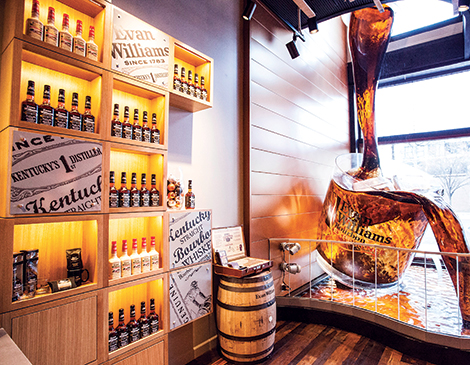 The bourbon destination absolutely not to be missed, however, is Maker's Mark, about a half hour south of Bardstown. The campus sits on a working farm with pastures and lakes. At tour's end, you can purchase a bottle and hand-dip it in Maker's signature red wax.
Then take it with you and get yourself properly bourboned in the comfort of your own home.
Find more amazing spots to list on your GPS for your next road trip destination near Cleveland.