It's easy to get swept into the efficiency of just going to Ikea or grabbing that cheap desk at Target. But if you're looking for a piece that will make a statement and last a lifetime, we recommend going vintage — and no, we aren't talking about those brown and orange couches from the '70s. We scoured the city to find 10 of the best places to find unique, well-built furniture and home decor.

All Things For You
3910 Lorain Ave., Cleveland, 216-273-7761, allthingsforu.com
Dwight Kaczmarek, an interior designer, and Tim Yanko, a former event planner, brought their unique tastes together to form All Things For You. Browse a store full of vintage tables, couches and statement pieces that the owners have handpicked from estate sales and antique shops from across the country or head down to the basement where they have a mini antique mall with 20 vintage vendors.
Consign Home Couture
25017 Center Ridge Road, Westlake, 440-835-1403, consignhomecouture.com




Snag an Arhaus sectional with the throw pillows to match, or dress up your walls with prints, clocks and mirrors. This shop's specialty is upscale furniture.
Flower Child
11508 Clifton Blvd., Cleveland, 216-939-9933, facebook.com/flowerchildcleveland
Flower Child bills itself as a true vintage department store and museum that's a time-traveling experience. Go from a modern 1950s living room to a retro kitchen to a posh bedroom — all color-coordinated for easier picking.

Helm Collective
3904 Lorain Ave., Cleveland, thehelmcollective.com
Nicola Wilhelm seeks out vintage rugs. Some may be threadbare in spots, but all have years of resilient life ahead of them. "The rugs I love the most are ones that show more history and grit, a story of where they came from," she says. Her bohemian, earthy flare shines through with home goods such as clay pottery, wicker furniture, greenery and more.
Main Street Modern
618 Mulberry Road SE, Canton, 330-206-6006, mainstmodern.com
More than 40,000 square feet of midcentury modern furniture and decorative art — think Italian leather-and-chrome dining chairs — make up this furniture shop that also offers refinishing, reupholstering and rentals.
Old School Architectural Salvage
1348 W. 70th St., Cleveland, 216-430-9474, oldschoolsalvage.com
The bleacher boards and vintage shuffleboards at Forest City Shuffleboard came from this architectural salvage dealer. If you want, you can purchase some of the basketball court removed from the old North Olmsted High School. (The Shaker Heights Fire Department did, using the material to build a firehouse dining table.) "We are a building material place — that is the basis of who we are," says director of operations Ken Brand.
Rook Modern
2415 Tremont Ave., Cleveland, 216-543-2394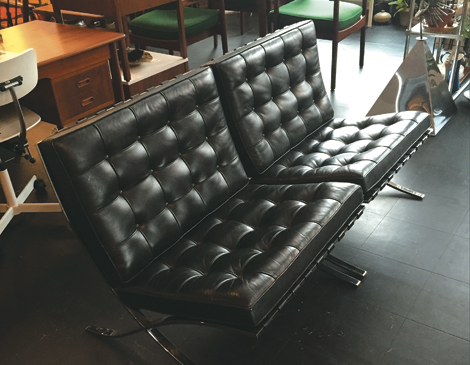 Find midcentury and contemporary furnishings from designers such as Charles and Ray Eames, Florence Knoll and Hans Wegner — all known for their iconic furniture. Owners Adam Zagger and John Owens keep their projects close to home — completing their own refinishing in-house.
Salvage Yard Resale Shoppe
22935 Lorain Road, Fairview Park, 440-471-0183, thesalvageyard.com
More than 40 vendors bring their vintage and antique furniture and decor to fill every nook and cranny of this 5,000 square-foot spot. Find items such as old ammo boxes from Articles or collectable casserole dishes from Maryanne's Attic.
VNTG Home
1235 Marquette St., Cleveland, 216-505-4322, vntghome.com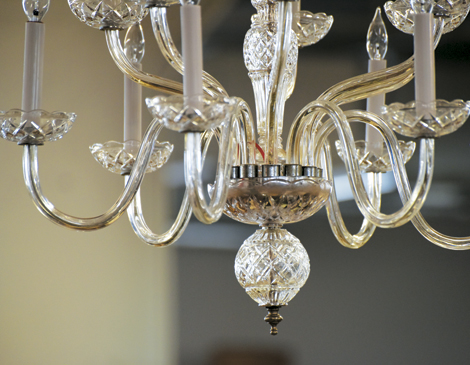 It's like a 65,000 square-foot estate sale — furnishings and decor thoughtfully organized and creatively displayed, with an option to customize, thanks to an upscale studio and artisan team. Put your style into your find with one of the more than 800 fabrics to choose from.
Yellow Door Goods
800 Erie Road, Eastlake, yellowdoorgoods.com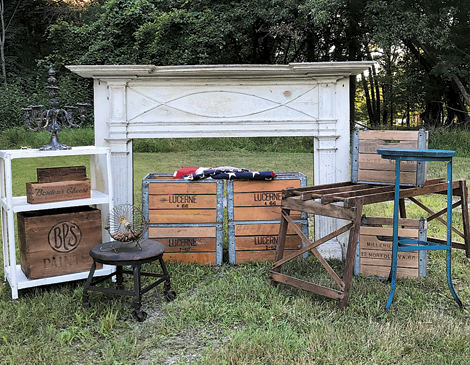 Factory and farmhouse finds from architectural and industrial salvages are what you'll find at this spot. Co-owner Jason and Diane Roberts love American industrial antiques such as lighting pieces and artifacts. "We try to stay as close to home as possible," says Jason, who finds most of his treasures in Ohio. Visit the website for hours or call and make an appointment.