Amish hand-hewn ceiling beams and elaborate stonework steal the show in this traditional-meets-rustic lounge room perfect for relaxing or entertaining. Part of a larger home remodel by designer Rebecca Philipson, the homeowners wanted to bring warmth and openness to their 1990s-built, 5,300-square-foot home by renovating their lounge, great room and kitchen. Philipson delivered with this inviting design, incorporating a subdued color palette and French Country touches, such as segmental arches in the stonework and cabinets, wood beams on the ceiling and rich-toned engineered hardwood floors throughout. The lounge features a wet bar, built-in refrigerator and custom alder cabinetry. With a pool table in the adjacent sunroom, it's the perfect place for a post-dinner drink. "The idea is they could have another couple over for dinner and sit down in that room afterward with a cocktail or a glass of wine and chitchat," Philipson says.

The inspiration for the overall renovation's open concept layout was to have a space where the whole family (or guests) could be together — even if they were in adjacent rooms. By removing the wall between the great room and kitchen, which itself opens into the lounge, Philipson was able to unify all three spaces. "We took down the wall and added archways to open it up in a more formal way," says Philipson.



Open Signs: Philipson says the kitchen was actually the biggest transformation of the remodel. The room was previously walled off from the rest of the home. It had an angled peninsula, an odd-shaped island and soffits, making the ceiling feel low. Philipson installed faux beams to continue the rustic vibe and added a central island with seating for three. "Her main goals were warmth and detail — for instance, the legs on the island," she says of her client.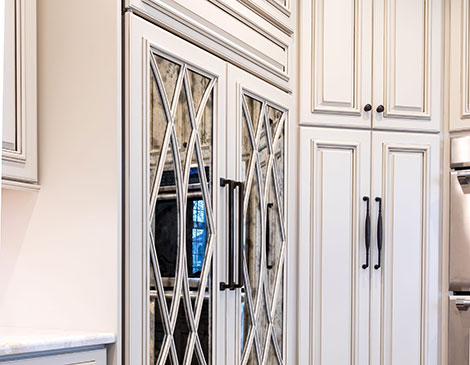 All The Elements: The intricacy didn't stop with the decorative island posts. Philipson added details in the baseboards, legs, valances and along the bottom of the island cabinetry. The cabinet-paneled refrigerator, faced with mirrored glass, looks more like an armoire than an appliance. "She really wanted the cabinetry to feel like furniture," Philipson says. A built-in coffee maker declutters the space, requiring one less thing on the countertops.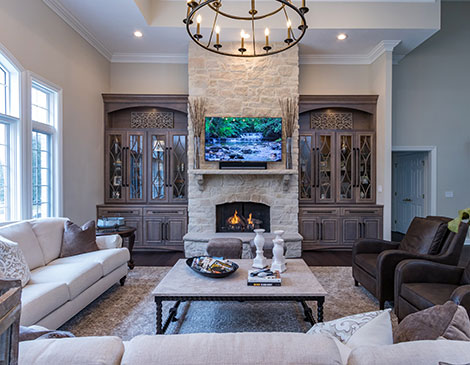 Great Expectations: Stonework shines again in the great room, where cream-colored stone runs floor to ceiling up the fireplace. It's flanked by built-in cabinets that mimic the ones on the refrigerator in the kitchen. The cabinetry's oversized iron hardware adds a bit of drama and plays off the multitiered iron chandelier — an eye-catching addition to the room, which is otherwise lit by recessed lighting. "All of the lighting in that room was chosen because it added a warm touch," Philipson says.