Beth and Mark Nuss often curl up on the boxy, charcoal-colored couch in front of the floor-to-ceiling living room windows that give way to a courtyard and an expanse of 10 acres of peaceful farmland fringed by trees.

In place of an expected farmhouse, the Nuss' Bainbridge home is an ultra-sleek, one-story dwelling that seems to rise from the prairie like some kind of artful safari compound with clean contemporary lines and natural hues that help it fit into the surrounding environment.

The couple purchased the land on which the three-bedroom, 2 1/2 bath house now sits in 2007. They planned to eventually build something they could move into after their two daughters, Taylor and Carly, graduated from high school.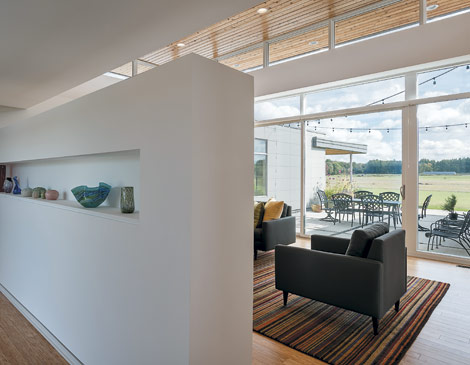 "I liked it because it was so open," Beth says of the land. "It was an empty slate. We could do whatever we wanted."

What they wanted was a house that blended their design sense with energy-efficient features and a sensible layout.

"We really tried to think about our lifestyle and the functional design, and how you actually use a space," says Mark, the co-founder and chief creative officer of the Adcom Group advertising agency. "We didn't want a huge house — we wanted something smaller and manageable."

The couple found kindred spirits in Lakewood-based Dimit Architects when they were ready to build in 2012. Co-founders Scott and Analia Dimit shared Mark and Beth's fondness for contemporary design, clean lines and customized features.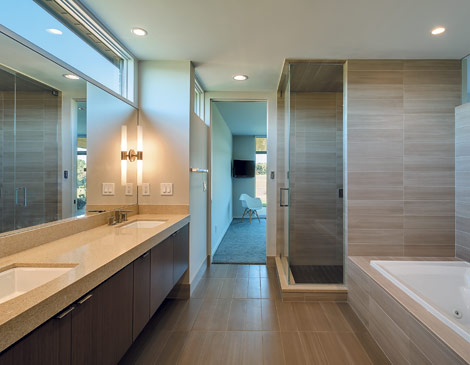 "We needed to make sure all of the different preferences for the spaces flowed together," Scott says. "Flow was very important. [But] it was a very interactive process — they had certain concepts we bounced off each other. Our role was more the overall coordinator, making sure all the pieces fit together."

That translates to an airy layout. The living room, which has a taller ceiling than any other room, is situated in the middle of the house and serves as the main gathering area. It's connected via an open floor plan to the kitchen and dining area. Short hallways off either side of the living room connect to separate wings: one featuring the master bedroom and bath, and another with Taylor and Carly's bedrooms, a private full bathroom and a small sitting area with bookshelves and a TV.

The couple also wanted plenty of storage space and a spacious laundry room, because previous homes didn't have enough closet space or room to stow belongings. "We wanted to build a house that reflected the way that we really live, not the way we're supposed to live," Beth says. Their 182-square-foot walk-in closet off the master bedroom doubles as a dressing room.

Being thoughtful with the house's building materials was also crucial for Beth and Mark. The exterior of the house is made of low-maintenance, Japanese fiber cement siding called Nichiha, while the kitchen cabinets and wood floors are made out of bamboo rather than the common local hardwood.

"We wanted sustainable products," Beth says.

The eco-consciousness extends to the house's 30 solar panels mounted on the south side of the roof and a 24-panel solar array outside on the land. Together, these account for more than half of the home's energy needs. "We're trying to live without damaging the earth as much as possible," says Beth.

In subtle ways, the house is also in sync with the land. The warm, yellow-green paint used on the kitchen walls echoes the verdant landscape outside. Around the corner from the kitchen is a half-bathroom with a water theme — replete with a waterfall faucet and a seafoam accent wall with ridged drywall tiles resembling waves.

In a nod to a flock of alpacas they used to keep on their land, there are several colorful striped rugs in the house made from alpaca fleece.

Part of the Nuss' 10 acres still functions as farmland, though. The couple grows and sells hay, while a contract farmer uses the land for crops such as corn and soybeans.

"We want to use the land, and keep the agricultural part of it going," Mark says.

Above all, the house is built to the couple's strengths. Just to the left of the front door is a dedicated art studio boasting a commercial printer, a drafting table, a laser cutter and (most important) room to spread out and indulge in creative whims.

Beth loves to cook — she makes dinner four or five nights a week — and has a garden bursting with squash, cucumbers, garlic, onions, tomatoes, potatoes and lettuces. The kitchen features a low-profile cooktop and stainless steel appliances, including a GE Monogram convection oven and microwave combo built into the cabinets.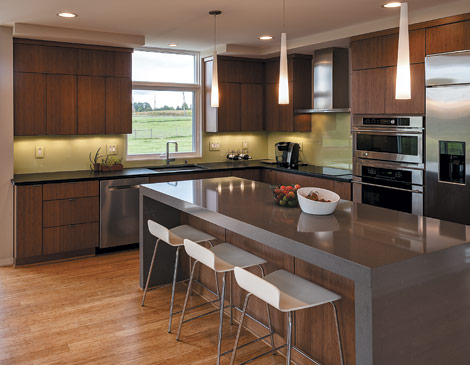 The home is the family's fourth in 28 years, but Beth says they've already made lasting memories, hosting people for everything from Fourth of July parties to Thanksgiving dinners. She and Mark are in this one for the long haul.

"We wanted a house for us," Beth says, "not for something to resell. It is one floor — and we can be 90 years old in this house, and we don't have to worry about it."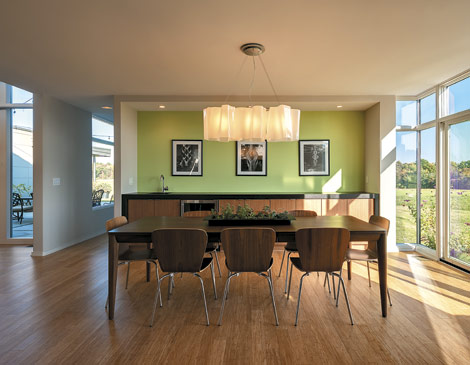 Get the Look
To break up her home's clean lines, Beth Nuss was drawn to this chandelier from Cleveland Lighting. It's actually made of three separate pendant lights installed together as one fixture. "That organic shape of glass kind of created something different to focus on," Nuss says. "So it creates a focal point in the dining area." The fixture can be ordered in different sizes. Have a bigger dining room? Add a couple more pendants. "They fit like a puzzle," she says.