The husband-and-wife owners of this 1920s Cleveland Heights Tudor wanted to upgrade the living, dining and family rooms so they could entertain their large extended families in a transitional style. Hudson-based interior designer Lindsey Putzier notes that while some furnishings were of a quality and condition worth keeping, others definitely needed to be replaced.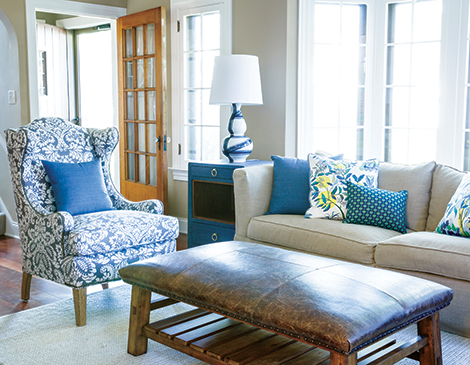 (Photo courtesy Caitlin Antje)
"They wanted [the decor] to be cohesive because all three rooms do flow together," she says. "They wanted some pattern and color in there, as well" — features that were desperately needed in the existing neutral decor.
Inspiration came from Citrus Garden, a bold Schumacher-brand pattern executed in shades of blue, teal, green and yellow. Putzier originally suggested purchasing a pricey single yard to make a couple of accent pillows for the living room sofa. But the clients liked it so much that the colors, if not the lemon-themed fabric itself, found their way into all three rooms.
The Living Room
Before: Putzier points out that while the furniture and rug were of the correct scale for the space, it lacked adequate lighting and the side tables to support it. The light-beige sofa's back cushions sagged, casualties of a dog and cat that sat on them to look out the bay window.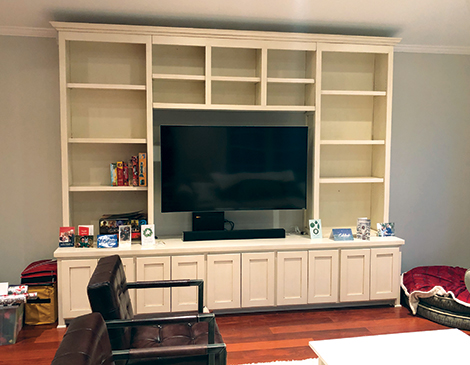 (Photo courtesy Caitlin Antje)
After: Putzier's upholsterer re-stuffed the back cushions, an easy way to refresh a quality sofa that costs a small fraction of buying a new one. "You don't even have to take the whole sofa there — you just drop off the cushions," she says. She replaced the accent pillows with two counterparts in the Citrus Garden pattern, both with a welt in a more-affordable, light-blue fabric used to make two other accent pillows. More color was added by flanking the sofa with two navy-blue grass cloth-covered side tables and blue-swirled white lamps.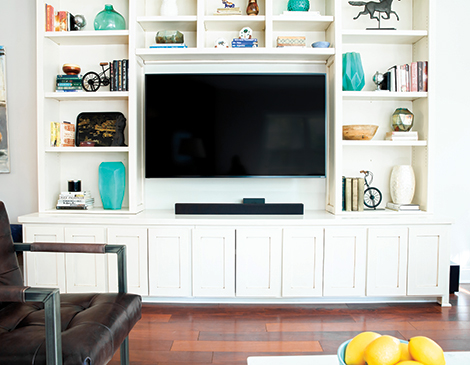 (Photo courtesy Caitlin Antje)
The Dining Room
Before: Putzier observes that, unlike the living room, this space needed new furniture. The table was too narrow, and the chairs were "$50 big-box specials" with legs that had to be re-screwed to the frames before each use. Sadder still were the yellowing drapery sheers the previous owner had hung at the window to screen a view of the neighbor's kitchen. "Sheers are very plain," she adds. "They just don't look finished."
After: While the clients couldn't afford the amount of Citrus Garden fabric required to make full drapery panels to hang over new white sheers, they could manage the cost of five yards. Putzier's workroom used them to produce panels with a less-expensive light-blue fabric at the tops, the seams between the two fabrics hidden by blue grosgrain tape. "The result was some really unique drapes," she says.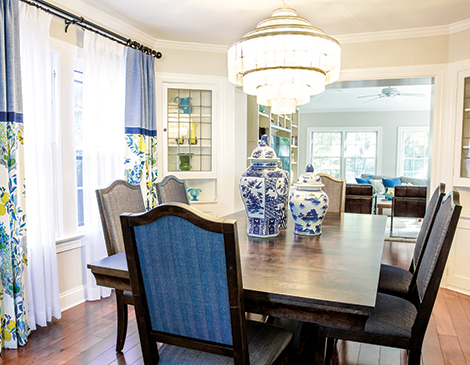 (Photo courtesy Caitlin Antje)
Putzier refurnished the room with a maple table that expands to seat 10 and chairs constructed of a solid North American hardwood frame and upholstered in a blue-herringbone performance fabric that's easy to clean. "They're going to stand up to a beating, even from little nieces and nephews," she declares. She ditched the "builder-basic" lighting fixture for an eye-catching, recycled-glass chandelier that suits the scale of the furnishings underneath it. The finishing touch: replacing the books filling the built-ins with an artful display of decorative glassware. While Putzier encourages using bookshelves for their intended use, she advises against packing every square inch with volumes. "You want to be able to have your eyes rest on different objects," she says.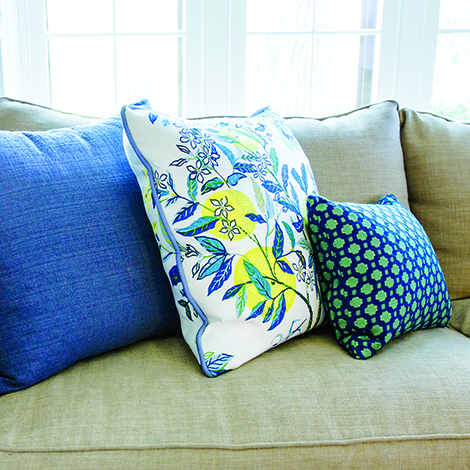 (Photo courtesy Caitlin Antje)
The Family Room
Before: Putzier discovered that the clients required a new coffee table — the top of the existing one was susceptible to staining. The side table was too small to stick next to the large sectional. And there wasn't adequate task lighting for, say, reading a book.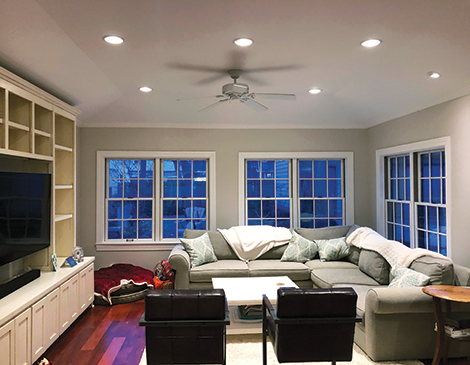 (Photo courtesy Caitlin Antje)
After: As in the living room, Putzier injected color and pattern with custom-made accent pillows and furnishings — in this case, a navy-blue, linen-covered side table topped by a white gourd-shaped lamp and blue paisley ottoman with nail-head trim. The new coffee table, with its stain-resistant quartz top, has special meaning: The husband's father made the base from a tree felled on the family's property. She used the built-in shelves, once randomly filled, to display items the homeowners had picked up during their many travels, along with things she purchased, like the bicycle and horse sculptures, to augment them. "She rides horses; he loves bikes," she explains. "So they're still things that are meaningful to them."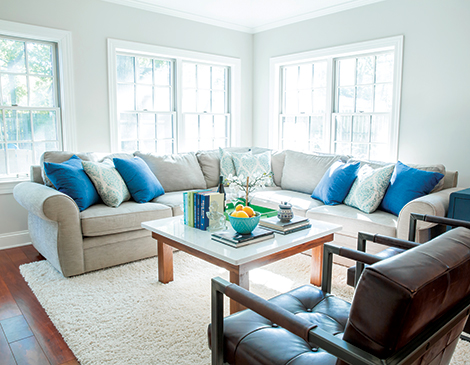 (Photo courtesy Caitlin Antje)
Get ahead of the weekend by signing up for our free weekly "In the CLE" newsletter — your guide to fun throughout The Land. Arriving in your inbox every Wednesday, this weekend to-do list fills you in on everything from concerts to museum exhibits — and more. Click here to subscribe.