It's not really accurate to call this space just a closet.

The two-room, 600-square-foot area is more of an elaborate dressing room, one that would make Carrie Bradshaw jealous. Tucked away inside a Solon home, it boasts an elegant makeup room featuring a Hollywood-caliber vanity mirror, an accessory room, a washer-and-dryer area and even a mini fridge.

"Everything about the space was really thought-out and planned, so that the owners wouldn't have to leave their closet to do laundry, to iron, to get dressed in any way," says Beth Patrick, a senior designer for Closet Factory Cleveland. "It can all be done in the dressing room."

Part of a whole first-floor master suite renovation, the dressing room took about six months to complete with Patrick working with Otero Signature Homes and the Jones Group on the design. While there's plenty of functionality in the space, it's a fun design too. Cream cabinets and neutral fabrics anchor the design, but two spiky, orb glass chandeliers over the island add a touch of whimsy.

"We wanted something light and airy," says Patrick. "There's a lot of dimension and use of different materials in the space."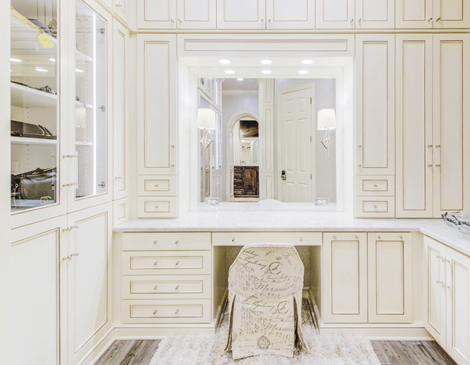 Vanity
As the main area for everyday prep, the vanity needed to be a multitasker. Hidden compartments offer plenty of storage. A personal grooming drawer holds everything from hair dryers, curling irons and flat irons. "Everything is assembled and already plugged in right there," says Patrick. A glass sink sits right next to the mirror, making it easy to wash off makeup before bed.




Display Cases
Tempered glass display cases leading into the main area show off the wife's high-end shoes and handbags. LED strip and puck lighting and illuminated rods within each display case put the spotlight on those stunning investment pieces. "It gives your eyes just a beautiful spot to look at," says Patrick.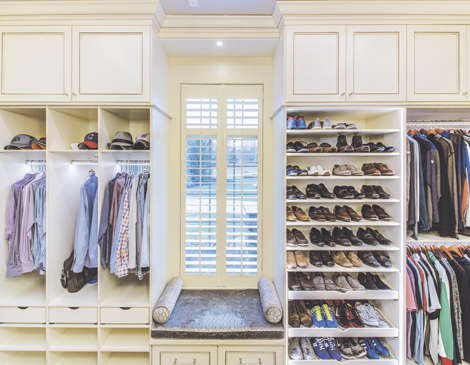 Locker Storage
To help prep for traveling, Patrick and her team opted to include a locker-style area for the husband. "As he's trying to pack and get things ready, he can pick out outfits for three days in a row," she says. "He lays it all out with the shoes he's wearing, the socks, the tie, everything."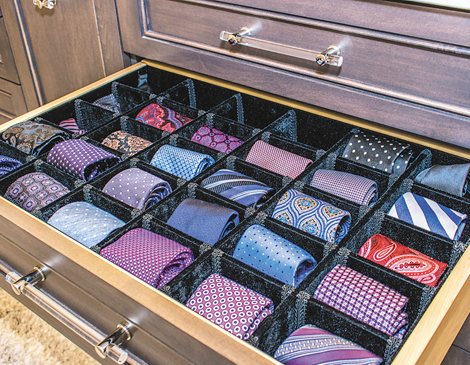 Built-in Compartments
The maple island in the main dressing area contains multiple drawers for accessories such as sunglasses, ties, socks and even workout clothes. "Every drawer in the island has a purpose. Everything was thought-out to a T of where they wanted to put things," says Patrick.