Ingrid Porter has designed plenty of spaces for other people. So when the owner and principal designer of Ingrid Porter Interiors set out to rethink her own living room, it was an opportunity to infuse a lot of her personality into the area. "I almost always take my inspiration from a piece of art, or a piece of fabric," Porter says. Throughout the room, Porter takes the pink and blue from the paintings that hang above the couch and uses them in different elements such as pillows, lamps and even the bright pink couch itself. "We made the renovations right at the beginning of the year, not really knowing that COVID-19 was going to come, but it definitely pushed me over the edge with everybody home," Porter says.

While there was no construction done to the room itself, the living room area underwent a complete redecoration and rearrangement to make it close to new. The room itself now boasts new furniture, desks, storage, lighting and more. The renovation to the room became more than a want, but a necessity as the house filled up with more family due to the ongoing pandemic. "We decided to rework the room and condense my office space to one end and update the rest of the seating so we could have another room to go to," Porter says.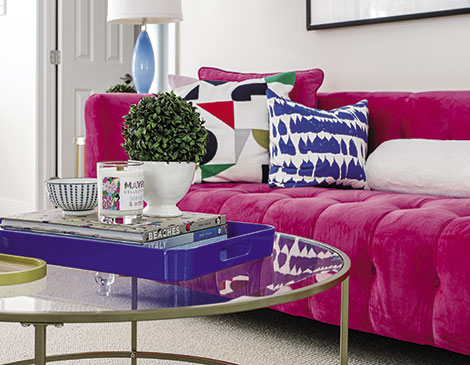 Table Talk: When looking for a coffee table, Porter likes to ask these questions: How much is the room going to be used? Who is going to be using that room? For Porter, she decided to go for a light and airy glass coffee table. On the table, she includes different accessories such as books, candles and plants to create more height. "Your eyes should travel up and down and back and forth," Porter says. "To me, that's the best design."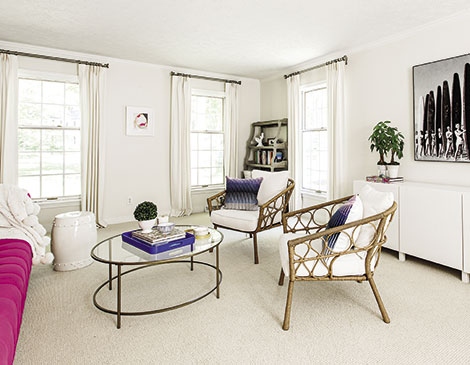 Staying Neutral: Though Porter has pops of color throughout the room, behind it she used more neutral colors. "I like to use neutrals just because they go with everything, they're easy to live with," Porter says. "You can switch out any of the pillows or other accessories in the room, and you don't have to replace your upholstery." If you wanted to change your room around, you can easily change your pops of colors and keep the strong neutral color base.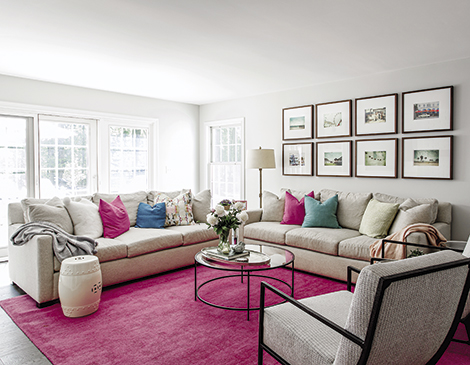 Double Duty: While she was tackling her living room, she also worked on the family room. As Porter's signature color, the fuchsia rug helps tie together her design philosophy throughout the rest of the house. Eight pieces from a local photographer are all in the same type of frame and placed behind one of the couches. "I knew that I wanted to do super cozy, fun, very comfortable couches in here that our family could just plop down, watch TV," Porter says.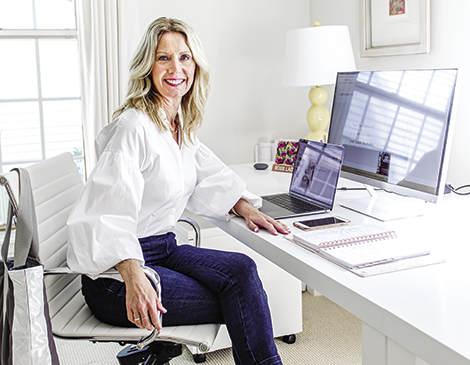 Work It: The secret behind Porter's workspace is that her desk is actually two tables, which gives her a large area for her to work. It allows for her to spread everything out for each client, which she keeps organized in separate bins. "I need to have a white desk because I work with so many different colors and so many different textures," she says. "If I don't have a plain white desk, then my eye doesn't know where to go."