Looking for a DIY project to do this weekend? Just ask Leah Nowak, home decor consultant, blogger and influencer. Leah began sharing her DIY projects on Instagram four years ago when she moved into her Shaker Heights home with her husband and two small sons. "Everything I do, I have taught myself," Nowak says. "Whether it is a small job that takes an hour or a larger one to do on the weekend, any project can have a significant impact on a room." Here are five projects you can do yourself.
Build a Ledge Shelf
Time commitment: 3 hours
A ledge shelf makes a statement in any room. It is easy to build and a perfect way to display framed photos, books or artwork. You will need three pieces of slightly different sized wood, wood glue, a nail gun, nails and paint. Glue the pieces of wood together and then use the nail gun to secure them. Paint the shelves. Screw the shelf into the wall and you're done. "A ledge shelf is an inexpensive and easy project that can add a lot of visual interest and versatility to any room," says Nowak.
Hang Sconces
Time commitment: 30 minutes
Wall sconces provide a great secondary source of light. They are popular on fireplaces, but can be used anywhere in your home. Nowak suggests using remote-controlled puck lights to eliminate the need to hardwire the sconce. Puck lights are round, battery-operated lights that come with a small remote for ease of use. You will need the sconces and screws, remote-controlled puck lights, batteries and a drill. Drill a hole and then screw the sconce into the wall. Add the puck lights and you're done. "We have a sconce above our boys' beds and in their closet," she says. "All they have to do is reach up and press the puck light and the light goes on."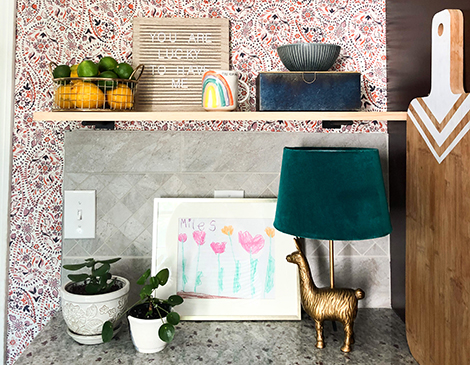 Add Wallpaper
Time commitment: 1 to 2 hours
Wallpaper used to mean peeling off old wallpaper, applying wallpaper paste and struggling to hang each strip correctly. But times have changed. "It is one of the easiest things to add to your house, but can make a huge visual impact," she says. Peel-and-stick wallpaper is affordable, easy to apply and is movable on the wall during application. If you're unsure, Nowak recommends starting with a smaller project. Wallpaper the shelves in a linen closet or just one wall instead of an entire room. "Wallpaper is replacing accent walls," says Nowak. "We have a wall in our kitchen that has no purpose, so I added wallpaper to give it some personality."
Organize Your Pantry
Time commitment: 1 to 2 hours
Taking on the whole house is a big project. Instead, do a little bit each day. "Don't try to do it all at once," says Nowak. "Take on one area or one project and then move from room to room." Nowak suggests starting with your pantry. First, throw away any expired items. Next, replace all the boxes with clear bins to maximize your space and make the items visible. Store cereal, rice and other snacks in canisters with lids to keep them fresh. Then group common items together. "I put my kids' snacks in canisters and keep them on a lower shelf so they are within their reach," she says.
Do a Design Refresh
Time commitment: 2 hours
Whether it's new hand towels for the kitchen, towels for a bathroom or throw pillows for a couch, there are many easy ways to refresh a space. Even adding a plant or updating a picture frame can add a little life to a room. But before you run out to purchase that newest thing, Nowak suggests shopping your own home first. If you want to add something to your living room cabinet, for example, take a walk around your house and take inventory. "Just moving a stack of books to a different space, switching out a lampshade or pulling out bedspreads you haven't used in a while can make an area feel new," she says.
Meet The Designer: Leah Nowak's love for anything home related grew when she bought her home in Shaker Heights. The old home charm was something she was always drawn to. She loves mixing old with the new, experimenting with different styles and any DIY project she can get her hands on. She loves spending time with her family and exploring all the wonderful things about Cleveland. @houseintheheights
Click here to read more about the latest decor trends, DIY tips and at home inspiration from this month's Home issue.