Art Deco
The architectural and decorative-arts style of the 1920s and 1930s — one characterized by precise, boldly delineated geometric shapes and strong colors — is reflected in everything from fabrics to furnishings. "There's a definite attention to structure," says Summer Alaedeen, co-founder of Adeas Interior Design in Westlake. Start Small: Replace a pair of lampshades with ones sporting a zigzag pattern or switch out drawer pulls on a chest with counterparts in the style's popular sunburst shape. Go Big: Invest in a sofa with a curving back and seat, the latter accentuated by a solid plinth base, ideally in brass. "It just is a stunning feature to a furniture piece," she raves.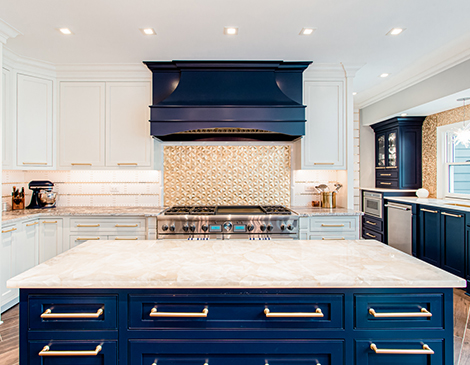 Brass
While it was popular in the '80s, Alaedeen says this metal has been reintroduced in a subtler matte finish instead of the polished brass that we may remember. She recommends incorporating it sparingly with a single existing hardware finish — another 2021 trend. Brass mixes well with oil-rubbed bronze and even coexists peacefully with brushed nickel. Start Small: Change the drawer pulls and faucet on a wet bar or kitchen island. Go Big: Add a brass light fixture — a couple of pendants over a kitchen island — or bring in side chairs with understated brass nailheads or other brass details.
Colorful Kitchens
A rainbow of colors is finding its way into kitchens traditionally dominated by neutrals. Even white, black and stainless steel appliances are being replaced by bold counterparts in lines such as Big Chill, BlueStar, Verona and Viking. "Cobalt blue," Alaedeen says, "is absolutely in." Start Small: Swap dishes, cookware or small appliances with eye-catching replacements and display them on shelves and in glass-fronted cabinetry. Go Big: Consider painting the island. Alaedeen recently installed one in navy teal that matched the color of the kitchen's range hood.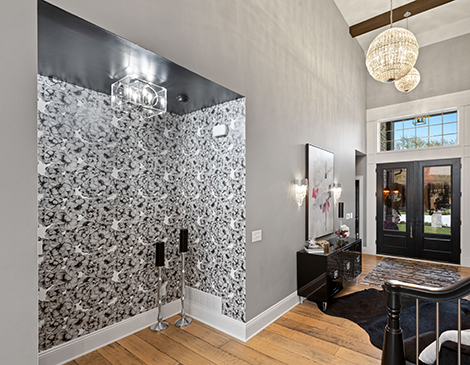 Floral Patterns
These aren't your grandma's florals. Alaedeen says that they're interpreted in bold colors on everything from cotton blends to velvets and wallpapers. Start Small: Make a statement by wallpapering a single foyer wall, perhaps the one where the console and mirror is located. Or wrap the powder room in a lavish design most wouldn't dare to use anywhere else. Go Big: Customize a sofa or sectional by upholstering the back of the piece in a floral pattern, and the interior and cushions in a coordinating solid color. "It's a more updated and more tailored look," she says.
Jewel Tones
Rubies, emeralds, sapphires, garnets, amethysts — those treasure-trove shades of the 1980s are enriching color schemes. "I do think we're going to see a lot more of that canary yellow," says Alaedeen. Start Small: Turn nondescript interior doors into focal points by painting them in a single color — Alaedeen suggests yellow to enliven a white-and-gray interior. Go Big: Reupholster a sofa or large chair in a regal shade. "You would be so surprised how much demand we have for green sofas now," she says. "People are requesting a really deep, rich red sofa or red chair." Or paint an entire room — including the ceiling — in a jewel tone.
Click here to read more about the latest decor trends, DIY tips and at home inspiration from this month's Home issue.