Shawn Outley started her interior design Instagram account in June, but she's already had five people reach out to hire her to redesign their spaces. Outley, who works as a sales rep during the day, started @urban_eclecticism after posting before and after photos of a redecorating project on her personal account. She says she's always been the go-to consultant for family and friends who want to redecorate, describing her style as Afro-bohemian. "I want my space to reflect my lifestyle," she says. "I'm a traveler and collector, and I like that I can incorporate all of those things into my space." Since Outley rents her apartment, her design touches are both easy to make and easy to remove if the time comes. She shares three easy design tweaks people can make based on posts from her Instagram.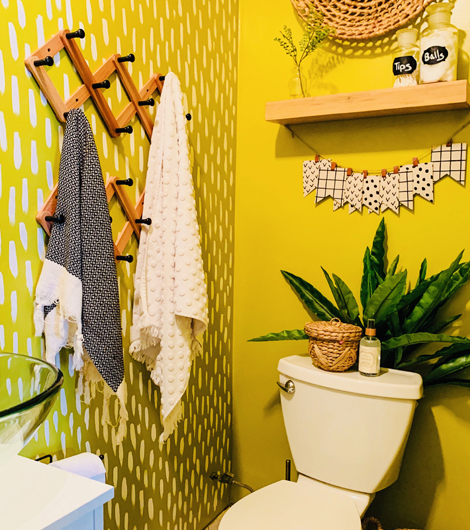 Use color in unexpected places
Outley isn't afraid to play with colors, patterns and textures. From her chartreuse walls to the yellow accents around her home, she puts bright colors in unexpected places. For an extra pop of color in her kitchen, Outley used peel and stick wallpaper on her fridge. The paper comes in countless designs, making it easy to find colors that fit your space. It also removes easily when it's time to change things up. "It's like putting a screen protector on your phone," Outley says. "Just go a little bit at a time until you fold over the door."




Surround yourself with what you love
Incorporating what you love into designs gives your space personality. For Outley, that means surrounding herself with plants. They add life to her living room, she says, and she went from just one to a room full of greenery. There are many plants with simple care instructions, too. In addition to cactuses, Outley suggests snake and ZZ plants.
"They're drought resistant and they can tolerate both low light and high light," she says. "I started out with one plant, and now I have like 52 plants in that one space."

Don't be afraid to have fun with paint
Painting a pattern onto your walls might sound terrifying — and that's because it is, Outley says. Still, she faced her fears and painted the walls of her bathroom a bright chartreuse, then spaced out strokes of white for a fun design. "I just went in with two coats of green and then the brushstrokes," Outley says. "There's no rhyme or reason. You basically want to fill the wall without crowding the wall, so every foot I would step back to see what it looked like." If you're a renter, a few quick coats of white can make the walls move-out ready, she adds.