For more than a century, the Nelson Township property was a Christmas tree farm with a modest house and a German-style bank barn built into a hillside. But when Robert and Marcia Williams purchased the property in 2006, the early-1900s barn had become a dilapidated shell of rotting timbers with a sagging slate roof. Still the couple saw great potential for the relic. In 2009, they began the process of turning it into a party barn where family and friends could gather. Before any restoration could happen, the barn had to be stabilized, a clay road cleared and the structure moved a quarter-mile by truck to behind the main house, which was also rebuilt. "They were fearless to take on this project," says Ed Wurm Sr., co-owner of Classic Homes of Ohio in Aurora, which served as the contractor on the 18-month renovation.
Designed by Washington, D.C.-based Blackburn Architects, the reimagined space blends historic details with modern conveniences such as a large kitchen for entertaining, a family room with a stone fireplace, two bedrooms and two loft-style day rooms. "It's a family legacy property that is quite special to us," says Evan Williams, whose parents Bob and Marsha have both passed away in the last three years. Evan's younger brother Tom lives in the barn now. Set by a pond and framed in pine trees, it makes a perfect location for an annual holiday party filled with cousins, uncles, aunts and good friends. "We have a lot of good memories in the barn," Evan says. "We're keeping it a living memory."
Outside In: Most of the original oak wall panels were saved and refinished. To properly insulate the barn and wire it for modern living, structurally insulated panels were fixed to the outside barn walls. Then, new paneling was laid on top to create a fresh exterior painted a traditional barn-red. "When you're inside, you see the old structure," says architect John Blackburn.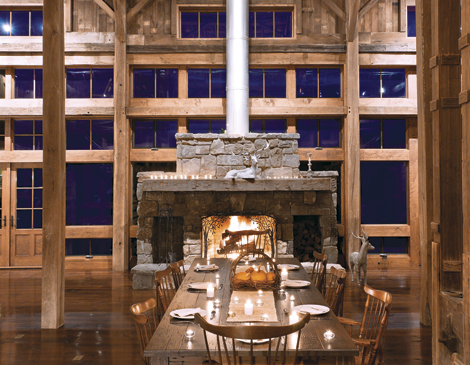 Solid foundation: A patchwork of flooring was removed from the old barn. But a layer of wormy chestnut was refurbished to make kitchen cabinets, sliding barn doors and a dining table. Similarly, the 500-pound sandstone slabs from the original foundation were cut into veneers for the new base and crafted onto the fireplace. "You can't get that charm with special effects," says Ed Wurm Sr. "You have to use the real material on the inside."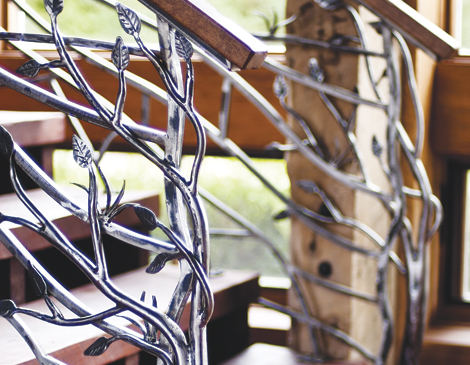 Iron works: While much of the original iron hardware remains throughout the barn, Marsha Williams worked with ironsmith Gary Worshing to create a steel stair rail that reflects the property's pine saplings and their twiggy character. The railing's overall structure resembles rock ledges, mimicking the feel of nearby Nelson Ledges.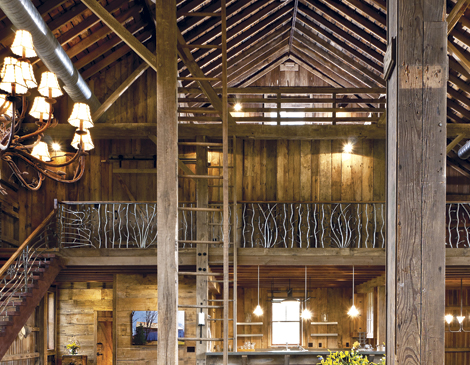 Lofty inspiration: Lofts positioned on the right and left sides of the barn leave the center open to the ceiling and respect the barn's design. Original loft ladders were left intact as decorative elements and working ladders were constructed from the barn's original subfloor. "You get the full feel of the barn," says Classic Homes' co-owner Ed Wurm Jr.