Laura Suglia-Isgro describes the couple who own this 3,000-square-foot 1990s-built Bay Village home as art collectors who love their dogs and like to party. When the owner of KAS Interior Design dove into the project, she was eager to rid the foyer of an original wood staircase and catwalk that dominated the entryway and stopped it from being a true open-concept design. Working with Seasons Contractors, she moved the stairway to a position along the side wall, which allowed her to leverage the natural light coming in the home's large front and rear windows. "Moving the stairway opened up the whole space, so the foyer wasn't so closed off," she says. "I knew I wanted to keep an open railing system because they get so much light from the windows.

To get the open banisters, Suglia-Isgro commissioned Finelli Ironworks to make wrought-iron railings. She brought in color by clustering seven pendants into a custom chandelier, resulting in a fun first floor that matches the clients' style, a mix of contemporary and industrial. "It's a very mixed-materials home," Suglia-Isgro says, referencing the railings, lacquer cabinetry finish and glass accents throughout. "I wanted to give them a hint of industrial but with luxurious finishes."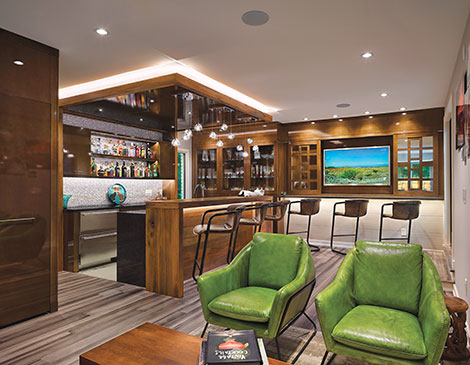 Bar None
For the game room, the homeowners swapped out a first-floor master suite for a large gathering area, complete with a bar, pool table, powder room and small laundry room convenient for washing towels from the adjacent outdoor pool. "We did a high-end, automotive-style finish on the cabinets, but we added some wood accents to give it a rustic feel here and there," Suglia-Isgro says.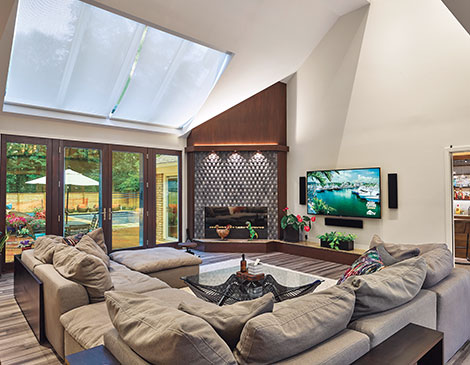 Open Up
The family room features a large center sectional for entertaining. Its focal point is the fireplace with a handcarved stone-tile facade and a wood fireplace surround Suglia-Isgro designed. Opening up the foyer improved function but reduced privacy, so she hid a retractable ceiling shade under the catwalk to create a barrier from the home's entryway. Similarly, skylight shades were installed to reduce glare. "These are all motorized and can be opened and closed as the clients need them," Suglia-Isgro says.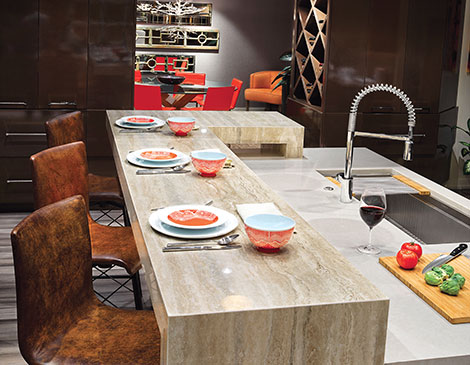 Counter Point
A two-tiered island stars in the kitchen. A floating, upper-slab porcelain countertop can seat up to six people. Down a level is a food prep area with quartz counters and an undermount galley sink system. The sleek brown, flat-panel cabinets are made by Rino's. Positioned in the pathway to the dining area is wine storage. "The clients entertain a lot and have a great wine collection," Suglia-Isgro says. "They wanted to make this space open to the dining and family room while showing off their wine collection."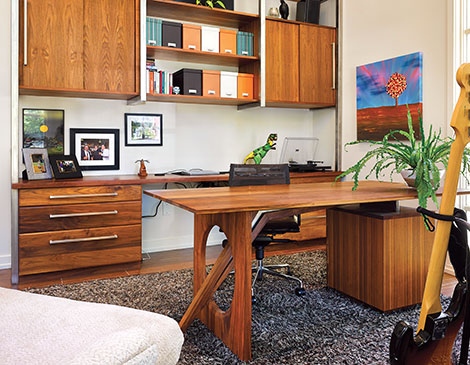 Home Work
A two-story home office doubles as a music room for the guitar-playing homeowner. Suglia-Isgro designed a custom desk-and-storage unit, which was constructed from steel and walnut by Robert Knauer of Sawhorse Woodworks. "I can draw up plans for anything and Bob will build it," she says. "A lot of other people would say, 'This can't be done,' but he makes it work."