The 7.8-acre lot in Bath was so breathtakingly beautiful that it immediately ended Allison and Justin Smith's quest to buy an existing home. A creek ran through the back of the leafy plot, spilling into a reservoir, then a waterfall, before winding past the property line. The Cuyahoga Valley National Park, with its hiking and biking paths, was a mere five-minute drive away.
"My happy place is where the woods meet the water," says Allison, owner and founder of Gem & Clay Interiors in Bath. "So this was perfect."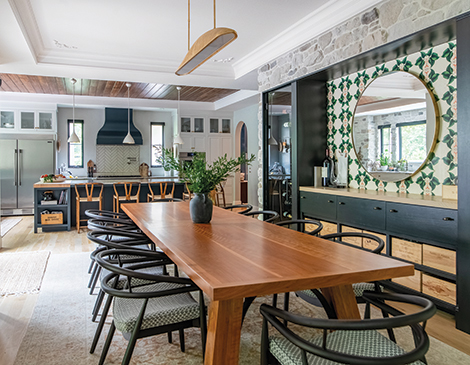 (Photo by Tony Hughes)
Allison Smith began working with Schill Architecture in Westlake on designing a 10,000-square-foot home that showcased the property's stunning natural beauty and honored the area's history — she notes that the lot is right next to an 1830s flour mill. The five-bedroom, seven-bath stone-and-stucco structure, which she describes as "eclectic French country," comfortably accommodates a work-from-home couple with two daughters and a lot of hobbies. "We wanted rooms for everything," Smith says. It also serves as a venue for large gatherings.
"That house feels like it's part of the [Cuyahoga] Valley," she says of the result. "It's so a part of nature.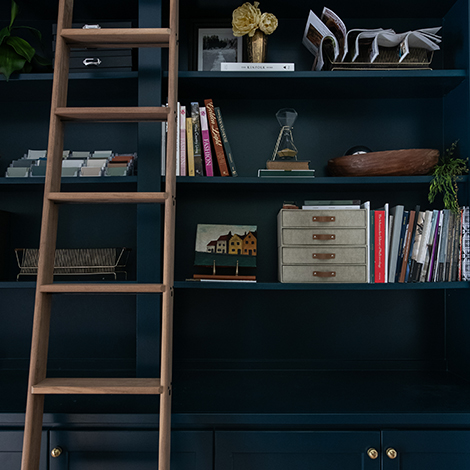 (Photo by Tony Hughes)
The great room is a prime example of the location's influence on the house's interior design. Smith points out the white oak floor, a feature finished on site that extends into the dining room, kitchen and first-floor owner's suite, and fieldstone fireplace ("We did an over-grout treatment on it to make it look more old-world," she says.) She warmed the cathedral-ceilinged room by painting the walls with Sherwin-Williams' Homburg Gray.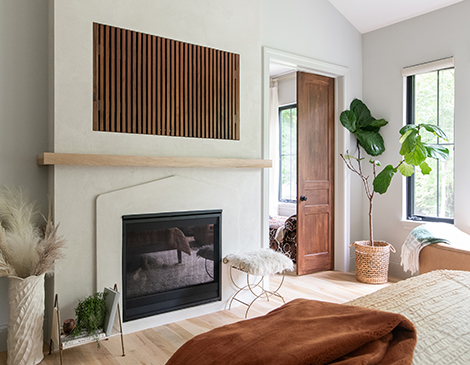 (Photo by Tony Hughes)
Smith furnished the space by mixing old and new midcentury-modern pieces. Her favorite is a vintage Danish chair, purchased from Main Street Modern in Canton, stationed by the fireplace. "It is so comfortable, and the wood on it is so beautiful," she raves. "The curve on the arm just is so ergonomic. They don't make furniture like that anymore."
The sleek gold-leaf pendant fixture, designed by Kelly Wearstler for Visual Comfort, hung over the custom cherry dining table for 12 is an example of the modern Italian-style lighting that, along with the more extensive use of stone and stucco, endows the house with a European flair. Rustic stone frames a built-in buffet painted the same black as the VintageView-brand wine racks flanking it.
Vintage botanical-print wallpaper defines the space over the buffet's white oak top, and Smith added visual interest to the cabinetry with a bottom row of spaces housing old wine crates used to store napkins, tablecloths and glassware.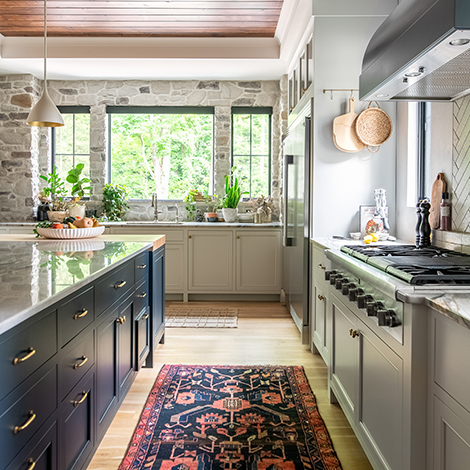 (Photo by Tony Hughes)
Contractors painted the island and cabinetry in the scullery — "the dirty kitchen," as the architect called it — Benjamin Moore's Midnight, a move that, together with staining the tongue-and-groove-paneled ceiling the same dark walnut used on the doors, kept the otherwise all-white kitchen from looking cold and sterile.
The owner's suite features a stucco fireplace, a sitting area and a view of the aforementioned waterfall. Smith created a restful oasis with finishes that provide subtle visual interest. Sherwin-Williams' Lattice morphs from light gray to blue to green with the light, just like the paint in the great room.
Mosaic tiles laid in a herringbone pattern on the shower ceiling sparkle in light filtering through the window below. And frosted-glass leaf "petals" add texture to a fixture over the Signature Hardware-brand freestanding air tub.
The house also boasts separate offices for Allison and Justin, owner of digital marketing agency OuterBox in Copley, as well as a wine cellar, art studio where she draws and paints, a recording studio where he pursues his love of music, and a golf simulator that helps him fine-tune his game.
Two powder rooms, a laundry room with a station where guests can wrap last-minute birthday and holiday gifts, and a paved driveway reinforced with gravel on both sides to accommodate diagonal parking without damaging the lawn make it possible for the Smiths to host up to 175 people.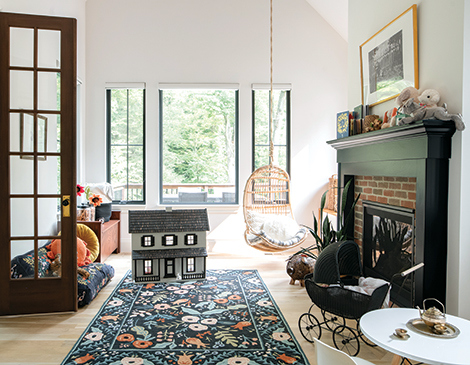 (Photo by Tony Hughes)
A fireplace-warmed playroom off the great and dining rooms for 7-year-old daughter Adelyn, she adds, will be converted into a sunroom when she outgrows it.
"It's not your typical playroom — it has a fireplace in it, window seats and a swing chair in it," Allison explains. "It's going to be a nice place to hang out. And it provides extra space to expand into if we want to host Thanksgiving or some other event."
Start your day the best way by signing up for our free daily newsletter. Arriving in your inbox every morning to keep you in the loop on the best guides, home and style tips, and news briefs for all things Cleveland. Click here to subscribe.