Everyone has their dream home in mind. Maybe it has a big yard with plenty of room for the kids and the dogs. Maybe it has kitchen fit for a master chef or an indoor pool. The Ravencrest estate in Hunting Valley has all of these with a "bargain" of a price tag, listed at $15 million dollars.
"It's a lot of money, but for what you're getting, it's the bargain of the century," says Howard Hanna's Adam Kaufman, the property's listing agent.
This English country manor is certainly luxurious in outward appearance from its stone exterior to its manicured lawns. While the inside oozes the same feel, it also comes off as homey and down to earth.
"That all-natural stone and timber with a Virginia slate roof are just warm and inviting," says Kaufman.
Exposed stone and vaulted ceilings with wooden beams give it an Old-English sense of style. Picture windows invite natural light that glistens against the wooden flooring and cabinetry throughout, bringing in a bit of country to this haven outside the city.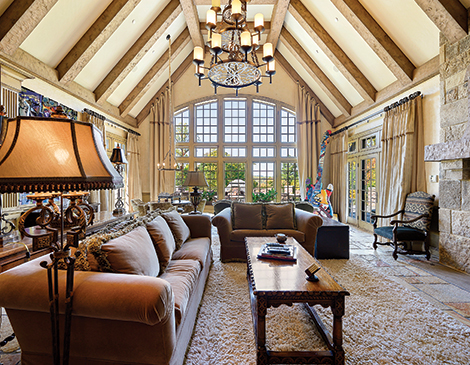 The home, built in 2009, is more than 35,000-square-feet and sits on just above 155 acres of land, which alone would be equivalent to the asking price of the house. That's what gives it the "bargain" price tag, Kaufman says.
What takes up all that space? According to the estate's website, it's six bedrooms, 12.5 bathrooms and an eight-car garage. But that just scratches the surface.
"It has a movie theater, a wine cellar that rivals any wine cellar, a gym that rivals any gym, an indoor pool, indoor sports court, two-story rock-climbing wall, you name it," says Kaufman. "It has a Clive Christian kitchen — which is the most expensive kitchen you can buy — two carriage houses that are separate living quarters, an outdoor pool, a pool house [and] a tennis court."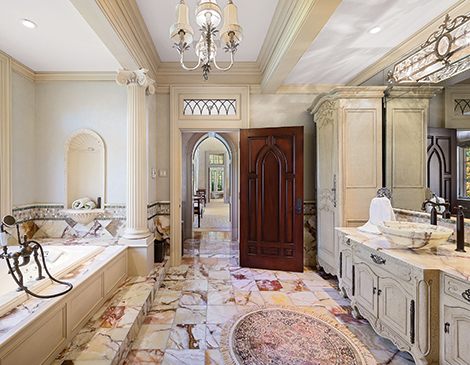 This opulent home was built by Cleveland real estate magnate Scott Wolstein, CEO of the real estate firm, The Wolstein Group. The house came on the market in November after his death in May and is currently under contract.
"He wanted a really magnificent estate and spent many years designing and was the brainchild behind this house and executing it," says Kaufman.
The house isn't just the peak of luxury for humans, though. In fact, there is an entire dedicated space just for dogs.
"It includes a dog shower [and] a TV at eye height for a dog," says Kaufman. "They can go in and out as they wish. It's all tiled. It's a whole indoor kennel."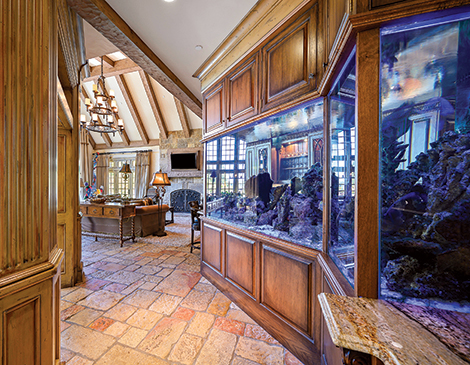 Some might say this house, with all its vast luxuries (we can't forget about the aquarium built into the kitchen space) doesn't fit into the attitude of Cleveland, which is grit and hustle, but the local roots that branched out to create this house make it a mainstay of the Hunting Valley suburb and the city at large.
"This house will rival most houses in the country. As far as Cleveland goes, it's the ultimate house, given that Scott was born and raised in Cleveland," says Kaufman. "The thing that is exceptional about this house is that it's a 35,000-square-foot house that still has incredible warmth and charm."