Every element in a story converges to its central theme. To designer Anne Kokoskie, the features of a room are not much different; they tell the story of its occupant's life. The result of this philosophy is a seamless and bold home in Rocky River. "It's really a classic coastal home," says the founder of Styled by A.R.K. "[The owners] had hit their 10-year mark in the home and wanted their style to start to reflect who they are and how they live," Kokoskie says.

Just as every story has a protagonist, every room needs a hero. Kokoskie visualized each room as a blank canvas, looking for "hero moments." In the living room, a gold chain braided around a carefully placed mirror above a navy linen chest irrefutably grabs the role. Its dominance shines, paying homage to the Gabby chandelier with its gilded-gold finish.
"When you hang a mirror, it's so intentional. Not only the design of the mirror, but… reflective points," Kokoskie says.
Straight on, the chandelier's slender geometrics can be admired in the elliptical-shaped glass. Viewed from the side, the black stone fireplace sings instead, playing another role in the room. "It's interpreted as this soft, beautiful moment in a room that has its own gracious style," Kokoskie says.
A double-framed painting by Carol Benson-Cobb commands the pearly mantel, itself a statement shouldered by two topiaries. Kokoskie chose the artwork's diagonal-sweeping, frothy remanent of a shoreline for a major story arch. "I think the movement in the painting kind of related to the element that the family's constantly on the go," Kokoskie says.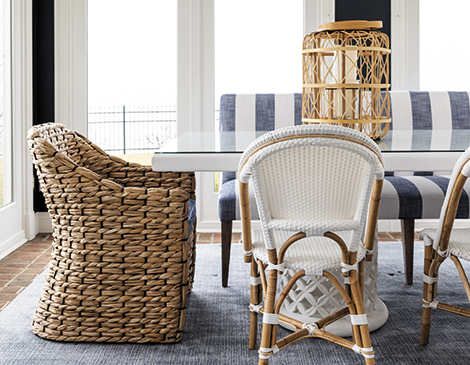 To reinforce her client's "classic soul, but a modern spirit," Kokoskie relied on the curve of the client's Chesterfield couches. And she edited out features that no longer fit the owners' lifestyle. "It's kind of like how we all think of our lives," she says. "Look at the room and decide what doesn't fit the personality, or the story of this room any longer, and what needs to stay, because you don't want to lose that story."
The elimination of extra chairs invited more flow for guests. Hosting is easier with space to breathe, relax and play. Surrounded by the roaring drumbeat of Lake Erie behind large windows, the four-seasons room accomplishes all three.
"The room is really kid-friendly," Kokoskie says, even as she names the luxurious elements that weave together the coastal oasis look: rattan chairs strung in white resin, a seat of hand-woven seagrass and a stone Serena and Lily table, whose rectangular body plays off the rounded seats.
The lattice-like columns of the table mimic the spindly rattan hurricane lanterns. Stationed on top of the table like model lighthouses, one can imagine a warm glow emitting from them on a cool, summer night amid laughter and creaking wicker.
Adjacent to this space, a majestic entertainment center gleams in Benjamin Moore's Simply White. Kokoskie designed this piece herself, with its wood sourced from Point West Construction in Cleveland, while the sink, an unlacquered brass, comes from France's Normandy coast. It's designed by Waterworks to not leave fingerprints, but rather a "blushing."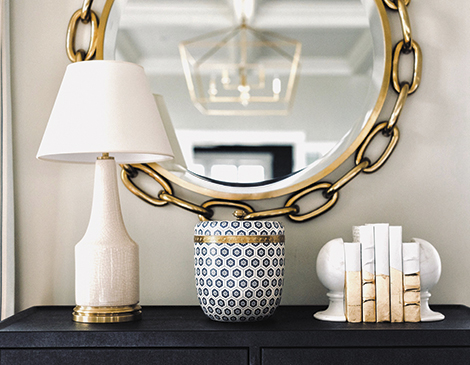 Katonah Hardware's cremones elevate the center's 35-inch-wide towering glass cabinets, but the piece is by no means an antique. Charging outlets, a sound system and mini fridge chilling wine sit behind its pearly doors.
"It's a comprehensive structure … that fits into that lifestyle," Kokoskie says. "[It] had to be done with intention and purpose, because we had to collapse all their needs in a very beautiful way."
From Los Angeles, a seagrass rope mirror hangs like an exquisite porthole eying the lake. It complements the rattan in the four-seasons room.
Every detail is a mindful sum of addition and subtraction, serving as a reminder of the story being told, whether it's whispered to the family who owns the home or their guests.
Coastal charm, modern sensibility and classic principles may parade as a backdrop, but the design's theme is indefinitely a versatile cottage where friends and family are entertained and inspired; a paradigm ending.