About Town:
Named after John Stoughton Strong, who led a group of pioneers from Connecticut to settle in what's now Strongsville in 1816, this southern suburb of nearly 45,000 people is home to a thriving business community, which includes a number of small businesses, national retailers and larger corporations, such as Vitamix. But the city has also seen its share of vibrant history, and its portion of the Cleveland Metroparks' Mill Stream Run Reservation is a popular haunt.


Slice Of Life:
A local standby for both teens and parents, Mitchell's Homemade Ice Cream, located near the center of town, is a fan favorite thanks to flavors such as black raspberry chocolate chunk and blue cosmo. For anyone interested in taking a culinary class or grabbing brunch with a friend, Architectural Justice Gallery & Cafe features delicious European-inspired cuisine and curated home goods you can't find anywhere else. The decor and food — try the banana-praline waffle paired with a cup of coffee — are equally Instagram-worthy. Get the creative juices flowing at Maggie & Ellie's Pottery and Art Studio, a cute little shop that offers pottery and canvas painting parties.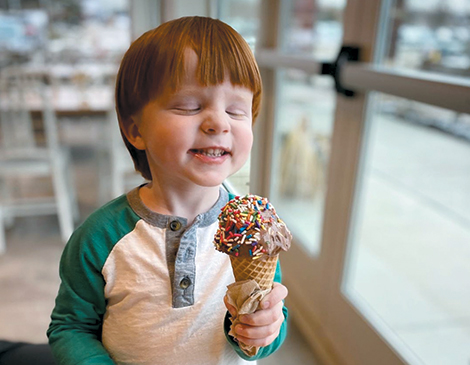 For chic, trendy women's clothing and accessories, plus all the stylish feels of New York City or Los Angeles shopping, head to Bleu Chic Boutique (my not so subtle plug here) for a fresh mix of on-trend items that won't break the bank. And would-be brewers (or just those who love to sample their wares) should head to the Brew Kettle, where you can brew your own beer or just get a bite to eat: try the combo of smokehouse wings and a White Rajah IPA. If breaking a sweat is more your style, Pro Sports Performance athletic training center lets you work out like a true athlete. Owned and operated by former Cleveland Browns players Jason Trusnik and Reggie Hodges, jocks of all ages can find personalized speed-, strength- and power-training activities.
Save The Date:
The Strongsville Rib Burnoff, held the third week of June on the Strongsville Commons, is the unofficial start to summer here. Barbecue vendors from around the region fire up their grills and square off for a crowd of more than 20,000, all hungry for ribs and warmer weather. Fresh-squeezed lemonade, corn-on-the-cob, games, the sounds of live music coming from the gazebo and more bring back the small-town charm the city was built on more than 200 years ago.




Points Of Interest:
Mill Stream Run Reservation offers a beautiful backdrop for outdoor fun, whether you're hiking or picnicking, or tackling more adventurous activities such as zip-lining and axe-throwing. But the real adventure awaits from November until March, when the park's Chalet's two ice chutes open for tobogganing. While foodies and date-night couples head to Don's Pomeroy House for the food and elegant atmosphere, the mid-19th-century mansion hides some history. It was part of the underground railroad in the 1800s, serving as the final stage before slaves fled across Lake Erie to Canada.
Lively'hood:
With both new and established housing developments, each with their own sense of community pride, Strongsville's active market (421 homes were sold here in 2019) makes it a great spot for first-time homebuyers or new families with a little bit more to spend. The Royalton Collection, which is being built across from the city's massive SouthPark Mall, will add more office and retail space. In 2016, the school district opened its $45.5 million middle school, with classrooms that feature moveable walls, interactive projectors and wireless connectivity. The city's list of amenities, shops and restaurants let you enjoy it all in the same day, without having to leave the city you call home.
About The Writer: Nicole Marcellino
Nicole Marcellino is the Cleveland Cavaliers' in-arena announcer and the owner of Bleu Chic Boutique. Frequently on-the-go, the wife and mom to three boys packs her days with adventure, whether she's taking her sons to baseball games, discovering new wines with her husband or enjoying a bite to eat with friends and family. She savors life's little moments in the city she's called home for 13 years.

Click here to read the full list of Cleveland's Best Places To Live for 2020.