The Rundown: Tell someone you're from Bay, and it means something. Tucked along the Lake Erie shoreline, the bedroom community of about 15,000 is a place where residents who grow up there return to raise a family. And it's easy to see why. Along the leafy streets, folks are out walking, biking, pushing strollers and lingering to chat long after the school bus leaves the stop. Even with more than a third of its housing stock built in the 1950s, Bay's cozy bungalows and Cape Cods have been added on to with care, because their owners would rather stay put than leave their neighborhood. "There's a real sense of community here," says Mayor Paul Koomar. He points to local groups that have taken up causes from building a disc golf course to organizing beach cleanups. "This is why you see second and third generations of families here."
Neighborhood Profile:
Midrange • West
2017 Total Home Sales: 365
2017 Median Home Sale Price: $230,000
Education Ranking: 6
Safety Ranking: 22
The Vitals: Bay's safety (No. 22), walkability and quality schools (No. 6) work together to help create an accessible, close-knit community. Consider Bay's Bike to School Challenge, which celebrated its 11th year in May, and drew more than 430 participants at Bay Middle School for a kickoff ride. In 2017, more than 54 percent of all elementary and middle school students pedaled to class on National Bike to School Day. "The fact that you can get on your bike and go anywhere in town is a big feature," says Sarah Luchini Urbancic, a Howard Hanna real estate agent and lifelong Bay resident.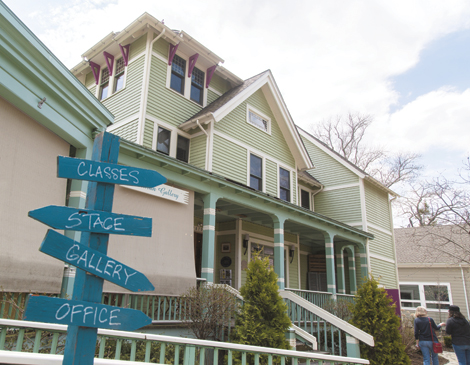 What to Do: BayArts' Thursday Block Parties bring together a lively farmers market, vendors, food trucks and outdoor movies for a low-key place to meet friends. This year, BayArts is adding a pie-baking contest, cruise-ins and Yappy Hour. Cap off the week with free kid-friendly Sunday night concerts on the front lawn. Or sign up for a Create Night with themes such as collages, fashion sketch night and a wine and cheese party. "Just try one thing," encourages BayArts executive director Nancy Heaton. But you don't need a reason to stroll the 1.5-acre grounds, linger on the Fuller House front porch or sit on a bench to enjoy the Cleveland Metroparks setting and views of the lake across the street.
Secret Find: From the road, Columbia Park looks like a grassy spot in between houses on Lake Road. But walk down to the water, and you'll find a gushing waterfall, 40-foot shale cliffs and stone stairs that take you to a small 15-foot wide beach area that's popular with dog lovers.
Talk of the Town: Townhomes by Liberty Development Co. are slated for a former parking lot on Wolf Road, past the Dover Center intersection and formerly occupied by a gas station and a KeyBank drive-thru. Construction on the 13 townhomes, the first major housing project in the city in 15 years, could begin as early as this summer. The five three-story townhomes facing Wolf Road are priced between $300,000 and $400,000, while the eight attached houses on Cahoon Road are expected to be in the $400,000s. "The different townhomes will hug the creek and give residents a great, natural setting," Koomar says.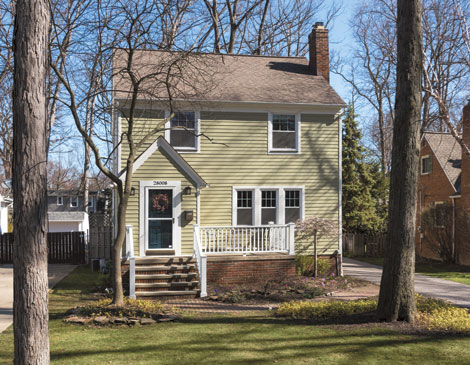 Buy It Now: This charming colonial on Osborn Road boasts three bedrooms and 2 1/2 bathrooms in 2,248 square feet. With a two-car detached garage, wood fence, deck, sunroom and lower-level rec room, it's within walking distance to a park, pool, schools, shopping and restaurants. "This house is really inviting — you really just want to stay and hang out," says Katie Manos, a Howard Hanna real estate agent. Listed at $239,900, it combines classic design, Hardie board siding and refinished original hardwood floors with a remodeled kitchen featuring maple cabinetry, white quartz counters and an island with seating. "Maybe it's the color or character, but I love being in that house," she says. "And because the ceilings are so high, it seems extra roomy."