The Rundown: Medina is Ohio's Pleasantville. A 40-ish minute commute to Akron and Cleveland puts the square-centered town in a bubble of Americana. Front porch flags and vote-yes-on-the-levy signs scream school pride. "There's probably a better place to live than Medina, Ohio," says 46-year resident Dave Taylor, "but I don't want to spend the next 10 years trying to find it."

Neighborhood Profile:
Moderate • South
2017 Total Home Sales: 451
2017 Median Home Sale Price: $174,400
Education Ranking: 19
Safety Ranking: 41
The Vitals: Medina's Main Street USA vibe isn't its only appeal. The city's approachable property tax rate — $1,910 per $100,000 in value — pays dividends in a city that sets aside $2 million per year for infrastructure improvements. That's allowed updates to the city's roads, which have been rebuilt with new water lines and storm sewers. "We won't have a problem with any of our roads for the next 30 years," says Mayor Dennis Hanwell.
What to Do: Medina life circles its square. A nucleus of Victorian structures, this historic district — which just hit 100 percent occupancy after a record high of 13 vacancies 10 years ago — is Medina's entertainment hub with hip boutiques such as Antiquation, elevated eateries such as Amuse Euro Bistro and quick bites such as Chill Artisan Ice Cream. "It feels like a Hallmark movie set for small-town America," says Matt Wiederhold, director of Main Street Medina. "The square is our social destination — a place to reconnect, meet up with friends and soak up the beauty."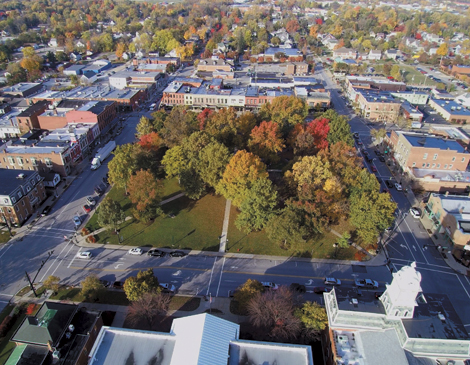 The Hangout: With the Medina High School newspaper for sale on the counter and drink names only locals would understand, such as The Smith Road Side Salad and Suzi Q's High Voltage Brew, named after Medina's indoor and outdoor go-kart facility, Cool Beans Cafe is more community meeting space than espresso and coffee bar — though its house roast is pretty darn good.
Secret Find: Formerly a golf course, Austin Badger Park is 252 acres of fresh air and pristine greenery. The nature parcel features four fitness stations donated by the Cleveland Clinic Medina Hospital such as pullup bars and box-jump platforms, 2.3 miles of concrete walking trails among picturesque woods and farmland and 3.6 miles of professional mountain bike trails designed by the Cleveland Area Mountain Bike Association. "Having somewhere to get some fresh air and exercise is one of the biggest highlights of Medina for me," says Steve Madden, co-owner of High Voltage Indoor Karting.
Signature Event: Held Saturday mornings and Wednesday evenings around the gazebo in the square, the Medina Farmers Market features more than 60 vendors selling locally grown produce, cheese, meat and more. It's a continuous celebration of the area's strong farming and artisan culture. "The possibilities in Medina for eating clean and getting food fresh from a farm are endless," says resident Nicole Glatz. "Medina is just a hotbed for sustainable agriculture and organic farming and has a strong focus on health and community."
Neighbors New & Old:
"It was the square that first appealed to us, but then we fell in love with everything else we saw. We liked the hometown feel but also the rural aspect. You get a good amount of property for the price. Living in Medina has been better than we ever could have expected." — Nicole Glatz, 33, moved from Euclid three years ago after her husband completed his Marine Corps duty
"Medina people have a core respect for one another. We have differences of opinion, but that core respect allows us to find the middle-ground solution." — Dave Taylor, 72, a retired B.F. Goodrich Co. employee who lives in the same house he bought with his wife in 1975