As Madison Wagner and a handful of Gilmour Academy classmates meet at the Ben Franklin Community Garden in Old Brooklyn, the Make A Difference club members guess how much the bounty of produce harvested from 33 plots could weigh. One-hundred pounds? More? The tomatoes, root veggies and armfuls of healthy foods are slated for donation to local hunger centers.
"You really learn to appreciate how food gets on your plate," says Wagner, a 17-year-old senior. "There is so much time and effort to produce tomatoes, potatoes, squash, the things you eat. It's really rewarding."
Wagner launched the club as an eighth-grader at the Academy of St. Bartholomew in Middleburg Heights as a way to give back. At age 7, she was diagnosed with cancer. Although she's fully recovered, it permanently affected her immune system, making her more susceptible to getting sick.
Make A Difference grew out of her desire to create positive change. "M.A.D. helps kids my age realize the impact we can have on people in our community who need help," she says.
Last year, the club grew 5,000 pounds of produce. Through early August, Wagner and her friends had already logged 300 pounds — even before the big harvest time. "We should get a few more thousand pounds before the end of the season," she estimates.
The Ben Franklin Community Garden project is just one of the club's many initiatives founded and run by students. "That makes us unique as a volunteer organization," Wagner says.
About 100 Gilmour students participate in the organization, which also raises money to buy military-grade blankets for homeless shelters in a program called Blankets of Love, and bags and distributes peanut butter-and-jelly sandwich meals to those in need.
"It gives kids a platform where they feel comfortable stepping up to the plate," she says.
In fact, more schools are recognizing the potential for service to extend classroom learning into real-world settings, see how individual disciplines cross subject areas and create a deeper connection to the community.
"With community service, there's an emphasis on those being served, but service learning understands that the benefit is to the one who is providing the service," says Nick Beyer, principal of Beaumont School. "It's a problem- or inquiry-based process that begins even before the service takes place. Students identify a problem, and through the learning in service, they discover the roots of the problem and possible solutions."
As the National Center for Educational Statistics reports, service learning in K-12 schools is a growing interest to educators because it provides students with hands-on experiences and opportunities to apply classroom skills while understanding real-world problems.
"Service learning is bigger than one day — it's more of a long-term experience," Beyer relates. "As students get older, we have a responsibility to challenge them a bit more with larger service learning opportunities — though any community service is valuable, particularly for young people."
Schools throughout Northeast Ohio are embracing what it means to learn through service in ways ranging from tutoring children and playing chess with Alzheimer's patients to integrated service learning projects and internships that embed students at social service agencies.
* * * * *
Kids Just Like Me
Hawken School senior Brennen Keuchel spent time this summer playing chess with residents at the Kemper House in Cleveland, a memory care facility for adults suffering from Alzheimer's and dementia.
The project was part of the school's Integrated Service Learning program, an intensive 60-hour volunteer initiative tied to the curriculum.
Keuchel, who started playing chess at age 6, became interested in the project after discovering research that suggested the game may delay the onset of dementia. "Some of the residents had never played chess, so I taught them how to play," he says. "They usually don't have the kind of care where people come in to teach them new games."
The 17-year-old realized firsthand how teaching a new skill to the residents sparked their interest in participating and sharing, which made them more engaged.
He also plays the game with students at Breakthrough Schools' Citizens Leadership Academy in Cleveland's Hough neighborhood. The school partners with Hawken to run the chess club, Young Scholars tutoring program and a summer enrichment camp.
"A lot of the kids actually chose to play chess rather than playing basketball," Keuchel says. "We get to see the same students every week, and it's really fun to watch them grow and become better thinkers — and to grow as people."
By getting outside the bubble of the classroom, students often encounter unfamiliar and sometimes uncomfortable situations that require problem-solving and leadership skills, says Daniel Mesh, science teacher and director of community engagement at Hawken.
"Students realize that they have to figure out what to do in situations when they are not told or given instruction," he says. "Service learning equips students to find out ways to modify their expectations and approaches so they can be successful and impactful in situations that are not what they expect."
During an intensive, three-week class on homelessness taught between Thanksgiving and winter break, Hawken students spend each morning reading and reflecting on books such as Matthew Desmond's Evicted and articles from New York Times Magazine.
In the afternoon, students work in shelters and at social service agencies where they serve lunch, visit with the homeless and clean up after.
The experiences and interviews become stories for their journals, Mesh explains. "Being embedded in an agency like this is a great opportunity for students to really get to know an agency and what it means to the community," he says.
By tapping into something deeper than just knowledge for knowledge's sake, service learning has the potential to create real impact. Mesh points to a student from the class who began visiting the shelter weekly during the summer to run a group for teens.
"They listen to music, read the lyrics and talk about it," Mesh says. "She developed a connection with the agency during her time there."
Building connections was the purpose of J. Victor Pan's service learning project. The Hawken senior had lived in his mother's native country of China with his family from first through seventh grade. So practicing English became a big part of fitting in when he returned to the United States.
"I felt like using English was my path to cultural assimilation," he says.
He used that experience by returning to his mom's hometown of Yushe in the Shanxi province, about a seven-hour drive from Beijing, to run an informal summer camp for primary school students.
"My original intention was to teach English," he says, "but it ended up being a lot more."
China's standardized educational system didn't encourage debate like Pan had experienced at Hawken. So he helped kids in his Chinese class read and interpret poems, speeches and other writings. Then, he hosted a debate tournament.
"They started to do their own research and think critically," he says.
About 80 kids participated in the camp's second year. "It reminds me that bridging cultures doesn't have to be difficult," he says. "While there are cultural differences, there is this universal desire to learn."
* * * * *
Exploring Career Possibilities
Service experiences can open doors to career possibilities or give students a chance to test the waters in an area where they show interest.
Julia Libbey, a senior at St. Joseph Academy, thought she wanted to pursue art therapy. Volunteering at EnnisCourt, a senior living facility in Lakewood, gave her a hands-on introduction to what that career could look like.
The school's Opening Minds Through Art program partners students with residents suffering from Alzheimer's and dementia. They learn about the disease and how to interact with residents. Then EnnisCourt residents and students work together on a simple art project such as painting or drawing.
"We might mix colors on paper, then ask them how they want the project to turn out so they can have something to focus on," Libbey explains. "While they [are] working, we would ask them questions about their lives."
During the 10-week program, Libbey connected with her partner, who gradually opened up about his former job as an engineer and his two sons. "He would light up when he recognized me, even if he couldn't remember my name," she says. "There were little glimpses of his memories coming back as the weeks passed."
During one session, her partner seemed very confused. Libbey worried he might be having a bad day and unable to work on their art. "But, he saw me and said, 'Same class, same time,' " she recalls. "He knew what to expect and he was glad to be there."
Junior Gerry Schirmer, whose grandmother had lived at EnnisCourt, also participated in program.
"This really brought out the time I spent with my grandma," she says. "You realize how important it is to give back to those who have lost some freedoms and can't do all the things they used to do."
In fact, some research suggests that art therapy might help patients with dementia by stimulating areas of the brain less affected by the disease, such as those used for creativity.
For many EnnisCourt residents, the program improved their spirits. Schirmer watched the mood of one of her partners go "from zero to 100" during one art session. "She held my hand and said, 'I really wish you were my granddaughter. Yours must have been so proud of you,' " Schirmer recalls.
"They were telling more stories and talking about pictures more," Libbey says. "It was a really unique experience to be able to see that change and how we were helping them."
In fact, St. Joseph Academy's 725 girls logged more than 29,000 hours of service during the 2017-18 school year. "Our students are learning to take service to heart," says Mackenzie Schuler, communications manager at the school. "For someone who is passionate about a particular career, there are amazing ties to our service projects."
* * * * *
Meeting People Where They Are
Connor Walters, co-moderator of the Christian Action Team and Labre Ministry at St. Ignatius High School, tells student volunteers, "Once you have been out with us on Labre, you'll never look at the city of Cleveland the same way again."
Labre students canvas the city on Sunday evenings in St. Ignatius' "big blue vans" handing out bagged meals — usually a PB&J sandwich, fruit and water — to the homeless, wherever they find them.
Labre doesn't visit shelters. Instead, the teams meet homeless people where they are in the community.
"The bridge you drive over to get to the Indians game is where someone lives," Walters relates. "That person living there is someone with a name and a story. It really humanizes the issue of homelessness and shows students you can do more to help someone than provide food or shelter. People ultimately need love and companionship. That is what our ministry is all about."
Walters started volunteering with Labre as a student in 2006. He graduated in 2009 and returned as the school's communication coordinator and a teacher in 2014. Since then, he has helped head the Labre Ministry.
From its start 16 years ago, Labre has completed more than 820 weeks of consecutive service. It has even helped launch programs at more than a dozen schools throughout the country, including John Carroll University, Case Western Reserve University and St. Edward High School.
"We go out in bad storms and on holidays," Walters says. "That consistency is what builds the trust we have developed with people who live on the streets."
The Sunday evening routes are the same, and many times the people Labre serves return weekly to see the students.
"A student who graduated in 2017 always made sure he got in the same van so he could see the same people," Walters says. "After he left for college, he'd check in with us and ask, 'Have you seen this person lately?' On breaks, he would volunteer and catch up with them as if they were old friends."
Walters says Labre helps teach empathy, interpersonal skills, courage and the importance of building relationships with all people. "Anyone can pass out a sandwich," Walters says. "It takes an effort to get on someone's level, to shake their hand and ask them their name, to be with them in their struggles and their celebrations."
In fact, service is among the most valuable parts of a St. Ignatius education, Walters says. "We have alumni who come back and talk about what a formative experience it was for them."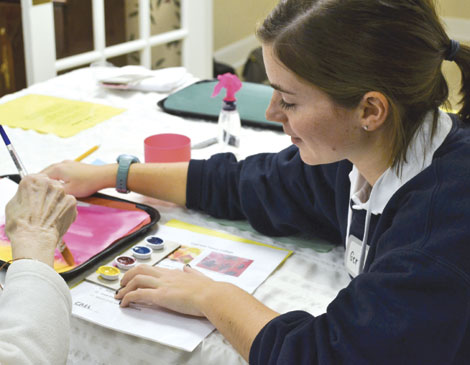 * * * * *
What The Classroom Can't Teach
Grit. Resilience. Engagement. Many schools work hard to ingrain these qualities in students as preparation for the future. But there's nothing like real-world experience to teach these lessons.
During Hawken's integrated service learning showcase, for example, a student shared what he discovered during the project.
"The student said, 'It was a privilege for me to have this experience,' " Mesh recalls. "He added, 'That word doesn't mean what it used to mean to me. I used to think it means I'm privileged to go to a school like Hawken. The real privilege is to encounter people that struggle every day much harder than I do for much less reward — and to watch them get up and do that over and over again, despite the fact that the odds are stacked against them.' "
Mesh was blown away. This student had gained a perspective no classroom could teach.
"The empathy door is opened," he says. "When students aren't engaged in their communities or haven't made connections with people whose circumstances are different, a common response to someone's condition is to say, 'Well, why can't they just … ' So, these experiences help in their day-to-day relationships with family, friends, peers and teachers."
Service learning also promotes accountability, Mesh says. "Ultimately, we hope they can realize the difference between where they are today, and where they want to be in life, has to come from within," he says. "Part of that is effort, but the other part is self-advocacy and utilizing the resources [and] people that are around them."
Service learning can push students to be self-starters. For instance, Wagner has grown the Make A Difference club by establishing chapters at Padua Franciscan High School, Berea-Midpark High School, the Strongsville Senior Center and Light of Hearts Villa in Bedford.
"We have worked with more than nine different organizations in Cleveland, including homeless shelters, domestic violence shelters and communities of underprivileged children," she says.
When Wagner started the club, she hoped it would be a platform for other similar clubs at different schools. But it started simple.
"The only project we were doing at first was a toiletry collection and making peanut butter-and-jelly sandwiches," she says. "Now, we are doing all these different projects."
Wagner encourages other students to just get out there, even if their school doesn't have a formal service learning program.
"Go for it," she says. "It's better to just start doing something, and you can adjust along the way."