The Dust Bowl and the Great Depression, a back-to-back period of severe drought in the American prairies throughout the late 1920s and 1930s, decimated the Midwest. But it also inspired some of America's most important and long-lasting music, most notably by Woody Guthrie, whose works inspired the likes of Pete Seeger, Bob Dylan and Bruce Springsteen.
But imagine if the Oklahoma-born Guthrie had GarageBand and a home studio instead of having to wait until 1940 to record his seminal album Dust Bowl Ballads. The album, which told stories of those facing drought and financial hardships, could have comforted its audience as they endured it instead of after.
Afforded those luxuries, musicians such as Matt Moody, who released "The Internet" and "How Are You Today?" on Friday, are already working to contextualize and capture the feeling of the times. Written and recorded in the earliest days of the coronavirus shutdown, when the new normal felt pretty darn abnormal, the songs lend an understanding hand and feel emotional, raw and relevant in the face of uncertainty.
"How Are You Today?," a duet and co-write with singer-songwriter Hannah Stak of Worry Stone, was recorded the weekend before Gov. Mike DeWine's stay-at-home order, yet it asks a question that has quickly become as commonplace as "hello" and as powerful as "I love you." As the best ones seem to do, lines such as "Dad I'm sorry, I can't come over" and "Lost my marbles, lost my average pay" feel at the same time confessional and universal, as if they've been pulled from conversations we've had a million times in the past month.
"I was trying to be empathetic and ask that question you hear so often now, everyone's asking it, 'How are you doing through all this?,'" says Moody, who performed at this year's Brite Winter and released his self-titled debut last year. "So the hook acts as me trying to capture that feeling of melancholy and being concerned about each other and our futures."
A percussive acoustic guitar and a quivering electric lead creates a sonic landscape that is apocalyptic and hopeful. While Moody's voice acts as the focal point, Stak's performance adds a haunting, gorgeous answer and otherworldly texture.
"We have that weaving melody line that's almost like a conversation between each other," says Moody. "Again, it's just like that conversation, 'How are you today? Things are going crazy. I'm afraid to go to my parents house. The news is weird.'"
"The Internet," another acoustic-driven track reminiscent of John Mayer's Continuum with hints of pop-punk, is fun in the same way the crazy things you do to preoccupy yourself when you can't sleep through the night are fun. In fact, that exact situation inspired the song.
"It was one of those up-till-5 a.m. sort of nights where, naturally, I was kind of spiraling, going through the whole freak out of this situation," says Moody. "It's serious, but I was trying to have fun with it and make light of the whole situation by talking about zombies and the apocalypse."

Come for the chorus, stay for the final minute when the song spirals out of control into an apocalyptic rant and a loss of internet connection — which might be a good thing for Moody due to the holy-crap-the-world-is-burning nature of lines. I swear it's more fun than I made it sound!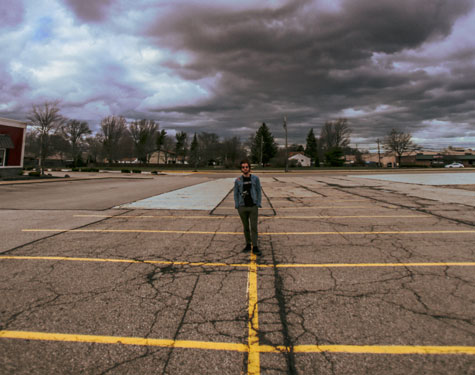 As a songwriter, Moody says, these uncertain times are as inspiring as they are scary.

"There's just a lot going on emotionally, for us as individuals, emotionally for us as a nation and a globe at this point," says Moody. "You go on your phone and it's like disaster headlines, bad news and politics side-by-side with funny memes, and it just feels like it's all coming to a head. Two mentalities sort of clashing. So I wanted to have fun with that and capture, especially with 'The Internet,' how things are kind of messed up right now."

It's because of the internet that all of this was able to come together, even under restrictions. While Stak and Moody managed to get a wine-fueled songwriting session in just in the nick of time, the rest of the tracks were recorded in Moody's apartment studio on relatively affordable equipment and sent to Jim Stewart Recording for mixing and mastering. That's why you might not hear drums on the record — "drums aren't going to sound as good in my apartment as they would in a studio," says Moody — yet the quality of the recording far exceeds anything most musicians would have been able to pull off at home even 10 years ago.

"It's very convenient," says Moody, who I spoke with over Zoom. "Just as we're essentially talking face-to-face right now, I can produce and send the highest quality audio and send it to a professional mixing guy. We can have live stream concerts. Thank God we have this technology right now to stay in touch and maintain some kind of social connection."

Even if isolation doesn't become our new normal, Moody can see a future where tactics learned during the shutdown, including digital concerts such as Virtual Shows CLE, change the way artists work, perform and record in the future.

"It makes it more convenient and it's a lot more affordable than going to the studio that's for sure, and we're all getting better at it," says Moody. "I think there will be residual effects of this whole thing. You know, people are still going to be a little timid about going out at first, or some people will just not want to have to get dressed up and go out to a bar but still want to enjoy live music. Maybe not as much as it's happening now, but I can foresee things like the virtual show extending and continuing even if things are completely normal."

Moody probably has more questions than answers, both on this subject and in his songs. But listening to Moody's epidemic-inspired tracks makes me feel sorry for the Okies who were unable to listen to Woody Guthrie as the dirt clouds blew by.

"There was a lot to say without knowing quite what was the right thing to say is the right thing to say at this time," Moody says. "But it just felt like now's the time to get these songs out, you know, strike while the iron is hot. And then hopefully just people can listen to them and relate in some sort of way or have fun with it, or kind of just lean into whatever emotion they're experiencing right now."