On Tuesday, Brite Winter announced its 2023 music lineup, consisting of more than 20 local staples ranging across several genres.

The event boasts headliner Welshly Arms just a month before the release of the band's upcoming album, Wasted Words & Bad Decisions, expected to drop March 24.

The rest of the lineup bounces between the hip-hop stylings of Akron's Free Black! and returning punk and indie rippers like The Rosies and Grumpy Plum; the latter performed at the showcase for the first time last year in what vocalist Tallulah Swasey described as a milestone.

"Tons of people come in to just explore some new music and check out all these bands," they say. "We are so excited. [I've been] going to Brite Winter since I was like 15, and it's always been like a goal of mine to play it."

The event also reigns in the help of Ingenuity Cleveland, local installation artists and willing community members to create a faux wonderland, turning the dreary winter Flats into something out of a picture book. Past themes include "Lucky 13," where one might play on a gigantic, whirring slot machine. Or the industrious "By Land, By Sea, By Air," where visitors hunted for clues on a train through time.

Co-founder Emily Hornack started the event with the hope of highlighting Cleveland's vibrant art scenes and providing herself and locals something to do in the less-exciting, mid-winter weeks.

"At the time, there was very, very little going on between New Year's and St. Patrick's Day," she says. "Winter in those really, really cold climates — like Minnesota and North Dakota, Canada — it's something to be celebrated and people look forward to it. We thought, well, let's see if we can figure out how to do that for Cleveland."

Tickets range from $10 general admission to the $250 Brite Backer package which includes access to a private lounge and exclusive merch offerings.

Cleveland weather can be unpredictable, with past Brite Winter festivals' temperatures ranging from 8-69 degrees, but "the things that are really reliable in Cleveland are the arts and music scene," Hornack says. "They're outstanding year round."
Check out the rest of the lineup below, and find more information about Brite Winter at britewinter.com.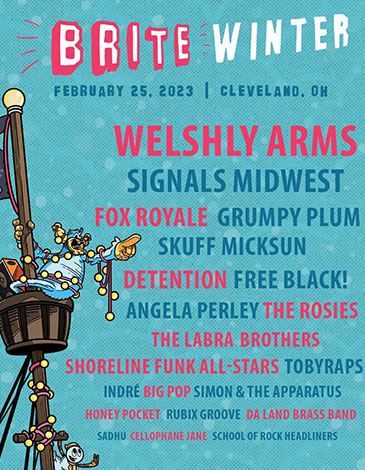 Get ahead of the weekend by signing up for our free weekly "In the CLE" newsletter — your guide to fun throughout The Land. Arriving in your inbox every Wednesday, this weekend to-do list fills you in on everything from concerts to museum exhibits — and more. Click here to subscribe.