Chayla Hope was living a double life: club kid by night, working-class machinist by day.
In the evenings, the aspiring pop star basked in the flashing lights of the former Bounce Nightclub as a drag king. Then, the singer would shake off the glitter, catch a few minuscule hours of sleep and march off to a gray, near-windowless sheet metal factory.

Eventually, she moved on to the heavy presses of Cleveland's Gotta Groove Records, punching out vinyl by the dozens and fantasizing about the day the discs might bear her name.
That dream comes true Oct. 28 with the release of her debut album Damn, Feelings, available on all streaming platforms — and a vinyl release from Gotta Groove slated for spring
The record takes listeners through a journey of love, intoxicating highs and heartbreaking lows. Sonically, it reflects Hope's appreciation of '80s and '90s-era pop and drag — artists like Robyn, whose catalogue remains a staple within the queer club and ballroom scenes.
"My idea for the record was to start off falling in love," Hope says. "And then you're kind of falling out of it, you're getting hurt. And then you're getting angry. I just wanted so much opulence and heartbreak on this record."
She said it took years of self discovery and relationship-building to get here.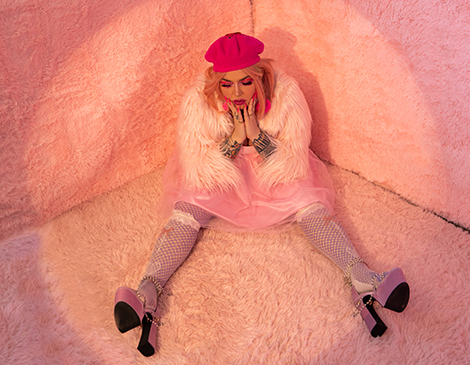 Around 2009, she stopped doing drag and became the vocalist of local band Seafair, straying away from pop for a
guitar-driven rock sound. In the following years, Hope garnered several local music awards, released multiple EPs and even landed a gig singing for the show Care Bears: Unlock the Magic.
Still, the singer yearned for something different, a place in the industry to call her own. In 2019, she made the bittersweet decision to quit her day job and Seafair in pursuit of herself.
"I still love those guys — we knew each other for 10 years." Hope says. "But I always wanted [a solo career]. I was so
terrified to do it."
The transition back to pop was daunting, but Hope credits an outpouring of support from friends and collaborators for pushing her forward. Earlier drag personas gave her the confidence to don all the pomp and glitter of a showstopper, and she noted the way pop music influenced LGBTQ+ culture, becoming an escape for the community.
"It lets you feel free for a minute," she says. "Just dancing and having a good time. Doing drag was the first thing that allowed me to do that without getting judgmental looks."
Beyond friends and loved ones, the community has supported her through various partnerships, such as Lakewood's Rood Food & Pie's "Falling for You" vegan strawberry rhubarb pie and, most recently, local-owned Shway Papers' Chayla Hope-themed rolling papers in support of the newest track, "High."
Looking ahead, Hope plans to pursue further collaborations and perhaps a tour "if the timing is right." Most important, she hopes to see people expressing themselves to her music.
"I just want people to be able to dance while they're sobbing," she says. "That's my big thing — dancing while you cry."