Chip Tha Ripper is finally having his breakout moment — on TikTok of all places.

Over the past 10 years, East Cleveland-native Charles Worth has dropped some of Cleveland's most iconic underground rap songs, such as "Catch Tha Beat" and "Feel Good." He's also partnered with Shaker Heights-native Kid Cudi on hits "Cleveland Is The Reason," "Just What I Am" and "Hyyer."

Yet, the rapper from St. Clair never quite broke into the mainstream hip-hop conversation — until now.

As of May, Chip Tha Ripper's "Interior Crocodile Alligator" already had more than 70 million streams on TikTok, the video app popular among Gen Zers. It's also racked up more than 10 million streams on YouTube, 1.6 million streams on Spotify and social media shoutouts from celebrity chef Gordon Ramsay and DJ Pauly D from The Jersey Shore.

"A few months ago, I got notified by someone who said, 'Hey, you might want to take a look at this,'" says Worth, who also releases music under King Chip. "I'm just watching like everyone else, seeing what cool things people are coming up with. I like that it's something funny that the whole family can be involved with, and that it's all chosen by the people. It's a beautiful thing."

Worth's success has been the slowest of burns. In fact, "Interior Crocodile Alligator" isn't as much of a song as it is an improvised, minute-and-a-half freestyle rap over the beat from Gucci Mane's "Go Head" recorded in 2007 during an appearance on Street Starz TV Radio hosted by Pretty Boy Floyd.

A year after Worth completed the freestyle, it became a meme similar to the "Rickroll," a bait-and-switch phenomenon in which internet users click on a title or thumbnail advertising one thing only to be tricked into listening to the song "Never Gonna Give You Up" by Rick Astley.

"It's been a thing on the internet for a while," says Worth. "I didn't even realize that in certain places on the internet it never really died since it got recorded."


The song's lyrics — specifically the ones that have gone viral: "Interior Crocodile Alligator / I Drive A Chevrolet Movie Theater" — have a very Cleveland origin.

Worth grew up near St. Clair Avenue in Cleveland's Glenville neighborhood, and many Chip Tha Ripper and King Chip lyrics are inspired by his Cleveland upbringing and the characters that inhabit the area. When writing "Interior Crocodile Alligator," Worth thought of a specific neighborhood guy named Mike and his green Chevy Nova.

"In Cleveland, we had the old school cars or the "schoolies," and we'd customize them," Worth says. "This guy, Mike, was a legend around 148th and St. Clair, and he did the whole Pimp My Ride thing where he replaced his entire trunk with a flat screen TV and just rolled around like that. So that stuck in my head because it's the type of thing where once you see it you can't unsee it. That was probably 2003 or 2004, and anyone who grew up on the east side of Cleveland will remember him."

While Worth isn't quite sure how the song took off on TikTok, he believes it was a combination of its humorous, bold and descriptive lines and Worth's braggadocious cadence that connected with audiences.

"I was just in a different space," he says. "My cadence was more projectile, more powerful. That came from just growing up in Cleveland, and having that forward persona and personality — that confidence."

Now, Worth is looking to capitalize on TikTok fame. While he can't directly monetize the TikTok streams, he says the virality has exposed new fans to the rest of his catalogue. In addition to multiple remixes of the song, he's planning on releasing two new albums in 2020, including The Charles Worth LP.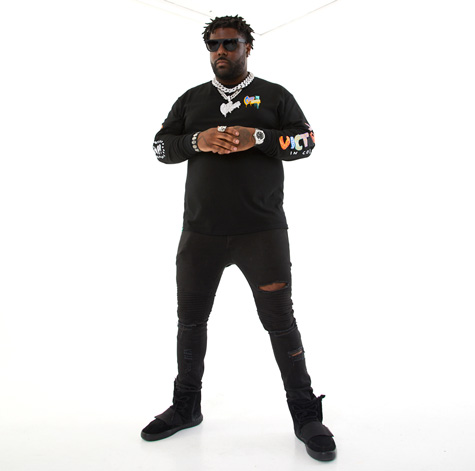 While Chip is feeling inspired by living and quarantining in his new home of Los Angeles, a move he explored in his 2015 album CleveLAfornia, there are plenty of things he misses about Cleveland.

"I just miss waking up early and driving down St. Clair, man," he says. "From Pier W to Open Pit to Landmark Restaurant and Slyman's, I mean this was before I was alkaline vegan, but it was just a different experience that you can never get anywhere else. Anywhere within a certain radius of where you grew up, felt like home."

Worth stays in close contact with longtime collaborator and fellow Cleveland rapper Kid Cudi. Now fathers, Cudi and Worth's families spent Fourth of July together. He says their shared Cleveland upbringing is what made their collaboration work so well.

"We were speaking the same language," says Worth.

Chip Tha Ripper and Kid Cudi's albums are remembered as party staples, coming of age soundtracks and mixtapes on repeat in every car ride among Cleveland-area high schoolers during the late 2000s and early 2010s. Recently, Cleveland-native Machine Gun Kelly even cited Chip as one of his biggest influences.

As he approaches the second act of his career with a new momentum thanks to his TikTok hit, Worth hopes he can continue to rep for Cleveland, the city that made him.

"Having support from home is like the most potent fuel you can have, especially when you're living on the other side of the country," he says. "Being out here in L.A., I feel like I'm that Cleveland warrior, just raising awareness about where I come from and letting the rest of the world relate to where I come from."