Damon Jamal Taylor, aka Dame Drummer, returns to where his entire music career began to celebrate his latest milestones. The musician, filmmaker and producer will arrive at the Grog Shop for a performance and showing of his film Black Daddy on Tuesday, March 28.
Tickets, $15-$20, are available at the Grog Shop's website.
Originally, Taylor got his start drumming at Lyrical Rhythms, B-Side Lounge's weekly poetry night. He says he was a member of the event series' house band for four years.
"I have to tell you, as the drummer, I had the most amazing seat in the house, because my back was against the wall and I saw all of these amazing artists and patrons and comedians and singers and musicians, every Tuesday," Taylor says. "They were all coming down there to hone their craft, all to work, and it was such a beautiful place and time for me, because I was also trying to figure out who I was and what I wanted to say as an artist."
In 2012, Taylor moved to Oakland to continue pursuing his music career. Since landing on the West Coast, the drummer and producer has collaborated with Fantastic Negrito, Los Rakas, the Oakland Symphony, the San Francisco Symphony and dozens of other groups. Last year, he produced The Movement, an album by Alphabet Rockers — and, along with the hip-hop band, took home a Grammy award for best children's album.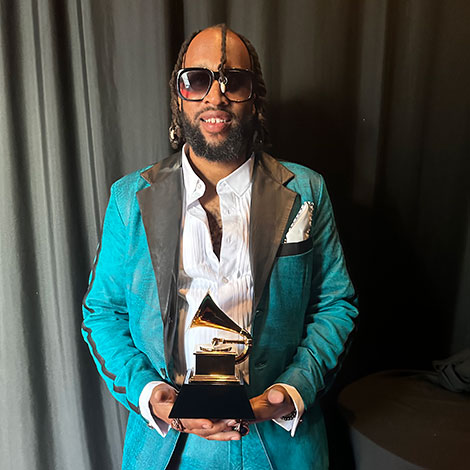 Between all of that, Taylor put out several solo albums, including the soundtrack to Black Daddy, his original film that arrived last year.
Black Daddy celebrates friendships and fatherhood among Black men; Taylor says he crafted the movie during the coronavirus pandemic, when he stepped away from the stage due to related shutdowns and restrictions.
"I felt like the world deserved to see how Black men have an adoration for each other and how we treated each other outside of the media, where you see us being hyper-violent or the comedic relief, or just the athlete," Taylor says. "There's so much more to us. We're not monolithic; we're very dynamic."
Black Daddy has earned dozens of awards at film fests and competitions around the world, nabbing honors like "best documentary," "best film score" and "best debut filmmaker," according to Dame Drummer's website.
On Tuesday, Taylor will screen Black Daddy to the Grog Shop, and then he'll head downstairs to return to his favorite seat in the house to perform drums at Lyrical Rhythms in the B-Side.
It's all a way to give back to the city that built Taylor up, he says.
"Cleveland, we just get a bad rap. It's the kind of place that you want to win. Growing up, I'd always hear Cleveland in movies, TV, they'd always make a joke about Cleveland. I hated that as a kid; I'm like, 'Yo, our city is great,'" Taylor says. "I always wanted to be great. Cleveland deserves greatness."
Get ahead of the weekend by signing up for our free weekly "In the CLE" newsletter — your guide to fun throughout The Land. Arriving in your inbox every Wednesday, this weekend to-do list fills you in on everything from concerts to museum exhibits — and more. Click here to subscribe.c