As Cleveland slowly warms up for the spring and summer season, so does its concert calendar. Plenty of the world's biggest tours are on the docket for the next few months, along with stacked music festivals and standouts at Northeast Ohio's smaller independent venues.
We put together the ultimate guide to upcoming live music. While most of this list is centered in the summer season, we also included a few standouts in late spring, too.
What are you waiting for? Make some plans and grab some tickets to some of these shows.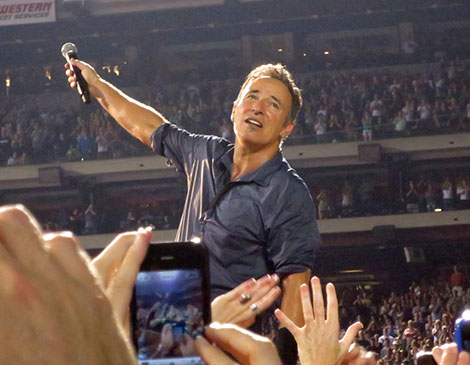 (Photo Courtesy Vladimir, Flickr User)
Bruce Springsteen at Rocket Mortgage FieldHouse
The Boss revisits Cleveland for his latest tour, along with the E Street Band, this spring. Relive the heartland rocker's 50 years of releases in this career-spanning set. Resale tickets available, $122+. April 5, 7:30 p.m., 1 Center Court, Cleveland, rocketmortgagefieldhouse.com
Bikini Kill at the Agora
Calling all rebel girls: Finally, after several cancelations and postponements, feminist punk group Bikini Kill is set to take the Agora stage. Singer-guitarist Kathleen Hanna will also return to the venue with Le Tigre later in the year. $39.50+, April 16, 8 p.m., 5000 Euclid Ave., Cleveland, agoracleveland.com
Lil Wayne at House of Blues
Famed rapper Lil Wayne will headline at Cleveland's House of Blues for a late April show, bringing his robust catalog of albums, mixtapes and singles to his signature high-energy performance. Sold out (resale tickets available), April 28, 7 p.m., 308 Euclid Ave, Cleveland, houseofblues.com/cleveland
The Sadies at Beachland Ballroom
Canadian rock band The Sadies will head on its first tour since singer-guitarist Dallas Good's 2022 death, supporting the final album the band made with Good: Colder Streams. $20, May 5, 8 p.m., 15711 Waterloo Road, Cleveland, beachlandballroom.com
Lizzo at Rocket Mortgage FieldHouse
Come May 12, it'll be about damn time to get down to the Rocket Mortgage FieldHouse for this pop icon's electrifying show. Beyond all the sugary sweet feel-good tunes, look out for the Grammy-winning musician's impressive flute skills. $70+, May 12, 8 p.m., 1 Center Court, Cleveland, rocketmortgagefieldhouse.com
The World is a Beautiful Place and I Am No Longer Afraid To Die at Mahall's
If you've described yourself as "alt" or find yourself discussing the "underground" on a regular basis, TWIABP's show with openers For Your Health and World's Greatest Dad is a no-brainer. While you're there, grab one of Mahall's signature cocktails and don't forget to tip the bartender. $20, May 12, 7 p.m., 13200 Madison Ave., Lakewood, bravoartist.com
Blink-182 at Rocket Mortgage FieldHouse
Tom DeLonge, Mark Hoppus and Travis Barker are together and ready to rock again. Blink-182 will support a to-be-announced new album with a massive show in downtown Cleveland, marking the first time that the three musicians hit the stage together in Northeast Ohio in more than a decade. $81+, May 16, 7:30 p.m., 1 Center Court, Cleveland, rocketmortgagefieldhouse.com
Rock N Reggae Festival at Voinovich Park
Split between two days of reggae-fueled celebration, Saturday boasts a rock-focused lineup including Cloud9 Vibes and Human Nature. Sunday is for the roots-reggae lovers, with Carlos Jones, The Meditations and more shining bright with a classic, Caribbean-steeped sound. $25+, May 27-28, noon-8 p.m., 800 E. Ninth St. Pier, Cleveland, reggaefestcleveland.com
Death Cab for Cutie at Agora
This 2000s alt-rock staple will showcase more than two decades' worth of music with its headlining Cleveland show. Ben Gibbard and co. will also celebrate their latest album Asphalt Meadows, which arrived last year. $42.50+, June 4, 8 p.m., 5000 Euclid Ave., Cleveland, agoracleveland.com
Paramore at Rocket Mortgage FieldHouse
The iconic pop-punk act responsible for several of the genre's greatest hits is having a moment this year. The band's latest album This Is Why came out just this last February, so expect an onslaught of both fresh and classic material as you cross Paramore off your bucket list. $40.50+, June 4, 7 p.m., 1 Center Court, Cleveland, rocketmortgagefieldhouse.com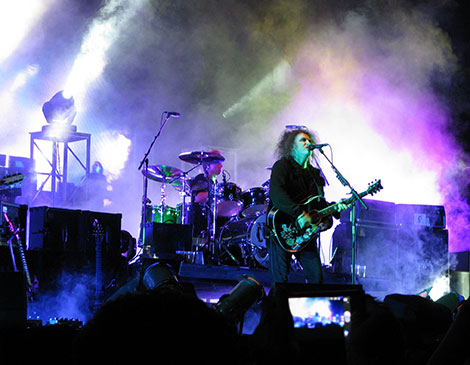 (Photo courtesy Christian Córdova, Flickr user)
The Cure at Blossom Music Center
Goth-rock trailblazers The Cure will return to Blossom Music Center after almost 20 years away from the outdoor venue, for a night of new-wave tunes. Tickets TBD, June 11, 7 p.m., 1145 W. Steels Corners Road, Cuyahoga Falls, livenation.com
Flaming Lips at the Agora
The always-colorful, always-strange Flaming Lips will celebrate its seminal album Yoshimi Battles the Pink Robots with a 20th anniversary tour. $49.50+, June 11, 8 p.m., 5000 Euclid Ave., Cleveland, agoracleveland.com
The Country Fest at Clay's Resort
Buckle up for four days of Country-lovin' partying with over a dozen of the genre's best artists, including Tyler Hubbard of Florida Georgia Line, Lauren Alaina and more. Bring the camping gear for the full down-n-dirty experience. $119+, June 14-17, various times, 12951 Patterson St. NW, North Lawrence, thecountryfest.com
Fantasia at Jacobs Pavilion
The "When I See U" singer will hit the Jacobs Pavilion stage with fellow R&B star Joe in June, showcasing her nearly 20-year R&B career. It all started back when she won the third season of American Idol in 2004. $30+, June 16, 7 p.m., 2014 Sycamore St., Cleveland, facebook.com/JacobsPavilion
Tri-C JazzFest at Playhouse Square
This year's celebration of jazz offers an iconic lineup including Herbie Hancock and recent Grammy-winning Best New Artist Samara Joy. Aside from ticketed acts inside the Playhouse Square theaters, enjoy a vibrant mashup of free outdoor sets from local musicians and students. $250 for full pass (individual tickets on sale April 3), June 22-24, various times, 1501 Euclid Ave., Cleveland, tri-c.edu/jazzfest
Larchmere PorchFest
Like a block party in a 2000's MTV film, PorchFest encourages locals to gather on each other's lawns for the perfect early-summer bash. Thirty bands are set to take over 30 porches and stoops in this unique Cleveland neighborhood. You can BYOB or enjoy the on-site beer garden they're sure to bring back this year. Free, June 24, Larchmere Blvd., Cleveland, larchmereporchfest.org
Shania Twain at Blossom Music Center
Let's go girls: The queen of country-pop makes her big return to Northeast Ohio for her Queen of Me tour, in support of her latest album. $137+, June 30, 7:30 p.m., 1145 W. Steels Corners Road, Cuyahoga Falls, livenation.com
WonderStruck at Lakeland Community College
Back for another exciting year, WonderStruck switched it up this year with the lineup. Don't miss this chance to cross artists like Khalid, Flo Rida, Nelly and former-Disney stars Aly & Aj from your musical bucket list. $65+, July 8-9, 7700 Clocktower Drive, Kirtland, wonderstruckfest.com
Le Tigre at the Agora
A big-time reunion hits the Agora this summer, when electronic punk band Le Tigre reunites for the first time in nearly two decades for its summer tour. $39.50+, July 17, 8 p.m., 5000 Euclid Ave., Cleveland, agoracleveland.com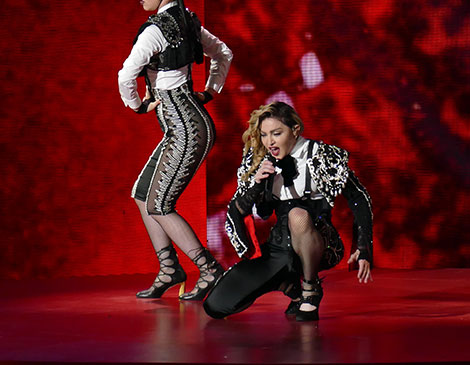 (Photo Courtesy Jonlo168, FlickrUser)
Madonna at Rocket Mortgage FieldHouse
"Material Girl," "Hung Up," "Vogue," "Like A Virgin" and other quintessential tunes will be the focus of the Queen of Pop's Greatest Hits tour this summer, set to arrive in Cleveland in August. $90+, Aug. 2, 8:30 p.m., 1 Center Court, Cleveland, rocketmortgagefieldhouse.com
Death Grips at Agora
The experimental hip-hop stylings of Death Grips will be on display at the Agora this August, when the trio returns to the stage for the first time since the pandemic started for a comeback tour. $45+, Aug. 2, 9 p.m., 5000 Euclid Ave., Cleveland, agoracleveland.com
Nickelback at Blossom Music Center
It's 2023, and we decree it's the year that we all recognize that Nickelback is actually kinda good. Sing along to much-maligned (and also somehow beloved) hits like "Rockstar," "How You Remind Me" and "Someday" on the band's Get Rollin' tour. $36+, Aug. 9, 6:30 p.m., 1145 W. Steels Corners Road, Cuyahoga Falls, livenation.com
Duran Duran at Blossom Music Center
Time travel back to the heyday of '80s synth-pop with Duran Duran. The group will bring the latest leg of its Future Past tour to Blossom, marking its first Northeast Ohio show since 2011. $35.50+, Sept. 10, 7 p.m., 1145 W. Steels Corners Road, Cuyahoga Falls, livenation.com
Get ahead of the weekend by signing up for our free weekly "In the CLE" newsletter — your guide to fun throughout The Land. Arriving in your inbox every Wednesday, this weekend to-do list fills you in on everything from concerts to museum exhibits — and more. Click here to subscribe.