"Do I look like a f***ing rock star?" Lizzo asked, flipping her hair over her shoulder.
The musician was in the midst of showing off a new haircut — one featuring short bangs — to her Cleveland audience on Friday night, when she was met with roaring applause.
But it wasn't just the bangs that made Lizzo such a rockstar at the Rocket Mortgage FieldHouse stop.
Maybe it was her soaring vocals, tearing up even vocally demanding songs like "Cuz I Love You" — and while still on the mend from a brief illness. Maybe it was her dramatic entrance, rising up into a blanket of fog from the floor below. Or maybe it was her handful of impressive trills and solos on Sasha Flute.
Maybe it was her backing band, featuring DJ Sophia Eris and 19-year-old guitarist Jordan Waters, who periodically shredded out guitar solos on songs like "Tempo" (a banger of a song which features new Rock & Roll Hall of Famer Missy Elliott). Or maybe it was her troupe of Big Grrrls dancers, which provided spunk to spare on the neon stage.
Regardless, the multi-talented musician cemented her rockstar status, and she did it right here in Cleveland. Notably, it marked the first time she's performed in the city. (It's about damn time!)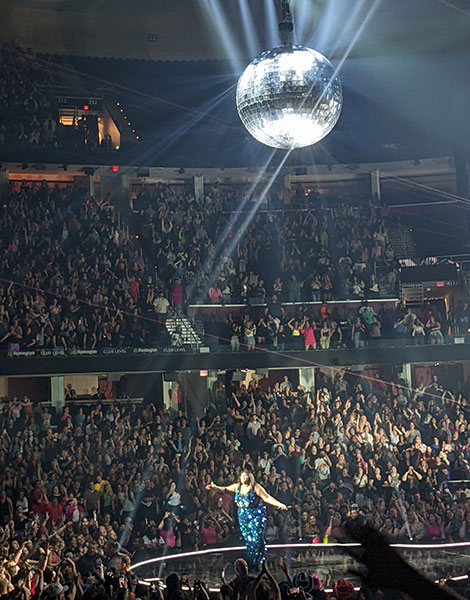 The stop on The Special 2our, in support of her latest album Special, also celebrates Lizzo's slew of recent accomplishments: four Grammy awards, a string of hit songs and an ever-skyrocketing star presence. (You saw that episode of The Mandalorian, right?)
But the concert itself was a standout, too. At the Rocket Mortgage FieldHouse, Lizzo deftly moved between the boisterous "Truth Hurts," the feel-good "Good As Hell," the intimate "Naked," the seething "Jerome — and all while recovering from a case of strep throat that caused a few show cancelations in the past week. A few choice covers, including Lauryn Hill's "Doo Wop (That Thing)" and Coldplay's "Yellow," further proved the musician's versatility.
The joyous, supercharged 90-minute performance featured costume changes, powerful lights displays, a massive disco ball and even guided breaks for breathing exercises and meditation. In between all of that, Lizzo spoke a lot about love: the meaning behind the entire batch of songs.
"I really believe that love for one's self and love for others is what this world needs to be a better place," the singer shared during an introductory monologue at the beginning of the night.
And at Lizzo's first show in the city, it was clear there was a lot of love sent her way, too.
Get ahead of the weekend by signing up for our free weekly "In the CLE" newsletter — your guide to fun throughout The Land. Arriving in your inbox every Wednesday, this weekend to-do list fills you in on everything from concerts to museum exhibits — and more. Click here to subscribe.