Fans of Paul Rodgers have wondered, long and often loudly, why he hasn't been enshrined in the Rock 'n' Roll Hall of Fame, either as a founding member of Free or Bad Company. His voice, after all, powers classic rock radio staples such as Free's "All Right Now," Bad Company's "Feel Like Makin' Love," "Rock 'n' Roll Fantasy" and the eponymous "Bad Company."
But the British-born singer-songwriter isn't bothered by the omission. He recalls a conversation he had in the 1980s with Rock Hall co-founder Ahmet Ertegun, co-founder and president of Atlantic Records, in which he asked whether Bad Company wanted to be part of something new, a sort of rock 'n' roll museum.
"I said, 'Well, you know, I don't think rock 'n' roll belongs in a museum, Ahmet. So no,'" Rodgers says as he chats on the phone from his home overlooking Okanagan Lake in British Columbia, Canada. "He asked me a couple of times, and I sort of turned him down. My bad, I suppose, because it turned out to be quite a very important thing. But there we are."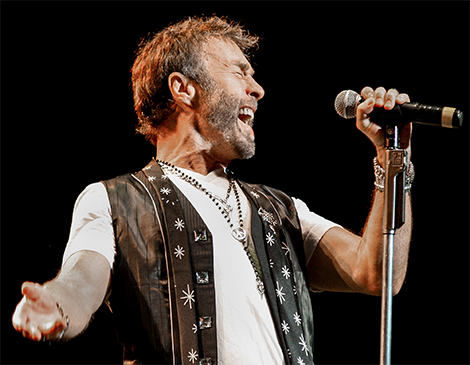 (Photo by Ron Lyon)
Over the years Rodgers has proven repeatedly that he's no museum relic — founding The Firm with former Led Zeppelin guitarist Jimmy Page, fronting Queen for a period after Freddy Mercury's death, recording and performing as a solo artist. His latest project is "Midnight Rose," his first solo release in nearly 25 years, set to drop Sept. 22 on the legendary Sun Records label.
"Midnight Rose" grew out of the pandemic lockdown, when Rodgers found himself sitting around with an acoustic guitar and time on his hands to write and record. He called his band's bassist Todd Ronning, who'd asked him to pen lyrics for some music he'd written. The collaboration yielded a rocking three-minute version of Rodgers' life story called "Living It Up."
"We weren't planning to really do an album, to be honest with you," Rodgers says. "I said, 'Let's just get four guys together — a guitarist, a singer, a drummer and a bass player. We'll go in the studio, and we'll just see what happens.'"
Rodgers says none of the eight songs explore his pandemic experience, although some titles and lyrics might suggest it. The most obvious is the countrified "Dance in the Sun," which he says is about the general challenges everyone faces in life and relationships. "Hopefully, we all get to dance in the sun," he says. The career-shaping musical influences lyrically detailed in "Living It Up" are also found in the gospel-like refrain of the title track, the country-western bad-guy-on-the-run tale of "Highway Robber." "Take Love" is actually a song Rodgers has performed live, both as a solo artist and with Queen, but never released as a studio recording.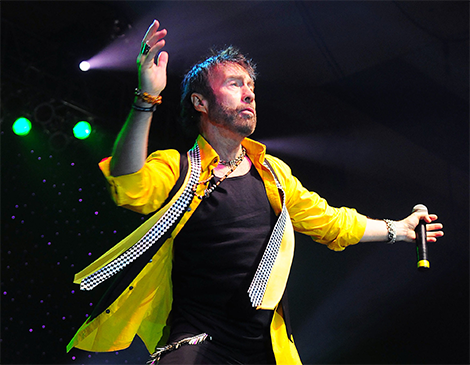 (Photo courtesy Paul Rodgers)
"I've been developing it over the years, to be honest," he says. "So it's all been a process. Some songs are like that."
When asked if he'll be touring in support of "Midnight Rose," Rodgers replies, "I don't really think so." It's not that the 73-year-old can't endure the rigors of the road. He's currently in good shape thanks to eating healthfully, practicing qigong, lifting weights ("not very heavy, but just repetition") and hiking with his wife, 1984 Miss Canada Cynthia Kereluk, an exercise physiologist, fitness author and artist. The challenges of traveling — "There's so much security involved, there's so many lines" — are a consideration.
"It's a huge commitment of time and effort to get a band together and to get all the backline crew and all of the above," he says. "I actually was thinking of doing an acoustic thing, like playing on the web. Maybe I can beam myself out that way."
He is, in fact, happy to be at home.
"There's lots of beautiful, beautiful country around," he says. "I like the unpressured-ness of where we are now."
Start your day the best way by signing up for our free daily newsletter. Arriving in your inbox every morning to keep you in the loop on the best guides, home and style tips, and news briefs for all things Cleveland. Click here to subscribe.