NFL fans are used to the sounds of commissioner Roger Goodell getting booed on draft day, but a group of local-bred musicians is providing a weekend soundtrack sure to make Clevelanders proud.
Thanks to a blessing from the Rock and Roll Hall of Fame, the NFL has tapped Cleveland cover band The Sunrise Jones as its house band for the first two days of the NFL Draft, which runs from April 29 to May 1. The band will be set up in the NFL Draft Theater, the league's temporary amphitheater built to host the event, about a red zone away from where Goodell will be announcing each pick. Specializing in Beatles tunes and featuring a repertoire that spans classic rock to Top 40s, the band is scheduled to kick off each of the first two days with a 10-minute set and then play during commercials and while each team is on the clock.
"We're integrated into the live broadcast," says guitarist Matt Vance. "It's really a great honor to represent Cleveland on such a prestigious stage and play the music we love to play."
While higher-profile musical acts such as Machine Gun Kelly and Kings of Leon have shorter, scheduled sets, the band has prepared a catalogue of more than 80 songs for the unique, lengthy gig. Typically a five-piece band including keyboard player and vocalist David Hamilton, guitarist and vocalist Matt Vance, keyboard and guitarist Mike Murray, bassist Adam Christian and drummer Dan Jankowski, it's added two female vocalists — Mary Diaz and Angelina Fiorini — to further expand its playlist.
After starting in 2013 and growing into one of Cleveland's most in-demand bands for local music venues, weddings and corporate events, Vance sees this as the culmination of The Sunrise Jones' hard work and swelling fan base.
"This band started in a basement just rehearsing, trying to get the material where we wanted it," says Vance. "This is really a moment of triumph for us."
If you dig what you hear in snippets between commercials, snag tickets to the Cleveland band's first post-quarantine performance May 22 at Beachland Ballroom, and get to know a little more about them below. More info: instagram.com/thesunrisejones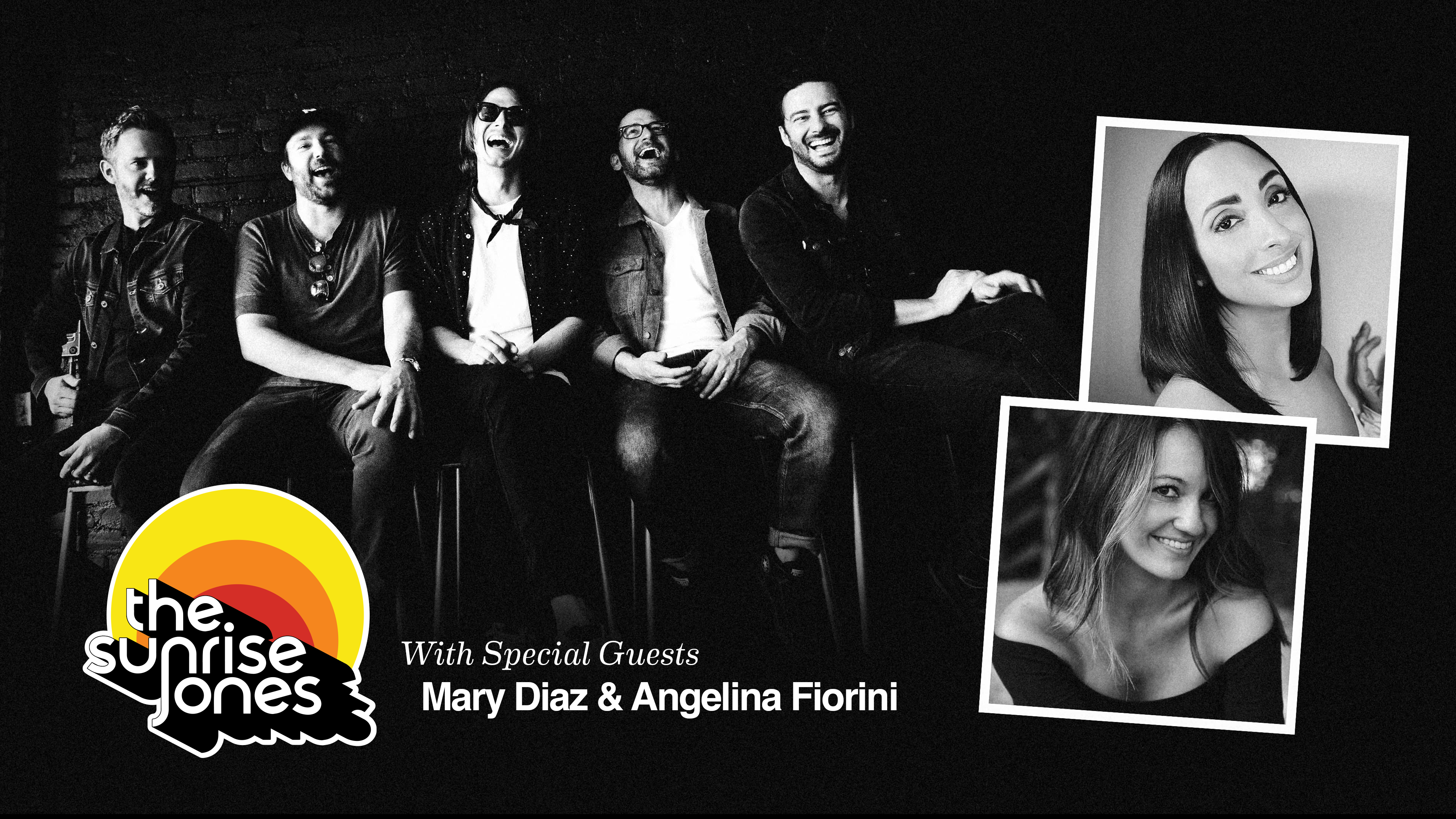 The Band's Beatles Fandom Is Huge
The Sunrise Jones really does it all with sets ranging from cover band staples such as "Sweet Child O' Mine" to ambitious takes like "Bohemian Rhapsody." But it's probably best known for its Beatles tributes, which span the British invasion band's career. Before the pandemic, Music Box Supper Club often hosted the band's Beatles nights and brunches, which were specifically designed for devotees desiring deeper cuts than just "Hey Jude" — though the band has a pretty great take on that, too. "The Beatles are the basis of everything, man," says Hamilton. "The creativity, the production, it's all there, and if you can emulate that in your own band, you're going in the right direction."

Uptight Sugar Is The Sunrise Jones' Alter-Ego
While we're suckers for a great cover band, The Sunrise Jones' rockin' alter-ego Uptight Sugar is worth a listen next time you're on Spotify. Certainly influenced by their beloved Beatles, the psychedelic rockers, who were selected for Best Of Cleveland in 2020, create lush, anthemic original music, including the 2021 release "Anyone Who Knows What Love Is Will Understand." Its show resume also includes bigtime gigs such as Brite Winter. While that February 2020 show was Uptight Sugar's last before the pandemic, the band has been busy recording a handful of singles and even a full-length album set to come out over the next year. "Brite Winter felt like the culmination of everything we'd ever done, it was the most people we've ever played in front of and then we got the rug pulled out from under us," says Vance. "But we've got a lot of things happening in the next 12 to 18 months."

Pay Attention For A Few Easter Eggs
Among the more than 80 songs it learned for its national television debut, the band learned 32 tunes that nod specifically to each NFL city. When a player is drafted by Minnesota, for example, The Sunrise Jones plans to burst into a Prince song. While it wouldn't spill the beans on Cleveland's tune, the band offered a not-so-subtle hint that our song does have the word Cleveland in the title. "These instrumental tunes each pay homage to the city or state," says Murray. "But we wanted it to be subtle in some cases, like an Easter egg. Things that'll make people think What is the connection there? And then after we play it a couple times you might pick up on it."