The 2023 Rock & Roll Hall of Fame induction ceremony took place on Friday, Nov. 3, at the Barclays Center in Brooklyn, New York. As usual, the event was full of memorable moments, unexpected highlights and plenty of celebrating musical icons of the past and present. Here are some of the night's highlights:
Hip-hop has its day: DJ Kool Herc, the founding father of hip-hop, was overcome with emotion while receiving the Musical Influence Award, as he name-checked his parents and artists like James Brown. Just after midnight, Missy Elliott, the first female rapper inducted into the Rock Hall, brought the house down with a high-energy set that was the night's highlight. Wearing a gold sparkly tracksuit and flanked by a troupe of dancers, she performed a medley of hits, including "Get Ur Freak On," "Lose Control," "The Rain (Supa Dupa Fly)" and "Work It," with massive video production and lights. At the end of a gratitude-filled acceptance speech, Elliott became choked up while mentioning this year is the 50th anniversary of hip-hop — and the camera panned to DJ Kool Herc, who was listening intently and visibly emotional again as well.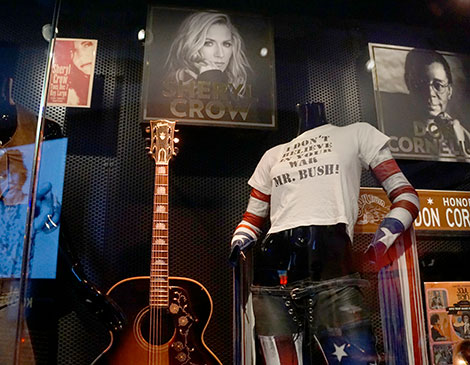 A star-studded opening: The induction ceremony opened on a high note, with actress Laura Dern lovingly inducting her pal Sheryl Crow. The latter was joined by guest performers galore during her set. Olivia Rodrigo played acoustic guitar (and belted out lyrics) on "If It Makes You Happy," and Stevie Nicks dueted with Crow on a tender version of "Strong Enough" and then stayed onstage as Peter Frampton came out to play blazing blues guitar on "Every Day is a Winding Road." In her acceptance speech, Crow paid tribute to her heroes, sharing that a 1976 Frampton concert was her first rock 'n' roll experience, and noting about Nicks: "I would not be who I am without her."
Heartfelt friendship: Andrew Ridgeley, George Michael's childhood friend and bandmate in '80s hitmakers Wham!, gave an elegant, heartfelt speech about the late pop icon's career that highlighted his "magnificent body of work" and career success. After a mini-documentary about Michael's career, Ridgeley was clearly touched as he accepted his friend's trophy, saying "He would've really, really loved receiving this." A trio of singers then honored Michael's music, highlighted by country star Carrie Underwood, who performed a reverent, dynamic "One More Try."
A perfect soul tribute: Sporting matching velvet blazers and some snazzy dance moves, R&B troupe New Edition honored soul group the Spinners with takes on "I'll Be Around" and "Could It Be I'm Falling in Love." After these songs, the stage suddenly changed up to mirror the set of the TV show Soul Train, complete with dancers in funky '70s clothes. This led to Johnny Gill leading a stellar version of "Rubberband Man" — and the induction of Soul Train creator Don Cornelius.
Fans first: Avowed Kate Bush superfan Big Boi gave the most entertaining induction speech of the night for the UK icon although, sadly, she wasn't there. He described listening to Bush's hit "Running Up That Hill (A Deal with God)" every morning when he rode his bike to school. "I was that kid from Stranger Things," he says, referencing the TV show that helped Bush to a surge in popularity. Later, he praised her artistry ("She challenges me as a listener and expands my ears and my mind") and jokingly told her to finish a song he sent her.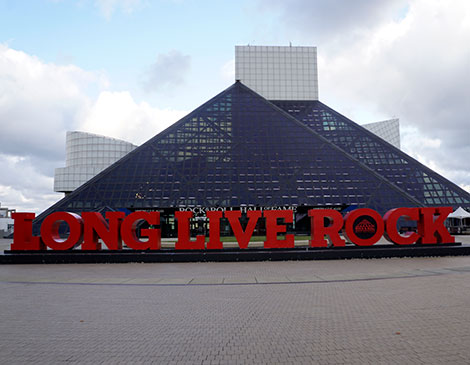 Artists supporting artists: Willie Nelson used his acceptance speech to advocate for Rock Hall inductions for his fellow outlaw country icons Waylon Jennings and Kris Kristofferson. Nelson and his family band also ran through a poignant, guest-heavy set. Chris Stapleton accompanied the group on "Whiskey River" and a barnstorming "On the Road Again," and Sheryl Crow returned to the stage for a lovely duet on "Crazy"—a song Nelson wrote that Patsy Cline popularized in 1961.
Surprises abound: Led Zeppelin guitarist Jimmy Page inducted influential guitarist Link Wray — and then made a surprise appearance onstage to play Wray's signature song "Rumble" on a double-necked guitar. And during a speech inducting his long-time lyricist Bernie Taupin, Elton John revealed he finished a new album just three days ago.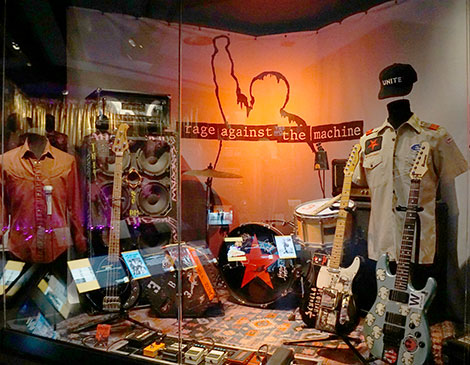 History maker: Although Tom Morello was the only member of Rage Against the Machine in attendance — meaning the band didn't perform — he gave a passionate speech that encouraged others to keep the group's spirit and values alive. "One, dream big and don't settle," he says. "Two, aim for the world you really want without compromise or apology. And three, don't wait for us. Rage is not here, but you are. The job we set out to do is not over. Now you are the ones that must testify."
Stream dream: Streaming the ceremony via Disney+ was a seamless experience. Although the sound mix occasionally felt unbalanced early on, and the lack of audience noise could be disconcerting — it felt like you were watching a pre-recorded event rather than a live show — the opportunity to watch the event simultaneously with fans all over the country made viewing a lively and engaging communal experience. The show also ran smoothly, with a run time of less than 4.5 hours, which was shorter than most induction ceremonies.
For more updates about Cleveland, sign up for our Cleveland Magazine Daily newsletter, delivered to your inbox six times a week.