Walking into Rocket Mortgage FieldHouse like many times in the past, I felt an immediate adrenaline rush I can't quite get from anything other than a concert. I've been quite the avid music connoisseur from a very young age, insisting the Jonas Brothers were basically the next coming of Christ with my vast knowledge at a mere 8 years old.
So, obviously, going to see the Jonas Brothers for the first time in over 10 years was a special moment for me, along with the other thousands of concert goers — the group nearly sold out a space that holds more than 19,000 fans.
As my friend Chloe and I made our way to our seats, I passed countless millennials reliving their teenage years, sporting vintage JoBro merch. The dynamic was something I haven't quite seen before at a concert, with a 13-year-old to my right and a 35-year-old to my left. It's safe to say the band of brothers puts on a show for everyone at every age.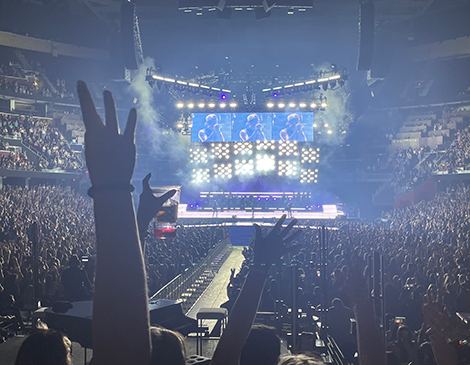 The near three-hour show included almost every song in their discography, creating a perfect mix of past and present in the setlist using mashups to their advantage to get as many songs in as possible. The seamless transitions between songs was something I didn't realize I'd appreciate as much as I did.
Although they did create many mashups, like "Hey Baby" / "Poison Ivy" / "Don't Speak" / "Much Better" / "World War III" / "What Did I Do to Your Heart" / "Paranoid, " the brothers gave credit where credit is due, allowing some of their most popular songs the boyband treatment they deserve.
My all-time favorite, "Lovebug", got its time to shine with elaborate visuals and lighting, creating pink hearts all around the band. Other songs from their baby years like "Burnin' Up," "S.O.S" and "Year 3000" brought the crowd to their loudest and definitely most-excited point.
The Jonas Brothers have proved that they are more than their past, though, with the crowd singing every lyric to songs from their most recent record, The Album. Instant classics like "Waffle House" (which I sadly missed due to the insanely long bathroom line) kept the audience on their feet.
While the band was on hiatus for five years, each followed suit in their own endeavors including Joe's band, DNCE, and Nick's solo work. The show highlighted both side projects with the performances of "Cake by the Ocean" and "Jealous."
With three hours down and over 36 songs performed, the night came to a close and I found my inner-child sobbing, wishing I could relive it again. There is something so unique and weirdly intimate about following an artist or band you like for over a decade and seeing how both of your lives have changed — yet here we both are, standing in the same arena 10 years later.
For more updates about Cleveland, sign up for our Cleveland Magazine Daily newsletter, delivered to your inbox six times a week.