We're in the studio with The Monday Program — and by studio, we mean a small side room in producer Corey Grand's upstairs apartment in Cleveland's Buckeye-Shaker neighborhood — and by The Monday Program, we mean the local collective of producers, musicians and artists that meets on a weekly basis.
It's more than a jam group; The Monday Program's musicians have created a new collaborative format in the city, all while hosting shows throughout the year. Sitting on the floor and leaning against the back wall, Grand taps beats and samples out of his MIDI controller, finding the groovy heartbeat of a new track. Cassius G and Dorian Walker man the computers at a desk near the window, recording the developing music. Sitting near the doorway, Sted Lee types out verses on his phone, quietly rehearsing his lyrics to the rhythm, and Marcus Alan Ward, on a bench to the side, rips out colorful guitar solos.
Here, songs are spun quickly.
Within the span of 45 minutes, they have gone from one sampled beat, to an entire thumping, original track.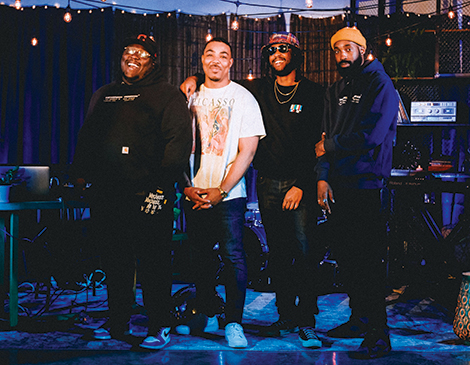 (Photo courtesy Roderick Jackson)
Depending on who's free, The Monday Program brings a crew of music makers to Grand's apartment every week.
"We've had weeks where it's just me and Dorian, and we've had weeks where it's so packed in the studio and people are outside kicking it in the living room area," Grand says.
Originally formed by Grand, Walker (aka Walker OG) and Mario Hernandez (aka Unknownphrazes) in 2019, the sessions started on Mondays because it was the only day the musicians consistently had off of work.
Now, three years later, the work those musicians put into the collective has paid off, with a string of music releases both under The Monday Program title and through participants' individual musical projects. As a loose club of rotating music-makers, The Monday Program's song credits include Chelsea Pastel, Broken Keys, Chelsea Trullie, 2ssaint, Tezo and Eli Tha Don, along with the group's core members.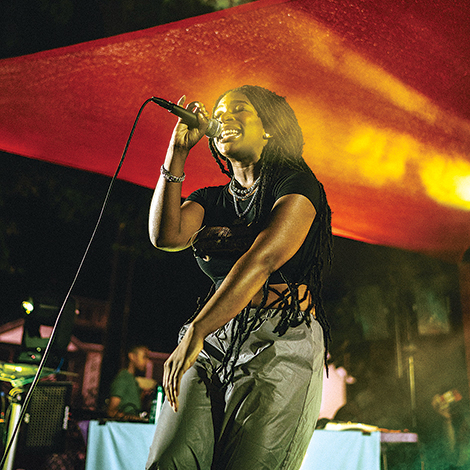 (Photo courtesy Ellen Gobeille)
Collaboration is a key to the project, says Grand.
"I want to make our creative scene a little bit smaller in terms of us knowing each other and being able to help each other," Grand says. "I think that's very important for a community to grow and strive."
The crew sometimes hosts live, open-to-the-public songwriting sessions, performs at local venues and even put on the debut TMP Fest in 2021. Grand hopes to host three or four songwriting sessions this year, and he also aims to bring back TMP Fest again. Plus, he's got shows slated for Columbus and in Cleveland, at venues like Crobar and the Winchester Music Tavern.
But first, The Monday Program plans to release a new album, West$ide Market 2, following 2021's West$ide Market. The sequel was mixed at Chicago's Classick Studios in early 2022.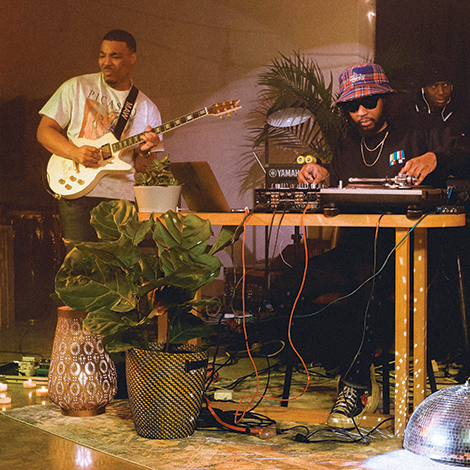 (Photo courtesy Roderick Jackson)
For Grand, now 34, The Monday Program represents a culmination of the work he's put into Cleveland's hip-hop and DJ scene for 15 years. At 19, he had just joined the military and decided to pursue music.
"I got a really good refund check after I first joined when I got my income tax," Grand says. "I took all my money that I had and went and bought this setup: two turntables, a mixer. A real, legit, professional DJ setup."
After two and a half years of military service, Grand found a mentor in Cleveland's DJ K NYCE, who introduced him to the local scene. While DJing, he also became interested in production and started releasing his own beats. That led directly into The Monday Program sessions.
"Our tag is: inspire to create. As long as we keep doing that and building and evolving and just creating, I think we'll be able to uplift Cleveland. I think we'll be able to uplift our community. I think we'll be able to make it better," Grand says. "I think we can at least start inspiring people to work with each other, and inspiring us to not be scared to be creative and to be ourselves."
That's why Grand opens his home to Cleveland's music scene every week. Every Monday.
Get ahead of the weekend by signing up for our free weekly "In the CLE" newsletter — your guide to fun throughout The Land. Arriving in your inbox every Wednesday, this weekend to-do list fills you in on everything from concerts to museum exhibits — and more. Click here to subscribe.