Since finalizing the purchase of the former Slovenian Workmen's Home at 15335 Waterloo Road last year, a group of Cleveland arts leaders and developers have worked to transform the space into a playground of unique arts and dining spaces.
That transformation is also set to elevate the Waterloo Arts District, giving the neighborhood's longtime grassroots development a major boost.
Welcome to The Treelawn.
Along with the former Workman's Home, the campus includes the former Nagy's Monuments and surrounding greenspaces, says Eric Hanson, one of five partners on the project.
"It's kind of a campus of stuff," Hanson says, "and we're developing all of it."
That development will fold directly into the neighborhood's development.
"It's a nice little gem that's been developing for years," business partner Steven Balogh says. "This will continue to revitalize this area and bring more people, and continue to build the reputation of music, food and arts here."
The campus features the now-open Treelawn Social Club, a new jazz venue that's been hosting mostly local acts and pop-up dining options since December.
There's plenty more on the docket for the 39,000-square-foot space, including the main building originally constructed in 1927. The biggest component will be the 600-capacity ballroom, featuring a 1952 Steinway grand piano, slated to open in late spring or early summer. The Cleveland Brewery, formerly located on E. 185th Street, will exclusively operate out of the campus, Hanson says, with a taproom and beer garden in a grassy space, featuring a 100-year-old tree. A record store showroom is also in the works.
Upstairs, offices have been rented to local artists and musicians, including a tango teacher and a knitter, Hanson says.
Downstairs, a dining hall formerly known for its fish fry dinners, will also be rehabbed, with a to-be-announced concept that will supply the rest of the campus' food offerings. The basement will host four bocce ball courts, potentially changing one to an axe throwing space.
Plus, a unique, historic bar: "The building was built during prohibition so there's a super-secret speakeasy bar down there, too, that's going to service the bocce ball court and dining hall," Hanson says.
Down the street from both Beachland Ballroom and the Treelawn, the team, along with Colin Brown of Gifted Grass Farms, took over R&D Sausage with the aim of revitalizing the longtime butcher shop.
It's an ambitious project with ambitious components, but it's been an aim of fellow partner Cindy Barber's for years. Barber, one of the co-owners of the Beachland Ballroom & Tavern on Waterloo, was involved in The Treelawn's development from the start. (Other partners include Balogh, Brett Siegfried and Marius Juodisius.)
"Cindy's the unofficial mayor of the neighborhood," Hanson says. "She's always looking for new things, buildings and propping things up."
According to county property records, the building was sold in May for $700,000 to the team. Barber says that The Treelawn is poised to showcase the neighborhood's progress over the past two decades.
"I'm hoping that this big, giant project helps the final rock roll over the hill, to get this neighborhood really hopping, finally," Barber says. "I've been hoping for this type of energy on the street for a long time."
She laughs, and adds: "I didn't realize I'd have to do it myself."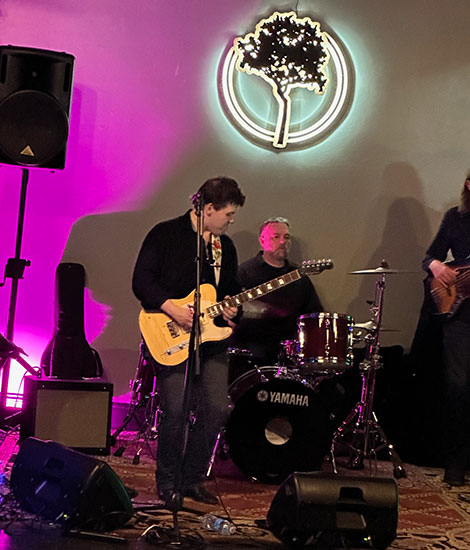 Musically, The Treelawn will work in tandem with the Beachland Ballroom, sharing staff and performers when it's conducive. That already happened this past week, Barber says, when acoustic performer Willi Carlisle moved from the Tavern space to the Treelawn (a metal band performing a loud set in the Ballroom would've disrupted the musician's set).
"It's a good pressure relief for the Beachland," she continues. "It'll be a really good collaboration, and we'll be able to give our staff more work, too. We can share resources."
That being said, the genre focus will differ between the two Waterloo venues. While the Beachland hones in on indie and rock, the Treelawn will primarily feature jazz, Latin and contemporary classical music, Hanson says. That draws on his 30 years of experience booking tours for jazz musicians and venues around the country.
Hanson says that he aims to entice touring jazz musicians who typically can't find a suitably sized venue to play in Cleveland. But he also hopes to place a heavy emphasis on local musicians, even planning a resident big band called the Treelawn Big Band, composed of local musicians, which would be featured regularly in the auditorium.
"That's something I really want to bring back," Hanson says. "Most New York City jazz clubs have a resident big band, and I think it's a really cool thing to do."
Already, local musicians have become established in Treelawn Social Club's programming. Favorites like Ernie Krivda, Howie Smith and Jamey Haddad have hit the Treelawn stage.
While the ball is rolling, much of the work remains for the Treelawn's team, which is applying for storefront grants, economic development funding and more to help get the project finished.
"We've barebones, grassroots rehabbed the small space we're in now, but we're just about to get the official rehab of the ballroom going, and the apartments and offices upstairs we've had local people working on," Hanson says.
"We're trying to do the best we can with limited funding," echoes Barber. "We're hoping to get some economic development support from the city and county, and we're getting some help. It's a big lift. It's a really big project."
For now, you can check out the entertainment events at Treelawn Social Club. Find information about upcoming programming at thetreelawn.com.com.
Get ahead of the weekend by signing up for our free weekly "In the CLE" newsletter — your guide to fun throughout The Land. Arriving in your inbox every Wednesday, this weekend to-do list fills you in on everything from concerts to museum exhibits — and more. Click here to subscribe.