When the state banned gatherings of 100 people or more on March 12, Michelle Gaw didn't waste time.

A singer-songwriter who fronts the folk-soul outfit Mimi Arden, Gaw knew the order would immediately impact the busy venues that provide performance space and income for Cleveland's musicians, a beloved community that's been her social and economic lifeblood since she began gigging at 16. So, from her couch in Lakewood, she created a Facebook event to gauge local interest in a possible online Zoom concert.

Within 48 hours, she'd cemented the foundation for Virtual Shows CLE, a thriving digital concert series that's provided vital financial support for area musicians and a semblance of the connection both fans and artists miss as concert halls remain closed.

"Virtual Shows CLE is half support the musicians, half support the community," says Gaw.

As the coronavirus reshapes the structure of daily life, much of the economic discussion has centered on fallout for businesses, stock market fluctuations and the demand for gig economy workers, such as grocery shoppers and delivery drivers. But for those freelance musicians who depend on public performances to make a living, those gigs have suddenly, devastatingly, dried up. Virtual Shows CLE pays participating musicians a standard rate for each show, and audience members can also donate, with a suggested contribution of $5.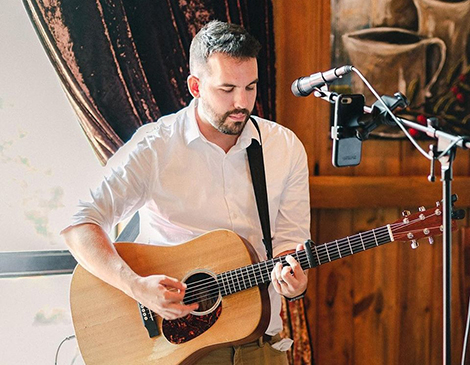 "Most of the people playing these shows are used to playing up to seven days a week as their income, or could be touring right now," says Gaw. "So something that musicians have said to me is to have something they can genuinely be excited about, promote and invite their friends to is really gratifying."

Held every Friday and Sunday on Zoom or Facebook Live, the concerts mostly feature a lineup of three local musicians. The artists typically play in a "songwriter in the round" style, performing songs in succession and breaking down each track. Audience members can leave comments in the chat. At the end of the Zoom shows, their cameras turn on as well for a "virtual mingling session," where fans and artists can interact. It's these conversations that set Virtual Shows CLE apart from the flood of impromptu sets populating your corona feed — it's a platform not just for the music itself, but for the conversations it can inspire, re-creating some sense of the intimacy of an in-the-flesh set.

"It's equally about trying to invite the community to engage with these artists and other attendees," says Gaw. "That's not something I see enough of on Facebook Live performances. I want Virtual Shows CLE to feel more like a chatroom than a comment section."

Since its first show March 15, Virtual Shows CLE's streams regularly draw around 40 to 50 people. By early May, the shows had raised more than $7,500 for musicians through audience donations. In late March, its mission caught the attention of Brite Winter, which lent financial and marketing assistance and helped source higher quality sound equipment. Gaw operates as booking director.

With this expanded infrastructure, Virtual Shows CLE has cast its community net wider. The Tri-C Jazz Festival, which announced the cancellation of its 41st annual summer fest, has sponsored several shows, featuring musicians such as Chris Coles and Dan Wilson. Music promoter Phil Anderson lent his Akron studio space to the cause for the Chris Coles set, which allowed the saxophonist to perform with an accompanying bassist, set up 20 feet away down a hallway. There have been early conversations about helping other canceled events possibly take a virtual route. After three shows May 29, 30 and 31, Virtual Shows CLE will be taking a brief hiatus for the month of June to plan for the future.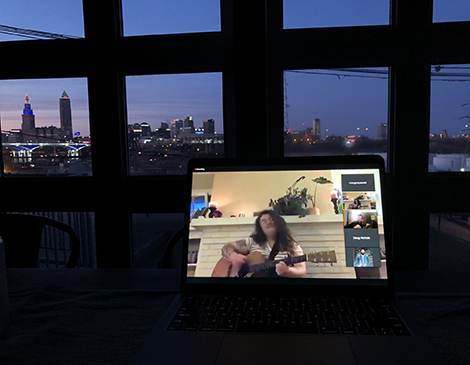 Gaw is still amazed at the platform she's helped build. She's noticed that when viewers request the Zoom link or join a livestream, they seem to stay the whole set. After one show, Gaw announced on the livestream that the night had raised more than $1,000 in audience donations: One of the participating musicians burst into surprised, happy tears.

"I had to do something," says Gaw. "Whether it helps people pay their rent that month, or they're just feeling better mentally because they came to a show and didn't feel alone for the night."