It's a bittersweet day for Lakewood diners.
Chef Rachelle Murphy is leaving Rood after this weekend's service. The 24-year-old chef helped turn the slider-and-pie concept at the west end of Madison Avenue into a funky, experimental fusion of seasonal ingredients, rustic Italian technique and cutting-edge American trendiness (and one of our Best Restaurants of 2023). Chef Josh Erickson, formerly of Blue Point Grille and catering and popup company Mobius Foods, is taking over as executive chef.
"I definitely believe John Erickson is the right executive chef," says owner Rood Brian Ruthsatz. "He's an exceptional leader, and I want somebody to continue Rood's inspired passion for food. It won't be Rachelle's. He'll make it his own, but I think he's probably going to be one of the top chefs in Cleveland."
Murphy will assume the role of culinary director for Seasoned Brands, a hospitality group that includes more than 40 restaurants among its roster of Aladdin's, Taza: A Lebanese Grille, Forage Public House, Boaz Fresh Lebanese, Sittoo's Lebanese Grill, The Oak Barrel and Forage Public House.
"It's definitely a bittersweet thing," says Murphy. "I'm really sad to be leaving. It's just kind of like there's nothing left for me here."
In addition to a ceiling for a young chef who has already been named one of Cleveland's best chefs and created one of its best restaurants, Murphy cites burnout, something that can be amplified by double shifts due to hiring difficulties and an industry where 15-hour shifts and weekend work is the norm.
"I'm looking forward to a break from the day-to-day kitchen life," she says. "I'm 24, and I'm tired of missing out every weekend. I'm tired of being that person who my friends stop asking to hang out because they know I'm always working. I love working the 15-hour shifts, but it's not sustainable by any means."
Despite her age, Murphy has already logged plenty of hours in the kitchen. She attended the Culinary Institute of Michigan and was mentored by Amanda Miller of Netflix's School of Chocolate. While she was there, she won multiple gold medals in American Culinary Federation competitions and secured an appearance on an episode of Guy's Grocery Games at 20 years old. After graduation, she returned home to Grand Haven, Michigan, and worked as executive chef of Fuel Bar and Refuge, a meat-and-potatoes, smoker-based spot in a renovated 1930s gas station.
"Her menu in Grand Haven just blew me away. Really unique stuff," Ruthsatz told us when he hired her. "I told this woman, 'It is a blank canvas. I want you to wow guests with things they haven't had before.' And that's what she's done."
Though the restaurant opened in 2019 to modest acclaim, Murphy took over in 2021 and quickly turned it into one of the city's most exciting restaurants.
The Rood that Murphy walked into had moved past shareable sliders — a very non-pandemic-friendly concept — and toward a biscuit-based brunch spot. While the beloved pie-centric dessert list remained, Murphy overhauled the menu to focus on hyper-seasonal, hyper-local ingredients and the fusion of rustic Italian cooking and American trendiness. The result included dishes like pumpkin gnocchi; pan-seared hog snapper; and salads that were crunchy, beautiful and refreshing like the heirloom beet salad and the asparagus salad, with creamy tarragon dressing, tender asparagus, pickled hard-boiled egg and shaved cured egg yolk.
"We accomplished a hell of a lot in such a short amount of time," she says. "When I first started, we were doing a breakfast, biscuit, brunch concept. Now, we have things like pigeon and wild boar. We were so jam packed and people love the new and different things that are coming out of Rood. We've kind of stayed true to ourselves. That's been really awesome."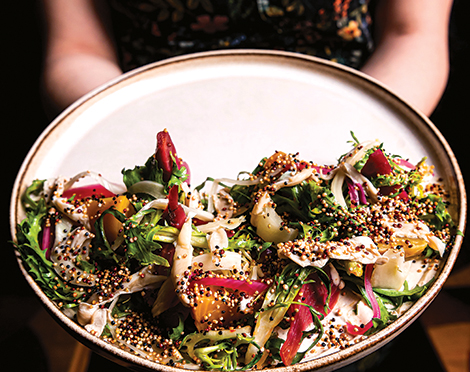 Though he hoped it wouldn't come so soon, Ruthsatz knew this day would come eventually.
"So many people have knocked on her door. Food Network keeps calling," he says. "Rachelle is just an amazingly, naturally talented chef. She has led Rood on this extraordinary — definitely not ordinary — culinary adventure we've been on. It's been fun to kind of sit back and watch and support and, you know, see people respond and come to the restaurant. I'm crazy excited for her."
He also ensures that diners can expect the same spirit of forward-thinking cuisine when Erickson takes over.>"That's what our guests expect. You know, as soon as we post new dishes, and we change our menu almost weekly, they come back and they're not looking for those same dishes to be on there," Ruthsatz says. "I'm going to give him that room to grow, just like I did with Rachelle."
In her new role, Murphy is looking forward to shaping the culinary experience of a huge swath of diners over the company's 40-plus restaurants. She's particularly excited about Forage Public House, where she hopes to continue pushing boundaries on the plate.
"I kind of hope to take Forage over and make it my baby like Rood has been," she says. "You'll probably see a lot of cool things coming out of there as almost like a test kitchen for the other restaurants that we plan to open in the future."
If you want to savor the last few bites of Murphy's cooking, make sure you get up to Rood this week for a Saturday night special that Murphy calls "her last hoorah."
Want the latest food news in your inbox? Sign up for the Cleveland Magazine Daily, which offers the best in dining, news, shopping and things to do each morning to your inbox.