Pizza is back on Prospect Avenue.
On May 19, Geraci's Slice Shop is set to host a grand opening for its first Downtown location, which is located near East Fourth Street and across from Rocket Mortgage Fieldhouse. The restaurant, which carries an '80s theme, also fills the pie-sized hole left by the 2022 closure of Vincenza's Pizza and Pasta, a legendary lunchtime staple that occupied the space for more than 40 years.
Jason Beudert, one of four co-owners, believes that every downtown needs a proper slice shop and Geraci's is THE pizza to put Cleveland on the map.
"Our brand is known as the Cleveland pizza," Beaudert says. "Like how you talk about Detroit style or New York pizza. We are Cleveland style."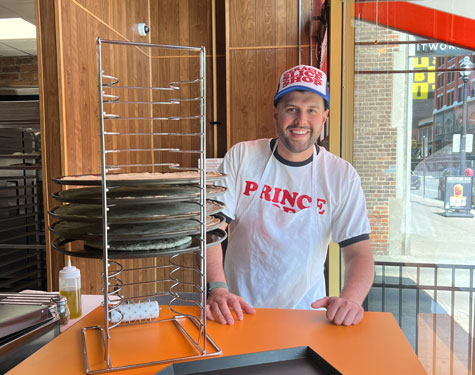 The Slice Shop — a concept first introduced at The Yard on 3rd in Willoughby — puts a quick, approachable and delicious twist on six decades of family recipes from Geraci's, a sit-down Italian classic on the East Side. The revamped menu is under the guidance of Bucky Spoth, a third generation Geraci and the force behind the newer, modern concept.
"We're taking these classic recipes and this beloved name and pizza that everybody has cherished for many years here in Cleveland and we're trying to offer that to downtown," Spoth, who keeps the family happy with the food quality and their history alive in the new-age slice shops, says.
Olivia Panichi, a Geraci's employee for six years, has helped open multiple stores and is looking forward to spending her summer at the new location.
"It's crazy how much they've grown," Panichi says. "I am excited for this one, it's a much different atmosphere and I think it will do really well."
Built for the lunch rush, a quick bite on the way to a Guardian's game or a late-night slice after a show at Rocket Mortgage, here is everything you need to know about Cleveland's soon-to-be staple slice shop.
The Space
If the smell of fresh pizza isn't enough to entice passerbyers, Geraci's orange striped awning, neon signs, turf covered patio and accessible slice window will.
Upon entering, one is transported to the '80s with black and white checkered floor, wood paneled walls, vintage stained glass hanging lamps, a decommissioned cigarette machine serving as a directional and even a soon-to-be working payphone.
"We love the '80s theme," Beudert says. "It's a throwback to classic pizzerias. It plays into people who are my age and grew up in the '80s and the kids of my friends who have never seen a payphone or a cigarette machine. With the rise of shows like Stranger Things and those kinds of things, it kind of brings back all those '80s vibes. I just think it's cool. I think it's timeless."
After ordering at the counter, customers will receive an identification card with the name and photo of Cleveland icons like Machine Gun Kelly and Tito Francona and '80s icons like Dolly Parton, Beastie Boys, Doc Brown and more.
Patrons can choose from 15 orange booths or stand at the pizza rail, perfect for people watching, at the front window.
Not only is there a surplus of seating, but entertainment. Find an old school Millipede and Pacman game ready to play, a claw machine filled with classic cartoon stuffies of the eighties and multiple TV's to broadcast Guardian's games.
Commissioned artwork, from @roxzillaart on Instagram, and old photos throughout the restaurant pay homage to Cleveland, Tito Francona and Geraci's history.
Lastly, the Dirty Dancing-themed bathroom complete with a "Nobody puts baby in a corner" neon sign is sure to be the photo-op of the summer.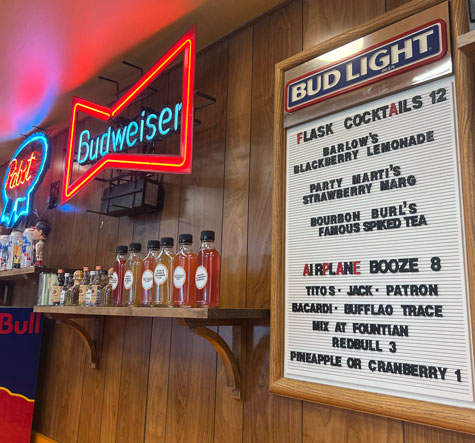 The Drinks
"It's gonna be cold and fast," Beaudert says about the drinks.
Canned beverages like PBR, High Noon and Summer Shandy are the go-to with eleven to choose from. Small bottles of wine come in Cabernet, Chardonnay and Rosé all meant to grab and go.
For cocktail lovers, the Slice Shop offers five different bottles of "airplane booze" for a DIY cocktail via their self-serve soda machine ($8).
But the real stars of the show are the Flask Cocktails ($12), pre-made using all natural fruit juice from Columbus based brand Simple Times Mixers.
The three signature flavors include Barlow's BlackBerry Lemonade with lemonade, blackberry puree and Tito's, Party Marti's Strawberry Marg with strawberry, sage, lime and Patron Silver and Bourbon Burl's Famous Tea with honey, peach iced tea and Buffalo Trace Bourbon.
Non-alcoholic drinks include sparkling ($3) or still water ($2), fountain soda ($3) and canned iced tea ($3).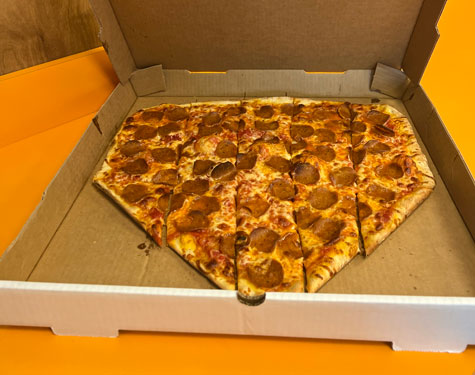 The Food
Pizza can be purchased by the slice or the pie with an 18-inch large round ($26). The 18-inch Home Plate Pie ($26) is the shape and size of a real home plate and a portion of the proceeds going to Cleveland Guardians Charities.
Choose from eight signature slices in the case at all times, including The Hot Tito ($6 per slice) with red sauce, mozzarella, thick cut pepperoni, sausage, romano and hot honey drizzle, or build your own pizza choosing from over 20 toppings and drizzles.
Vegan and gluten free pizzas are available with a 12-inch Cauliflower crust pizza ($19), vegan cheese from Follow Your Heart and vegan pepperoni.
"I think we're gonna have the best vegan pepperoni in town," Beudert says.
All toppings from veggies to cheese to meats are prepared fresh daily while white, red, pink and pesto sauces are prepared by Chef Marion Smith out of Geraci's commissary in Mayfield Village to maintain continuity with Geraci restaurants.
Their "not pizza" menu includes a personal pan of Geraci's Food Network featured lasagna ($14), the Gabadrool sandwich with cured Italian meats, provolone, lettuce, tomato and red onion ($13), four different salads ($10 - $12), garlic or buffalo pillows ($5 - $10) and meatballs on a sub ($13), with red sauce ($8) or as a flight ($10).
"It brings three classic sauces we've had for our pasta dishes and we're doing a totally new spin on it," Spoth says about the meatball flight, exclusive to the new slice shop. "We've never done this little Italian flag looking meatball trio, so I'm really pumped about that."
Bite into the Cleveland dining scene by signing up for our free weekly CLE Food & Drink newsletter — your weekly guide to food and drink throughout The Land.