Jolly's Pizza & Scholarly Brewing, set to open to the public on Thursday, Jan. 12, is a little restaurant built on big ideas.
Formerly the home of Pizzeria Angies, Jolly's brings its own character to a North Royalton strip mall spot. The 40-seat pizza joint infuses owner Matt Vann's background in game development and food tech with his penchant for quirky promotions. Vann, who owns and operates Jolly Scholar Brewing Company and Rough Rider Room at Case Western Reserve University, has branched out with a new model built for today's restaurant industry.
"We wanted to make it feel a little bit like an old-school pizza place and then to add a couple things to it," Vann says. "We're trying to let technology create solutions but are still trying to feel kind of old-school here."
The most striking feature of the pizzeria at 6120 Royalton Road is its set of red old-school wall phones, affixed to the walls of each booth and connected to speakers in the kitchen and bar.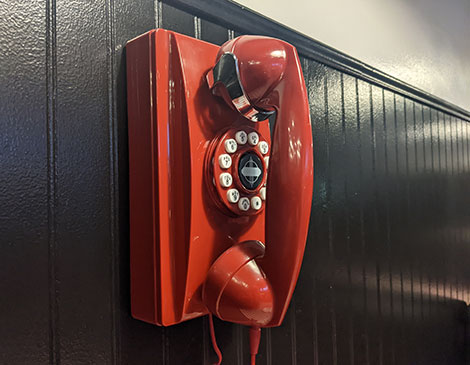 "My granddad was a restaurant owner in the '60s and '70s down in Florida, and his big claim to fame was he put telephones in restaurants," Vann says.
All a customer needs to do to get a beer or a pizza at Jolly's is pick up the phone and call it up to the bar or kitchen. That old-school ordering system meets an innovative, efficiency-focused billing system. With a tab started when customers arrive, and an automatic 20% tip added to meals, diners can finish eating and walk out of the door without waiting to pay their bills.
It's all in the name of efficiency, Vann says.
"We didn't want to lose full service because we thought we could find a hybrid to make world-class service here," Vann says.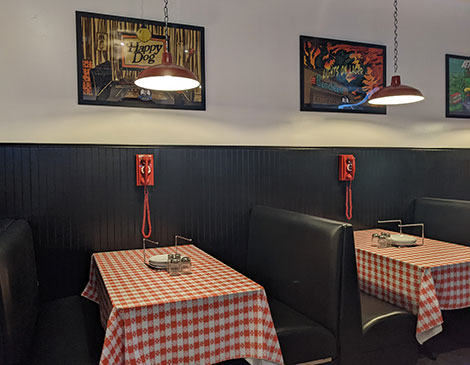 What's good service without good pizza? The restaurant's pizzas, which Vann says he developed through an algorithm designed to collect data from Yelp and Google reviews, is crustless, with cheese running all the way to the pies' edges in signature Detroit-style. But unlike Detroit-style, Jolly's pizzas are thin-crust with a nice chewiness and have a swirl of sweet marinara sauce on top. Priced at $14.99-$19.99, Vann aimed to make a dish that stood out from neighboring North Royalton pizzerias.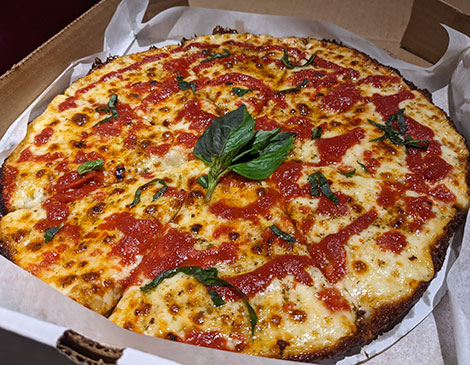 On tap are 16 selections from Jolly Scholar Brewing Company (all $4.99), with two rotating taps of other local beers. For the first time, Vann will introduce two Jolly Scholar wines at Jolly's Pizza, Vann says.
Promotions include free ice cream giveaway scratch cards with every pizza purchase, live-streamed robot dog races from Vann's other restaurants and raffles for tickets to theme parks and travel destinations like Hawaii, Nashville and Hocking Hills, with raffle tickets earned through specific pizza purchases.
But the business model of Jolly's Pizza is unique from most pizza shops in Northeast Ohio. The restaurant is designed to be employee-owned, with the vast majority of profits heading back to workers in the form of bonuses. (Stock options weren't feasible, Vann says, since he's hiring teenagers to work at the shop, which holds a liquor license.)
It's a model that he developed with the help of Simon Peck, a CWRU professor. Jolly's Pizza's director of operations Levi Hume also helped to bring the concept to life.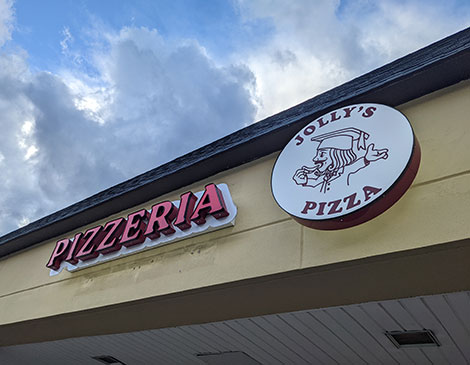 At least in its first iteration, Vann says Jolly's Pizza already has caught potential employees' attention. Hiring might be a tough process for plenty of restaurant owners in today's pandemic-effected restaurant scene, but Vann said that he received 91 applications for 26 open positions at Jolly's Pizza.
"We said, 'Let's build this to be a restaurant built on wellness,'" Vann says. "We want [employees] to be empowered … and then selfishly on our side, if things go up, it's better for us; it's better for everyone. That's the goal."
Vann, 46, has two children and says with Jolly's Pizza, he aims to emphasize a family-friendly restaurant for nights out. Two arcade games are available for gameplay around meals, and employees are encouraged to pitch events and promotions for the pizzeria to pursue, with bonuses paid out for successful ideas.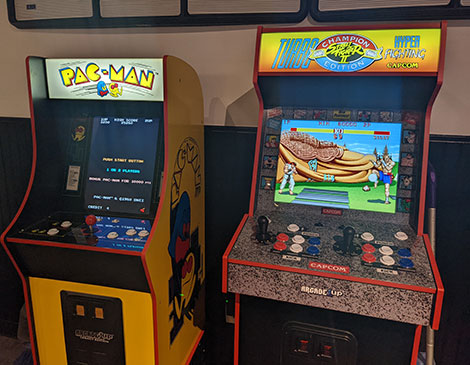 "There's nothing in North Royalton that feels very family-friendly. It all feels very bar-forward or very date night-forward. There are a lot of four-bedroom houses here, which tells me there's more than two people living in those houses."
All in all, Jolly's Pizza harkens back to a different age of pizza, welcoming back a fun dining-out experience rather than emphasizing takeout.
"I wanted to make a strip mall pizzeria cool again," Vann says.
Bite into the Cleveland dining scene by signing up for our free weekly Cle Food & Drink newsletter — your guide to food and drink throughout The Land. Arriving in your inbox every week, this coverage fills you in on everything from mocktails to shareable plates — and more. Click here to subscribe.