Jeremy Umansky, co-owner and chef of Larder Delicatessen and Bakery, was raised on kasha varnishkes, a Ukrainian peasant dish that mixes toasted buckwheat with pasta and sometimes a mushroom gravy. He also grew up on stories of the persecution his Jewish ancestors fled from the turn of the century through just after World War II.
"My not-too-distant ancestors fled Ukraine because of persecution. They are Ukrainian Jews who left Ukraine because they were being murdered," says the chef. "Now, the same people who persecuted them are now crushing the general society over there. So this all kind of hits home."
It's easy to feel helpless when turning on the news. But a few local restaurants and breweries, such as Larder, have found small ways to support Ukraine in its war against the invading Russian forces, while giving customers an opportunity to do the same.
At the James Beard-nominated Hingetown deli, Umansky has launched a fundraiser for Polish Humanitarian Action, an organization working to support Ukrainian refugees with supplies, transportation and information. Through the end of this week, the restaurant has put a blue and yellow Ukrainian flag spin on the classic black-and-white cookie. Next week, Larder presents a traditional Jewish cookie called hamantaschen, a triangle-shaped pastry often filled with jelly. The proceeds of these cookies, which pair perfectly with the restaurant's local-focused fish fry, will go to the organization.
Offering hamantaschen adds Larder to a list of more than 30 Jewish bakeries nationwide working to raise funds for Polish Humanitarian Action.
"We're just putting some effort into creating awareness and raising a little bit of money to send over there," says Umansky. "It feels great to be able to help anybody that's deserving of help, whether it's somebody here in the heart of Cleveland or someone out of Warsaw, Poland, who has access to be able to actually deliver the help on the ground to the Ukrainians. At the same time, it feels horrible that there's the need."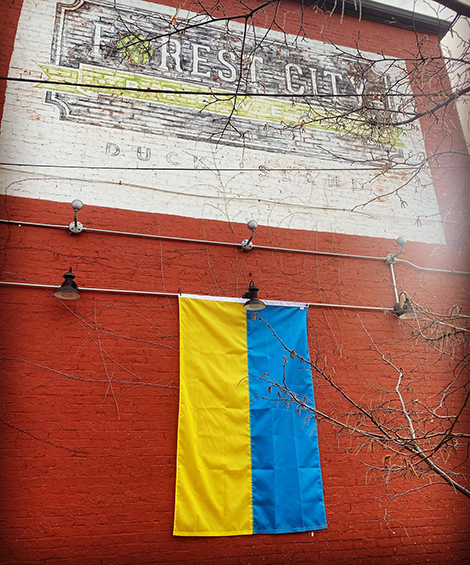 Down the road in the Duck Island neighborhood is Forest City Brewery, a revitalized beer garden with history stretching back to 1865. The cause also hit home for owner Jay Demagall, whose chef, Carlos Polichuk, has Ukrainian ancestry.
"You see the people on TV and they look like they're from Tremont, for Christ's sake," says Demagall. "So I figured we've got to do anything we can as individuals and as a small business."
So, the brewery started working on a new Ukrainian-influenced beer called "Slava Ukraini," a rallying cry meaning "glory to Ukraine." Since Ukraine is a wheat-rich region, the beer will be a wheat beer, and the brewery will donate a dollar of every sale to an organization supporting refugees. Since the beer will take a few weeks to brew, donations will be taken from sales on the Fur Belly Irish Stout until it's ready. The fundraiser, which also donates proceeds from pierogi sales, starts Monday.
"I can't go over there and help those guys fight, but these are people defending freedom and democracy," says Demagall. "It's just so moving that you have to do something to help and if everybody does something, whether it's donate some money or make people aware of what's going on, that's gonna help those people win. The world's gonna turn against this guy."
Market Garden Brewery and sister spot Nano Brew in Ohio City are donating proceeds from pierogi dishes to the International Rescue Committee, which works to help refugees worldwide. On March 9, with the help of employees from Bar Oni, Tremont's Roosevelt Veteran's Post 58 is hosting a Pierogies for Peace event, during which donations from the $25 dinner of pierogies, kielbasa and borscht as well as live music will go to Razom for Ukraine. Many restaurants and bars, including Winking Lizard, are also showing solidarity by disavowing Russian vodka, though many vodkas with Russian names are actually American made. Russian Standard is the only Russia-made vodka sold in Ohio.
Those who are participating in fundraisers and shows of support feel that their actions, however small, help.
"As Americans, if we could send money over there to help the refugees, it takes some of the strain off the countries like Poland that are taking these people in and doing their part," says Demagall. "Every little thing matters."